Friendship
Here's Everything You Need to Know About Bumble For Friends
At Bumble, we're driven by our mission to create healthy and equitable relationships through kind connections—and that doesn't only mean dating. Platonic relationships deserve just as much celebration and recognition as romantic ones, and that's why Bumble has transformed BFF mode into its own standalone app, Bumble For Friends.
Whether you've just moved to a new city, entered a new stage in life, or you simply want to expand your friendship circle, Bumble For Friends is a safe, kind space where you can easily make and foster meaningful, local connections. Read on to find everything you need to know about Bumble For Friends.
How does Bumble For Friends work?
Bumble For Friends works in a similar way to Bumble Date and the previous BFF mode. You swipe through profiles and when two people swipe right on each other, you can start chatting! Either person can send the first message on Bumble For Friends—but just remember: this app is for finding platonic relationships only. For romantic or networking connections, download Bumble and use Date or Bizz modes.
To sign up to Bumble For Friends, you can download the app for free from the App Store or Google Play and create a new account. Or, if you have Bumble already and use BFF mode, you can sign in to Bumble For Friends with your Bumble login information. When you sign in using the same method and info as your Bumble account, everything from your BFF mode will automatically be transferred over to the new app. You'll instantly be able to see your profile, connections, and chats so you can pick up where you left off. Just note: once your BFF profile has moved over to Bumble For Friends, BFF mode will no longer be available in your Bumble app.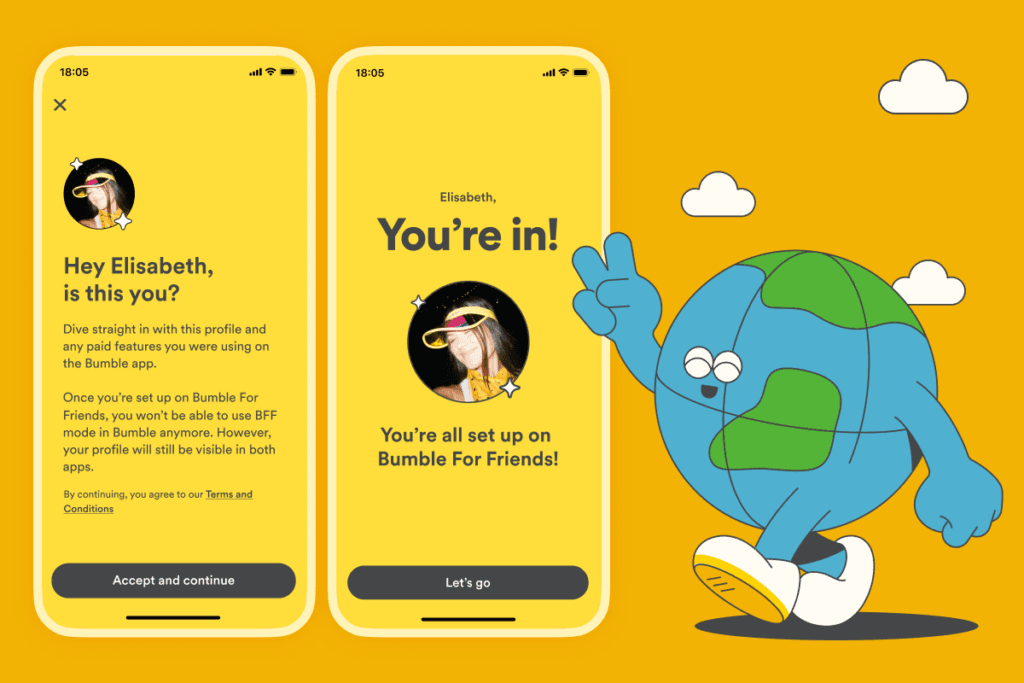 What's different about Bumble For Friends compared to BFF Mode?
When you log in to Bumble For Friends, you're going to find all your favorite Bumble features ready to use. The difference with Bumble For Friends is that the exclusive group chat feature within the app makes it even easier to get two or more connections together for an IRL meetup.
Any member with two or more matches can create a plan for a group meetup. Simply tap on the gray speech bubble at the bottom of your screen to head to your Chats. Once there, you'll see a banner at the top of the screen inviting you to get a group together. Tap on the yellow "Start" button and you'll be taken to a screen where you can select the activity you'd like to plan (Meet for coffee; Let's grab a bite; Something outdoors; Live music or a show; Games night) or you can write your own. Once you've chosen your plan activity, you'll be able to invite at least two of your connections.
The folks who you've selected will get an invitation in your private chat to join the group. As soon as the first person accepts the invite, start messaging to organize your meetup! Anyone who joins the group will be able to see the full conversation history, so if someone accepts their invitation after planning is in full swing, don't sweat it. They'll be up to speed in no time. The organizer of the group can also continue to invite more of their own Bumble For Friends connections to the chat at any time. Whether you're invited to a group or you create one, these convos will be held alongside your 1:1 chats so you can find everything in one place.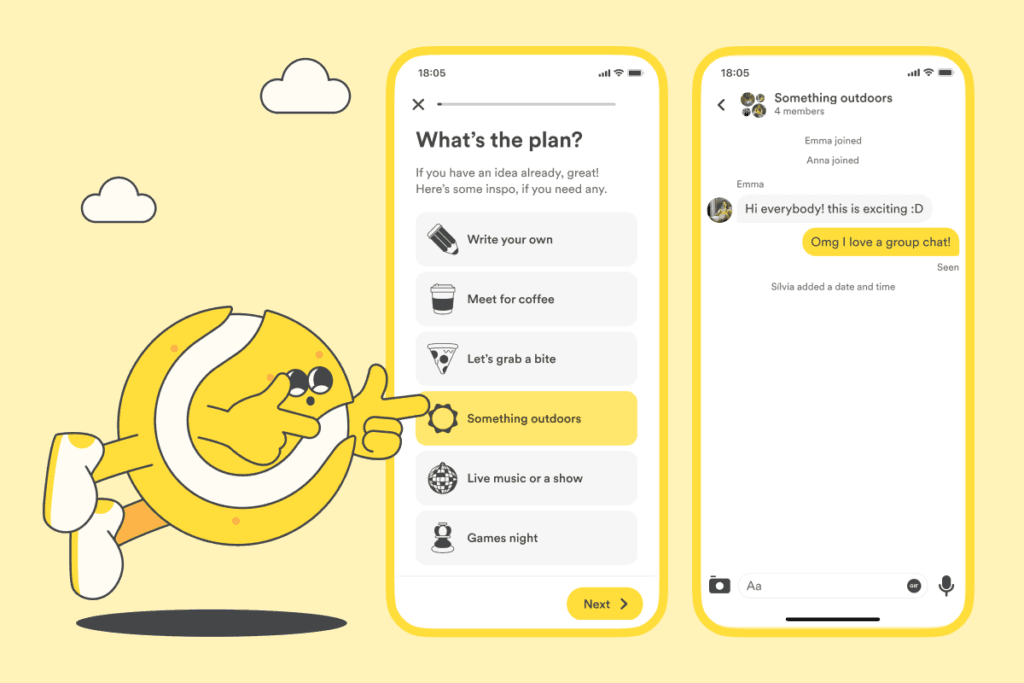 Bumble For Friends is here to help you meet like-minded people nearby who make a real, positive impact in your life. Sign up today and discover a community who can't wait to be friends with you.
Bumble For Friends may not be currently available in your region. If you don't want your BFF profile to be shown on the new Bumble For Friends app, see here.