Events
Introducing Bumble City Guides! First Up? Austin, TX
No matter where you are, Bumble is with you.
Headed to a wedding in Kansas City? We got you. A long weekend away in Toronto? Yup! A bachelorette party in Austin? So there.
We have Queen Bees all over the country making Hives in their cities! They know the ins and outs of what to do and where to go, and they want to share it all with you.
First up on our list is the home of the Bumble Hive: Austin, TX.
In addition to being our HQ, Austin is one of the most fun cities in the country. (We may be biased, but trust us on this one.) You know Austin for its great food, amazing music scene, and the various fun festivals thrown here throughout the year like ACL and SXSW, but there's so much more to ATX than meets the eye.
Austin's Queen Bee, Cara Caulkins, shares some of her favorite places to hang out, go out, and chill out below.

AUTHENTICALLY, AUSTIN
Barton Springs Pool
2201 Barton Springs Rd. Austin, TX 78704
This freshwater pool, carved out of a natural spring in the middle of downtown Austin, is open to the public year round. It's the perfect place to cool off from the scorching heat of Texas summer: The water is 68 degrees year-round!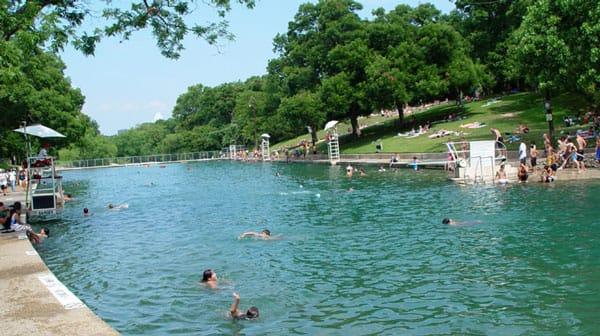 South Congress Hotel
1603 S Congress Ave, Austin, TX 78704
Come stay at Austin's chicest boutique hotel. Enjoy the amazing amenities like the stylish and tasty Café No Sé, Tenoverten's non-traditional nail salon, and Sunroom's cute boutique. The first Thursday of every month is a "See and Be Scene" happy hour in the courtyard of the hotel. Be sure to check out their live music and killer cocktail specials, too!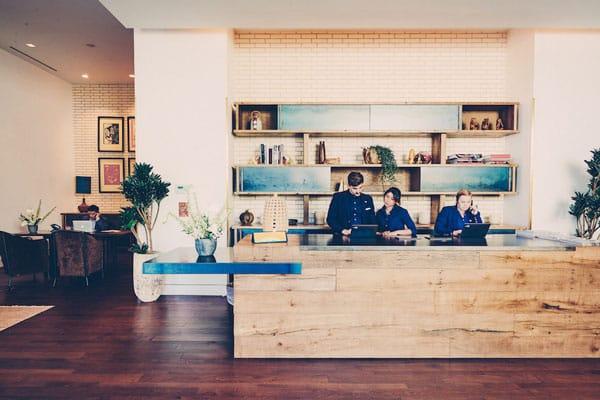 SWEAT IT OUT
The Barre Code Austin
2300 S Lamar Blvd, Austin, TX 78704
I love working out at the Barre Code because the classes are all so different. I'm never bored, and the community of members there is so strong. The owner and lead instructor, Cami, sets such a positive tone; the studio always feels like a friendly place to be. We've had some great events doing Barre Code classes poolside this summer. It's so much fun to hang out with everyone after we've worked up a sweat. (It's also a great place to meet new friends!)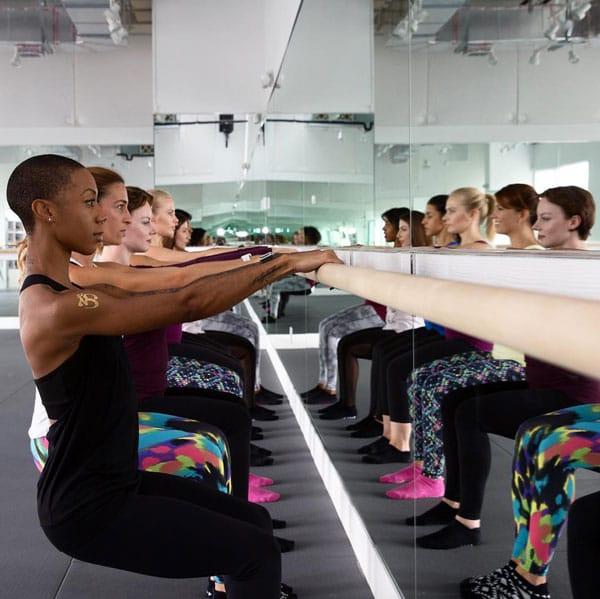 CorePower Yoga
801 W 5th St, Retail Unit I, Austin, TX 78703
CorePower is one of my absolute favorites in Austin for a good sweat – I know I'm always going to get a great workout. I love practicing yoga in a heated room. For extra heat, try Taylor's class at 6pm on Monday evenings!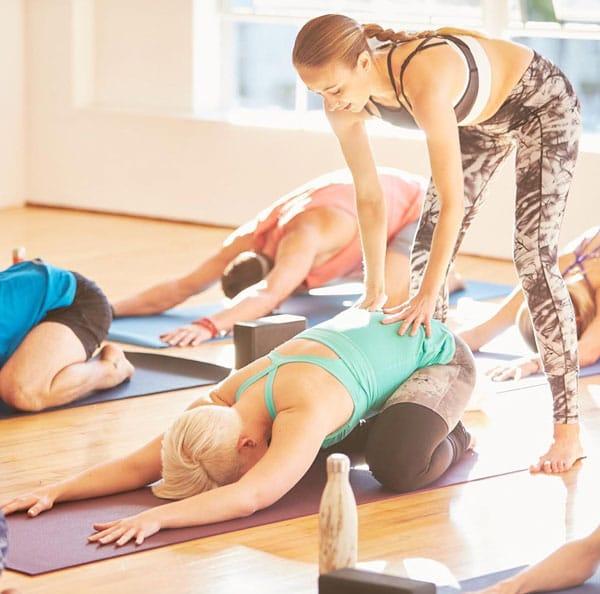 Ladybird Lake Hike & Bike Trail
1820 S. Lakeshore Blvd., Austin, TX 78741
This is one of my favorite spots to go for a jog. I always remember how much I adore living in Austin when I'm on the trail. After a hot summer run, I love jumping in Barton Springs to cool off!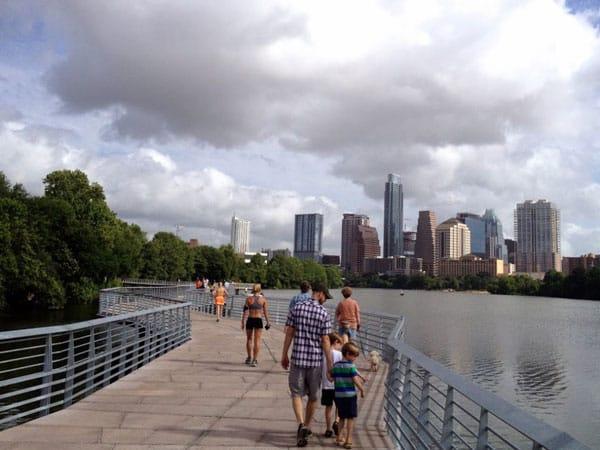 SoulCycle
Frost Bank Tower, 401 Congress Ave, Austin, TX 78701
I love SoulCycle, not only for its close proximity to my office downtown, but becuse the energy and sacred space that's created in the dark room is not like any other workout I've ever experienced. My favorite class is at 7am with Christy!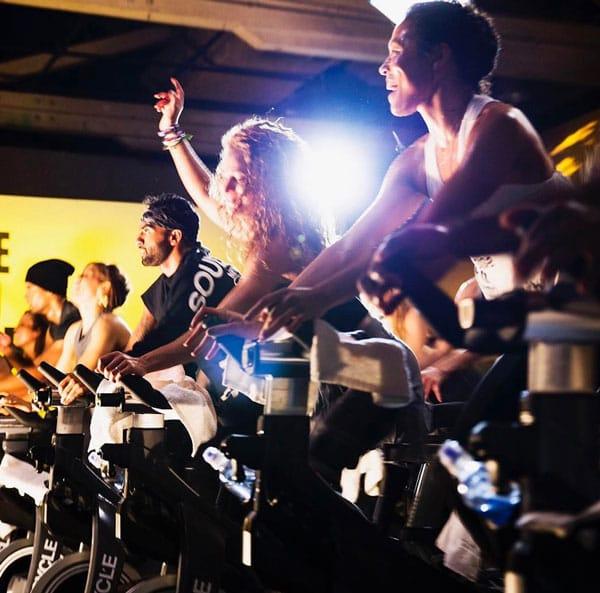 SUNDAY FUNDAY BRUNCH
Café No Sé
Located in the South Congress Hotel, 1603 South Congress, Austin, TX, 78704
The best thing about Cafe No Se (besides being located in my favorite hotel in Austin) is how fresh and delicious everything on the menu is. You can opt for a super indulgent meal with their burger and fries, or keep it light with the avocado toast. The homemade pastries are insane too. The atmosphere is perfect for both business meetings and friend meet-ups. I'm there at least once a week!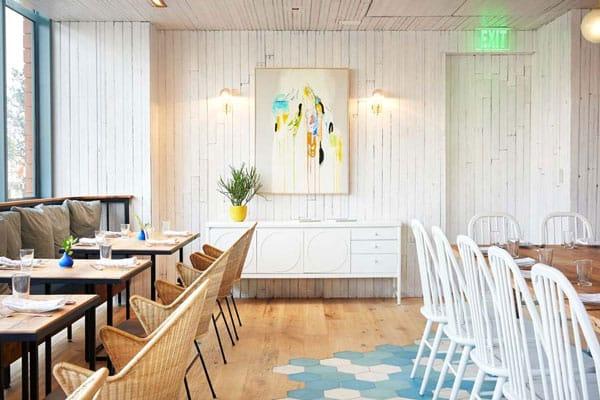 Bangers
79 Rainey St, Austin, TX 78701
Banger's is all about being a fun place to eat, drink, and hangout. I love meeting up with friends there because it's right in the heart of Rainey Street. Brunch on Sunday includes live music (an amazing brass band!), a specialty brunch menu as well as their signature sausages, and all of the beer, or "manmosas", you can handle. Grab a crew and a picnic table outside – it's sure to be a Sunday Funday!
Josephine House
1601 Waterston Ave, Austin, TX 78703
This is by far one of my favorite spots in town for breakfast or brunch. Not only is it a perfect, quaint setting in which to gather with friends or colleagues, but the food is delicious and Instagram-worthy. (Not something you find everywhere!) If it's not the middle of summer, grab one of the nook tables outside for a perfect patio experience. 
June's All Day
1722 South Congress, Austin, TX, 78704
The buzz about June's is spreading – Bon Appetit just featured it as one the best new restaurants in the U.S! I totally understand why. The potent mix of a casual yet chic atmosphere with their delicious food makes this one of my go-tos for any meal. One of my favorite brunch items is the Appetizing Board – it's like a deconstructed lox and bagel! If the weather isn't horribly hot, it's lovely to sit on the front patio and people-watch on South Congress.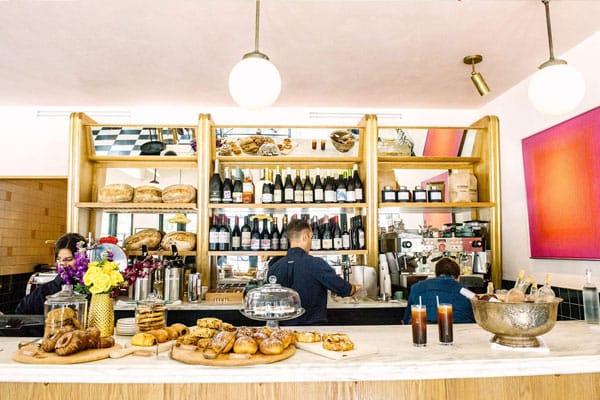 INSTA-WORTHY
I Love You So Much- Jo's Coffee
1300 South Congress Avenue, Austin, Texas 78704
If you have to Instagram one thing in Austin, it's going to be the "I love you much" sign at Jo's Coffee on South Congress. I have a few of these photos with various groups of friends and family visitors. (And even some of just myself!) It's an Austin tradition to take a snap in front of it with your honey.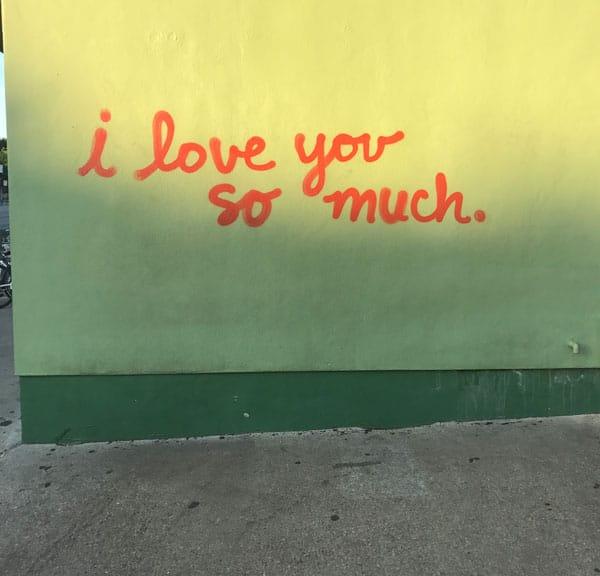 The Hope Outdoor Gallery
1008 Baylor St, Austin, TX 78703
I had never seen anything like The Hope Gallery, and I lived in New York City! It's really striking in that it has layers and layers of beautiful street art, without being offensive. It's a great place to hang out, take a few photos, enjoy some people watching of Austin natives and tourists. If you're brave enough to climb to the top of the walls, it offers a unique (and gorgeous) view of the city's skyline. (Go at sunset for the best light!)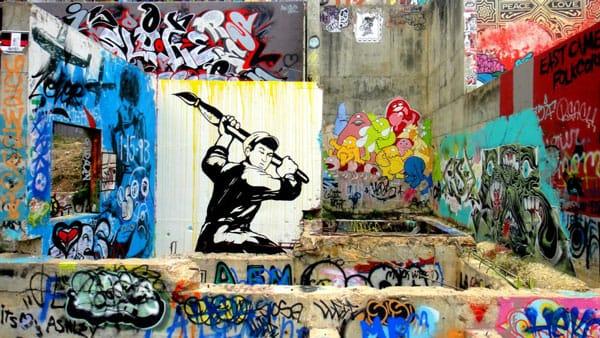 LadyBird/Town Lake
515 S Congress Ave, Austin, TX 78704
Rent a Stand Up Paddle Board on Lady Bird Lake, trust me – it's not scary! You can make it a workout or keep it low key and leisurely. Bonus points if you can get the iconic Frost Tower in the background of your IG story!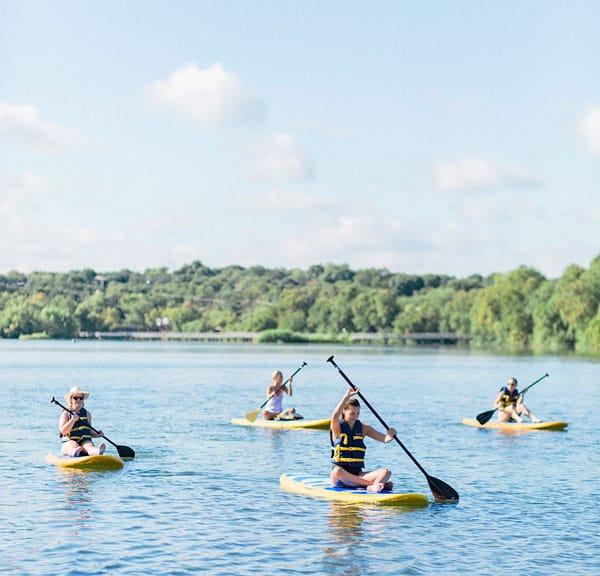 South Congress Bridge
Congress Ave, Austin, TX 78704
Underneath the Ann W. Richards Congress Avenue Bridge is the largest urban bat colony in North America. Late July/Early August is considered the "peak season". The entire population of 1.5 million bats flies out to hunt at sunset during this time. This is the perfect place to get a view of the beautiful Capitol building in the distance!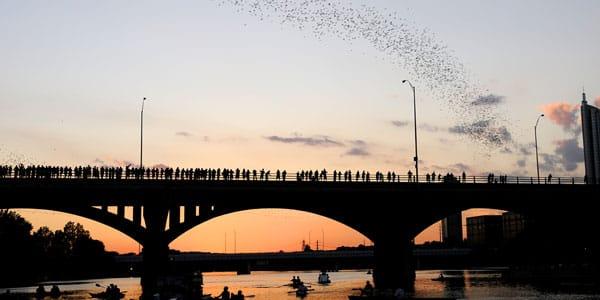 CRAFTY COCKTAILS
June's All Day
1722 South Congress, Austin, TX 78704
June's is one of the best spots in town for a drink as well. Perfectly situated on South Congress, locally referred to as SoCo, June's has French bistro vibes with a welcoming energy. One of the owners, Master Sommelier June Rodil, has curated an insane wine list. I tend to stick with wine here, but I've heard the cocktails are no joke either. I love having a glass at the beautiful bar and chatting with fellow diners, or bringing a larger group and sitting at the communal marble table.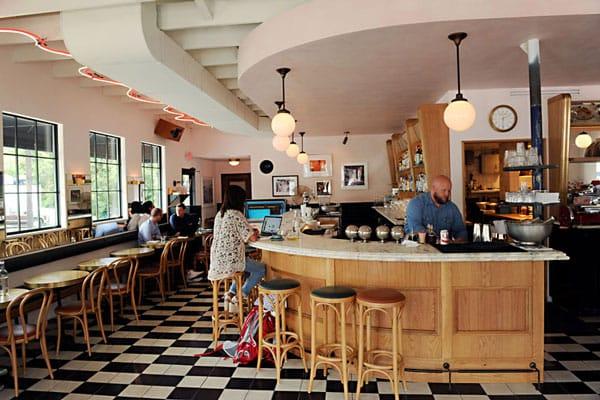 Garage Bar
503 Colorado St, Austin, TX 78701
This bar is a little hard to find since it's located inside a parking garage, but once you uncover it, it's sure to be a favorite. It's the perfect place if you're looking for inventive craft cocktails in a hip, speakeasy-style space. They even have a bar bites menu curated by Tim Lane. It's a small place, so if you go on a weekend night you might have to wait, but it's worth it.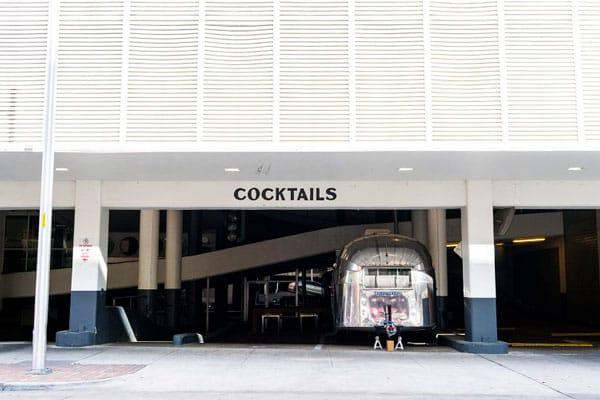 Whislers
1816 E 6th St, Austin, TX 78702
An East Side favorite, Whislers is great to sit outside on the patio, inside at the bar for a sexier vibe, or upstairs in the Mezcal Room. The specialty cocktails are all delicious, but you can also just tell the bartenders what you like and they'll make you something custom. I've seen a burlesque show on the bar inside on a weekend evening, but on weeknights it's a great place to bring a friend or a date.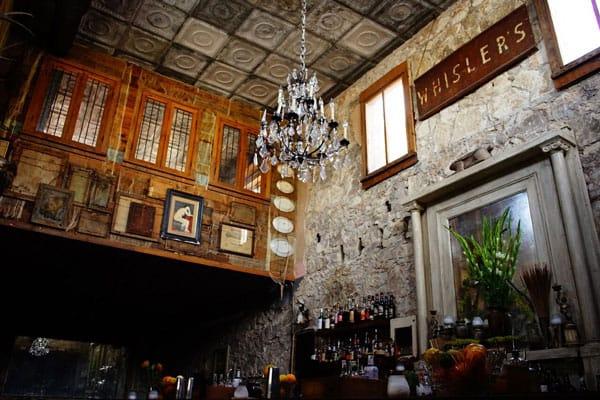 Floppy Disk Repair
119 E 5th St, Austin, TX 78701
One of the newer cocktail spots in Austin, I like Floppy Disk because it's so unassuming. Located next to the popular Handlebar, this is a very small speakeasy serving up unique cocktails. Downside: You'll need the access code to enter. Upside: You might have a celeb sighting at the bar!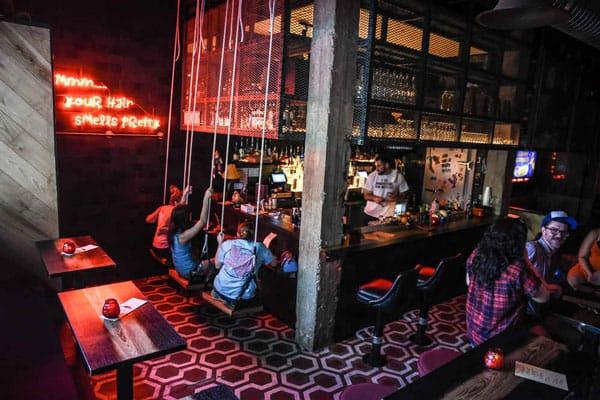 Native Hostel
807 E. 4th Street Austin, TX 78702
This is my latest go-to for both weeknights or weekends. It opened in 2017 and it's what the name suggests – an actual hostel. However, Native is not like any hostel I ever stayed in while backpacking across South America. The lounge (coffee shop during the day) and adjoining bar/restaurant turn into a great hotspot at night. Get a margarita and go on Saturday night – a DJ usually spins in the lounge.
CAFFEINE BOOST
Juice Society
1100 S Lamar Blvd, Austin, TX 78703
It took me a while to find my favorite cold-pressed juice in Austin, but Juice Society took the crown! They offer high-quality, organic, cold-pressed juice, smoothies, and plant-based food, with a growing menu. I haven't had anything there I don't like, but my favorites are the green juices and Activated Charcoal Lemonade. The space is also beautiful, perfect to sit and work on your laptop or have a meeting.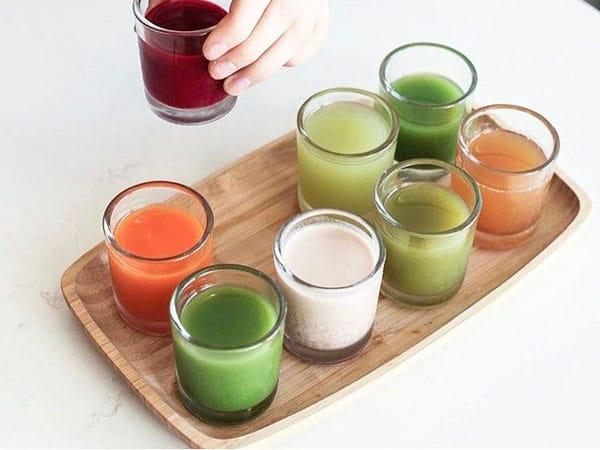 Cenote
1010 E Cesar Chavez St, Austin, TX 78702
If I'm working from a coffee shop, Cenote is one of my favorites. It's got a casual, east-side vibe and great coffee. My usual is the delicious Almond Milk Latte. They also have a killer breakfast and lunch menu if you decide you're hungry. If you're not pulling out a laptop, the outside picnic tables are really nice on both weekdays and weekends.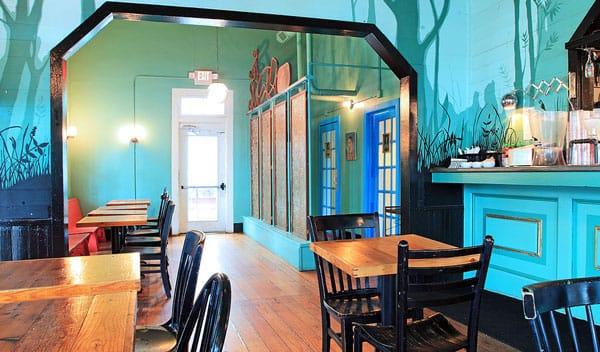 Juiceland
120 E 4th St, Austin, TX 78701
This is one of Austin's favorites. It's a juice/smoothie chain offering every combination of veggies and fruits under the sun. They also have a ton of add-ins and supplement options, so health-conscious foodies will be in heaven!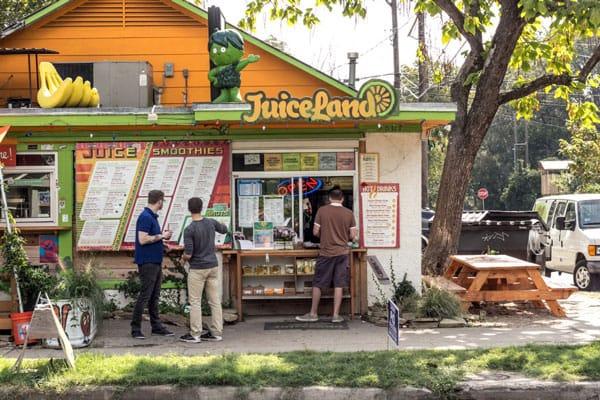 Caffe Medici
200 Congress Ave, Austin, TX 78701
This is a great coffee spot located right on Congress Avenue in the heart of the business district. The upstairs is great for working – there are even a few tables in the front outside if you just need to relax with a cup of coffee!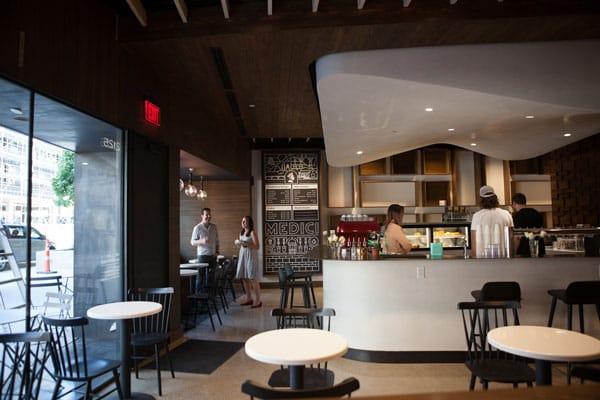 BREAK THE BANK
The Domain + Domain Northside
11700 Domain Blvd, Austin, TX 78758
This is the place to shop in the Austin area. If you're looking for a department store, they have both Neiman Marcus and Nordstrom. There's also every favorite chain under the sun (Madewell and Anthropologie to name a few.) Be sure to check out the newest local Austin jewelry shop, Nina Berenato, at her new location near Tiffany's!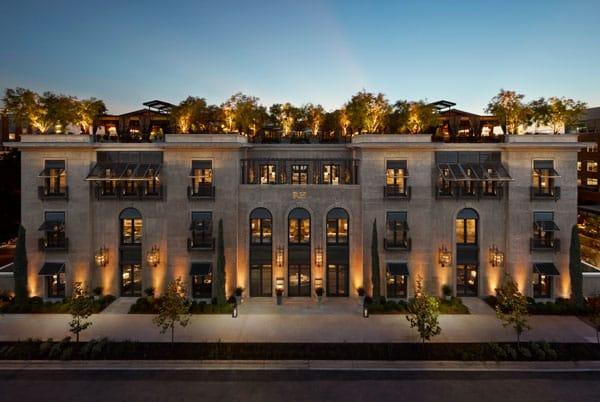 South Congress
2409 South Congress Avenue
This is where you can find a one-of-a-kind shopping experience! With Austin's hottest and quirkiest retail stores all side by side, you're sure to leave with your shopping bags full. Pick out a new accessory from Austin's delicate jewelry line, Limbo, or check out costume shop Lucy in Disguise with Diamonds for some dress up fun. My favorite clothing stores along this stretch are Gypsy Wagon and Cove.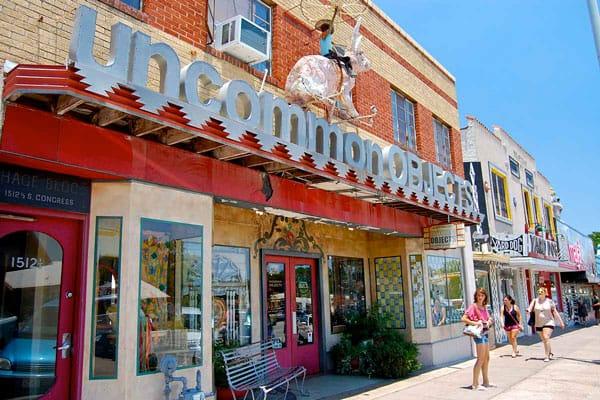 2nd Street District
214 Guadalupe St, Austin, TX 78701
"Where Austin Warmth Meets Austin Cool", the 2nd Street District is six city blocks made up of shopping, dining, and local entertainment. The Austin City Limits venue recently relocated to the W Austin Hotel, and live performances are held there almost nightly. If you can get tickets to go to a show, do it – it's one of my favorite places to see live music in Austin.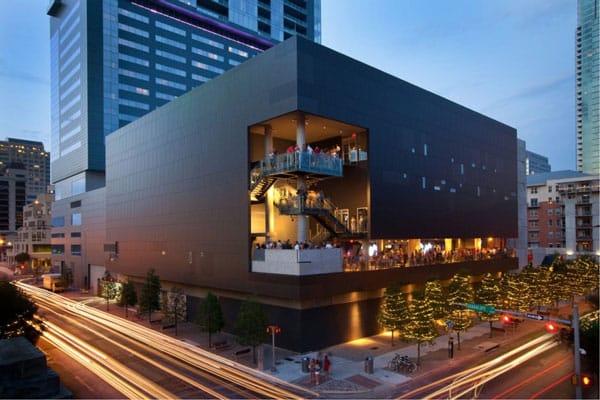 Lake Austin Spa
1705 S Quinlan Park Rd, Austin, TX 78732
Tucked away in the beautiful Texas Hill Country on the shores of Lake Austin, Lake Austin Spa is the perfect staycation getaway. Treat yourself to massage and lunch. It's equally fun to go solo or with a bachelorette party group.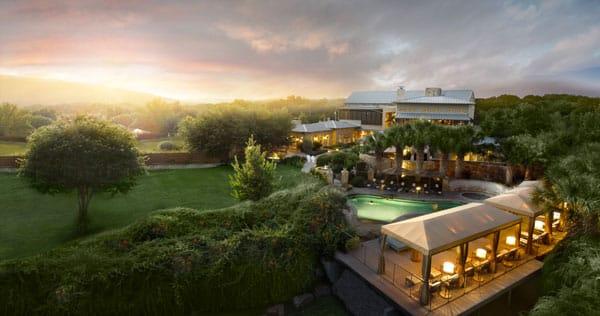 Those are all my favorite Austin places! I hope you enjoy them as much as I do.
Love,
Austin Queen Bee Cara Caulkins for The Bumble Hive
Originally from Chicago, Cara spent a few years in New York and now calls Austin, TX home. She started her own public relations business. She loves Austin for its good food, music, and outdoor activities. Cara enjoys her downtime with friends or her sister, who is also an ATX resident.