Friendship
Priya Met Annum on Bumble BFF. Then She Moved In.
By Kelsey Miller
In December 2020, Priya traveled from her home in British Columbia, Canada to Kansas City, Kan. An optometrist in her last year of school, she was planning on staying in the U.S. for three months, doing a rotation at a local facility. Given the short timeframe—and the severity of the pandemic—Priya didn't plan for much of a social life. "I was just going to work and then back home, to my rental apartment," Priya says. "But I'd picked a rental property where you live with the host. And after a couple weeks, I realized that was a mistake!" Priya, feeling isolated and depressed, soon realized she needed to make friends, fast. "So, I woke up one morning and opened Bumble BFF. Annum was my first match."
Annum, a nurse, was also in a tough spot at the time, though hers was more figurative. "I joined Bumble BFF in the fall of 2020," she explains. "COVID-19 was peaking, the election was happening, and I was working in the ICU. I was getting into a lot of arguments with my then-close friends, just about basic human rights." When one of her oldest friends started posting anti-vaccine rhetoric on social media, Annum hit a breaking point. "It was my husband who actually suggested I try Bumble BFF," she says. "He'd used Bumble Bizz, so he was familiar with it. I thought, 'Well, I'm definitely ready for a new friend, so why not?'" Annum was clear on what kind of friend she needed. "In my bio, I said I was seeking liberal-minded friends." When she matched with Priya, it felt like hitting the jackpot. They were politically aligned, and as women of South Asian descent (Priya is Indian, Annum is Pakistani), they felt culturally connected. "And she's Canadian!" says Annum. "She couldn't even vote in our election!"
After a week of chatting, Priya and Annum went on their first friend date. "If it was meeting a boy, it would've felt super rushed," says Priya, laughing. But with Annum, everything felt easy and natural from the start. They had dinner at a restaurant in downtown Kansas City, and talked about—well, everything. "Politics, the vaccine, the Black Lives Matter movement, the overlap between our cultures, working in medicine," Annum recalls. "A lot!" They also discussed their families and upbringings, says Priya. "I got to hear her life story, she got to hear mine." Again, on most first dates, it would have been too much, too soon. "But I don't know, it's different when you connect with someone," Priya adds. "It was just like, 'Time is flying, and this is amazing!'"
So amazing, in fact, that at the end of their very first date, Annum invited Priya to move in. "She told me about her living situation, and I said, 'Well, this is really forward and I know we just met, but we have a guest area in our house that we never use. Our home is open to you, if you want it.'" Wilder still, Priya accepted! (After meeting Annum's husband, seeing their house, and talking it over with her parents. Amazing offer or not, she knew to put safety first.)
Priya moved in shortly thereafter, and stayed for the next two and a half months. "It made all the difference," she recalls. "I wasn't lonely anymore. I was able to come home after work and relax, and socialize with these friends." Annum worked nights at the time, so Priya often wound up hanging out with her husband, Chris, with whom she also became good friends. "One of the best things about Priya moving in was that it also helped Chris a lot," says Annum. "He's very social, and being forced to work remotely—plus, us being on opposite schedules—had gotten him really down." Chris and Priya were both big fans of cooking, and would take turns making meals for their little pod. On weekends, Priya and Annum would catch up on one another's weeks and watch Bollywood movies, just hanging out like two old friends, despite the fact that they'd only known each other for a couple of months.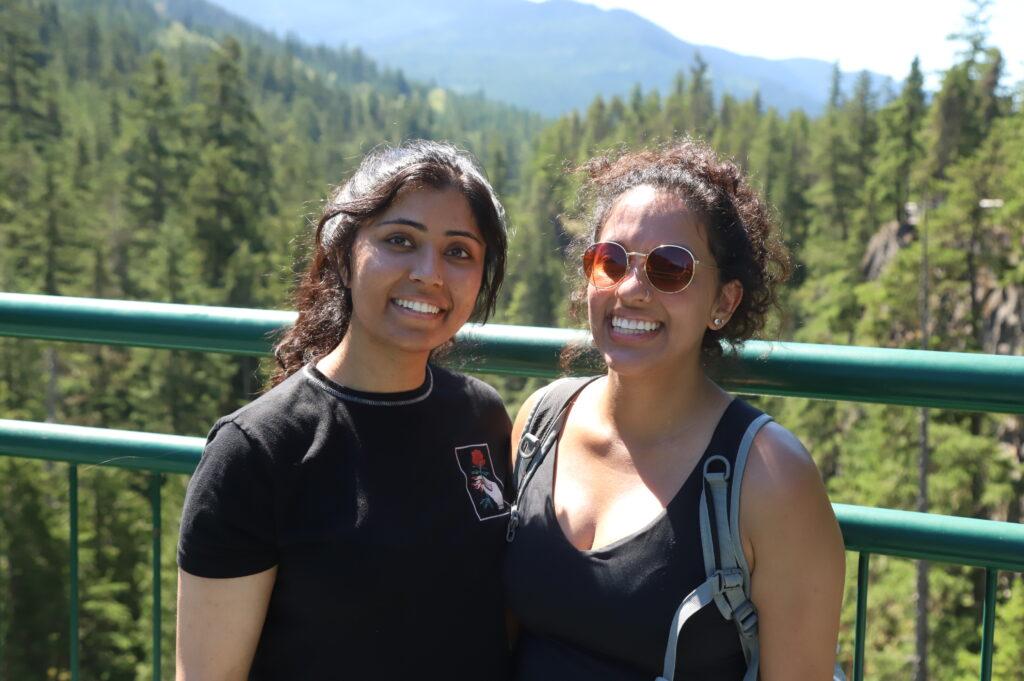 As ever, time flew, and soon it was time for Priya to leave Kansas and move on to her next rotation. Two years later, she's back home in Canada, but her friendship with Annum remains close. Annum and Chris flew to California for Priya's optometry school graduation last May. "We went to L.A. and did all the touristy stuff," Priya recalls. The couple visited Priya in Canada this past July, and met Priya's extended family, as well as her parents (with whom they stayed during the trip, naturally). Annum, who's expecting her first child, had just told Priya she was pregnant. "And Priya's mom was so sweet. She made me a maternity dress."
When they're not together, Annum and Priya keep in touch via text, sending each other memes every day, and chatting in their group chat with Chris. They have a shared file online, where they store recipes, says Priya: "We'll pick a day each month and cook a meal 'together,' or bake cookies or even just a drink." They'll share photos and report back, or chat on the phone while cooking. In a way, it lets them keep up the traditions of their early friendship days, cooking and sharing meals, even if they're sharing them thousands of miles apart.
Priya and Annum are the first to admit their BFF story is a bit of a whirlwind. "When I tell people, they're like, 'That is so strange,'" says Annum. "I know! It's this really weird, rare thing!" But if you're clear on who you are and who you're looking for in friendship, you might just find it too. That's the key, they agree: "Be upfront and you'll find someone you connect with," says Priya. Adds Annum: "If you're seeking specific values in a person, don't hesitate to put that in your profile. It's okay. You might be pleasantly surprised when someone relates." True, you may not wind up moving in with your new pal after one date. But you may still find a deep, enduring friendship with someone who knows and appreciates who you truly are. "I mean," says Annum. "It doesn't hurt to try, right?"