Friendship
In a New City, Sarah, Grace, and Kelly Turned to Bumble For Friends and Found a Lifelong Friendship
By Ashley Edwards Walker
Sarah, Kelly, and Grace were all brand new to the Washington, D.C. metro area when they signed up for Bumble For Friends in March 2019. Sarah, who works in data analytics, moved to D.C. for grad school "without a single friend," she says. "I felt so lost and lonely the first few weeks. I felt like I had made a mistake moving there and wanted to move home." She was in a long-term relationship, so she'd never used a dating app before and "had no idea it was even possible that you could make friends on apps," she explains. But after hearing about a friend's sister who had successfully used Bumble For Friends to make new friends in San Francisco, Sarah decided to give it a try. She built a profile and, on her first day swiping, she matched with Kelly.
Kelly, a travel nurse, was roommates with Grace, a consultant on fundraising for nonprofits. They'd managed to make a few new friends in the short time they'd lived in D.C., "but most of them were guys, and we were looking for more girlfriends to expand our circle," Kelly says. Kelly was familiar with Bumble because she was already using the app's Date mode. She suggested to Grace that they try Bumble For Friends. They agreed that if one of them made a match, the other one would join them when they went to meet up in person. "I don't think I would have gotten on there without Grace," Kelly admits. "We made it kind of a team thing, which made it more fun." Grace agrees that trying out Bumble For Friends with Kelly eased some of her nerves about putting herself out there. "I really wanted to make new friends, and Kelly is so outgoing," she explains. 
All three women agree building a profile to attract female friends was different from the approach they might take to meet someone to date. For Sarah, that translated to being intentional about including pictures with her other girlfriends who didn't live in Washington, D.C. "so that people knew I did have friends" she said. Kelly says she took a more "goofy" approach when building her profile than she had when crafting her dating profile. For example, her answer to one of the Profile Prompts expressed her love for Rice-a-Roni—which ended up being the thing that caught Sarah's attention. "I was like, 'This girl. I want to be friends with her,'" Sarah recalls. They kicked off their chat by talking about their mutual love of the boxed pasta meal, then Kelly told Sarah she and Grace were grabbing drinks the following night and invited her to join.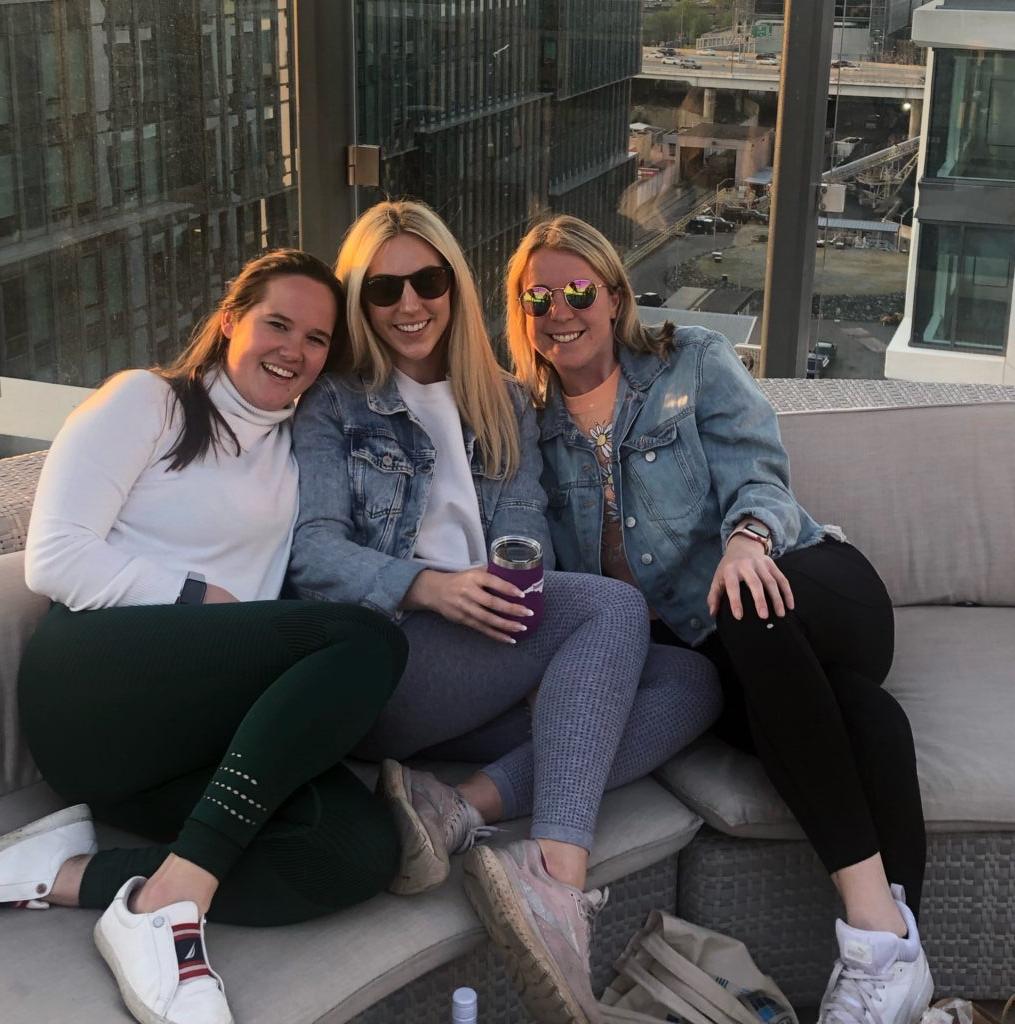 When Grace and Kelly showed up at the bar, they were cautiously optimistic. Even if they didn't hit it off with Sarah, Grace remembers thinking, "at least we were trying something new and different." Sarah, who'd only lived in D.C. for about a week by then, arrived feeling stressed after navigating an unfamiliar city looking for an unfamiliar bar. "I also think it was a little bit more awkward for me because I was a single person walking into a group of two that were already friends," she admits. But once the three of them met, any doubts evaporated. "Within 10 minutes we were all laughing and having a good time getting to know each other," confirms Grace.
After covering the basics—jobs, cities they'd previously lived in, alma maters—the conversation quickly turned to discussing all the places they wanted to explore together. "Kelly just seemed so joyful, always laughing and having something fun to say," recalls Sarah. "And Grace is very passionate and opinionated. Both of those things really attracted me to them as friends." By the time the three women said their goodbyes, they'd already made plans to attend an outdoor jazz event that weekend. Their third time hanging out, they hit up a bottomless brunch, which turned into an all-day affair checking out other spots around town, including a bunch of rooftop bars.
A group text was quickly formed to coordinate more plans, exchange memes, and discuss the various goings-on in their lives. "We've had lots of really fun group text names over the years," says Grace, recalling that the first one was inspired by their mutual love of burrito bowls. They started regularly going out together, trying out new bars and restaurants, and even going on short trips, visiting Kelly's family in Delaware and traveling to New York City.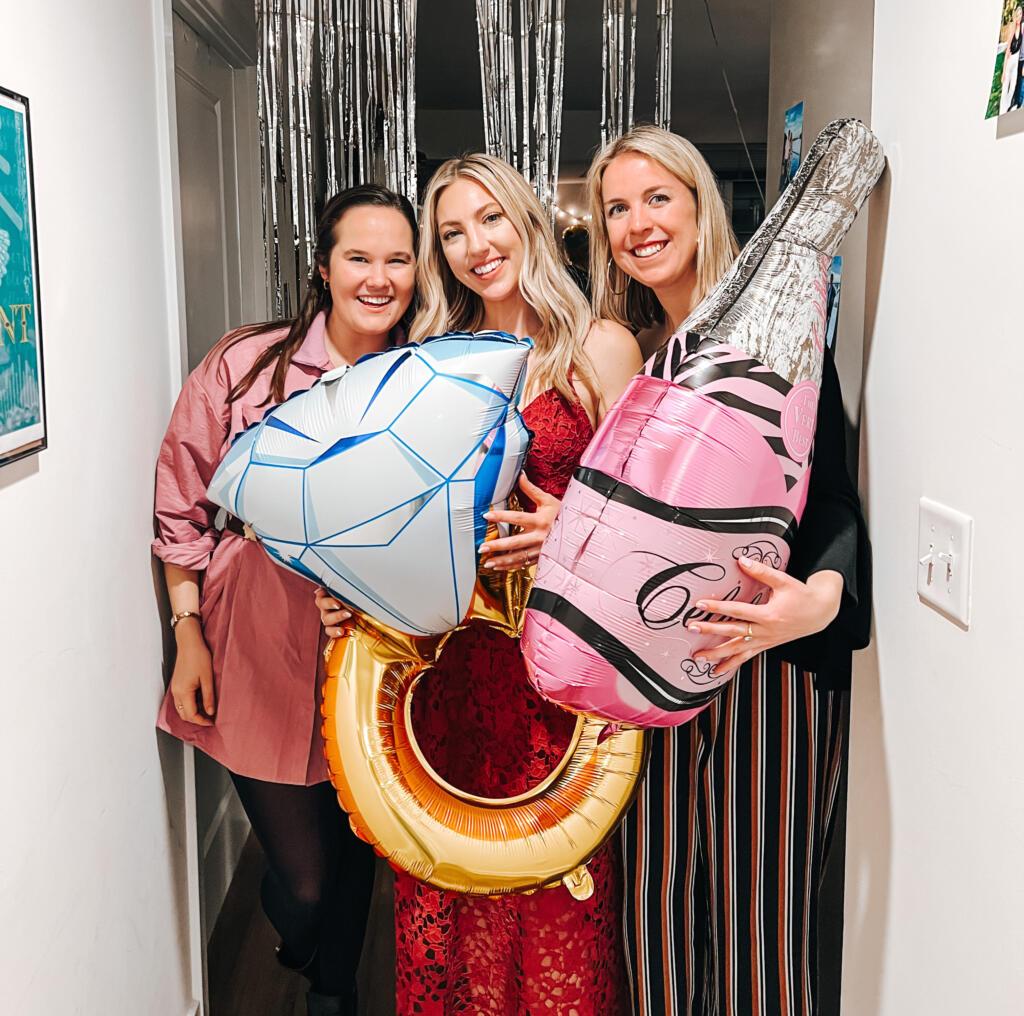 In the spring of 2021, months after forming their own pandemic bubble that also included a few other mutual friends, Sarah, Kelly, and Grace decided to become roommates. They found an "amazing" apartment with a view of the Capitol. It became home base for their growing group of friends, who'd stop by between Sunday kickball games and trips to the pool. The one-and-a-half years spent living together "was one of the best times of my life," says Kelly. "Our apartment was like a gathering place for all of our friends, and it was a gathering place for us," adds Grace. "It was definitely a convergence of things that made for a really special time in life." In an ode to how they met, they named their WiFi network "Bumble Girls."
Their experience living together only strengthened their bond and solidified what Sarah, Kelly, and Grace had come to realize: by swiping right on Bumble For Friends, they'd found a forever friendship. When Sarah learned about a family member's illness, Kelly and Grace were among the first people she turned to for support. "It was one of the many little moments throughout our friendship that has taught me, without a shadow of a doubt, that I can rely on them for the big things and little things," says Sarah.
Recently, there have been some changes in their group dynamic. While Grace is still living in D.C., in summer 2022 Sarah moved to Cleveland, Ohio, with her fiance (Kelly and Grace threw her engagement party, of course), and Kelly relocated to pursue new career opportunities as a travel nurse. Although they no longer live in the same apartment, let alone the same city, they remain committed to their friendship. In fact, Kelly says she might not have taken this new job were it not for the stability and comfort she finds in her friendship with Sarah and Grace.
For now, their next in-person reunion will be at Sarah's bachelorette party and wedding in the coming months. And in the meantime, they agree it's comforting to know Bumble For Friends is there for them when they're ready to make more new friends. In fact, Grace has already redownloaded the app, and Kelly has used it while traveling for work. "I definitely felt very comfortable opening up the app again and trying to make new friends," says Kelly. "When you move to a new city, it can be very lonely, and it's nice to know that other people are also out there looking to make friends."