Friendship
Steph and Rachel Found a Lifelong Friendship on Bumble For Friends—as Well as Their Future Bridesmaids
By Leah Spellman Berger
For a long time, Rachel and Steph were all set, friendship-wise. Rachel had a lifelong friend she turned to for everything; Steph had a close-knit group of college friends. But as they settled into their careers in their late 20s, everything changed. Rachel's decades-long friendship ended, and Steph moved away from her core group for a new job in Philadelphia.
"When I moved back home after college, I was struggling to find friends and reconnect with people," says Rachel, who works in accounting. "My husband (boyfriend at the time) doesn't drink, so we weren't meeting people at bars or parties. And I was working in Philadelphia, but I'm not really a city girl, so I wasn't meeting people at happy hours."
In her new job in technology sales, Steph made some friends through work, but like Rachel she moved to the suburbs 45 minutes away and was finding it difficult to make connections outside of the office. "It was really hard to find friends," Steph says. "I've maintained a lot of long-distance friendships, but I was at a point where I had enough texting friends. I needed a real-life friend."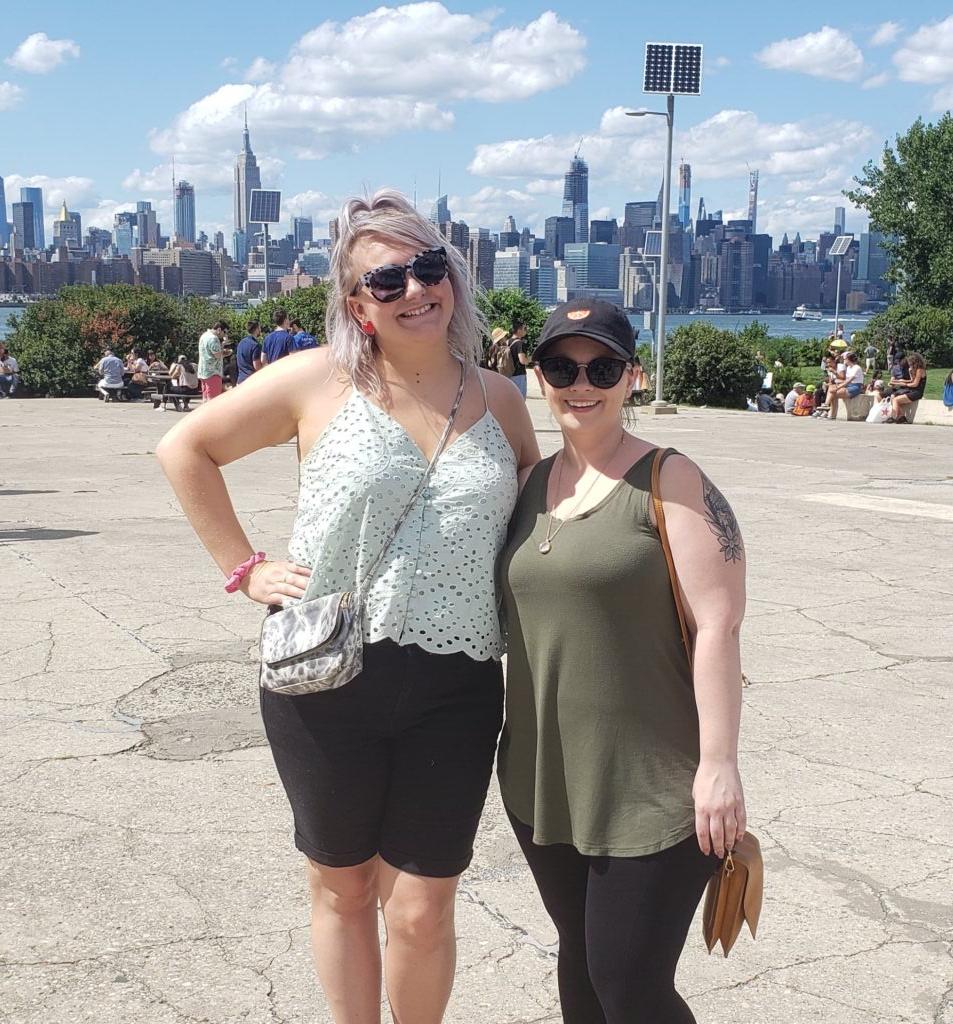 In fall 2018, Rachel and Steph found themselves in the same situation: ready to make local friends IRL, but unsure how to do that as adults outside of college and work. "I searched online for ways to make friends or apps to make friends and stumbled across Bumble For Friends," Steph says. She decided to give it a shot, and made a couple of connections, even going to a three-day music festival with a match. Still, she felt like she hadn't found that solid local friendship she was looking for yet, and kept swiping. 
Rachel's online search also led her to Bumble For Friends. The world of online dating was unfamiliar since she'd known her boyfriend since middle school. She was also making connections, but nothing really clicked. "I almost gave up!" says Rachel. Then she came across Steph.
Steph's profile, and one shared interest in particular—true crime—caught her eye. That and Steph's sense of humor. "Her profile said, 'I'm the funniest person my friends know,'" Rachel remembers.
They chatted a bit and decided to meet up for coffee to see what the vibe was like in person. Still, Steph was skeptical. "I even told my boyfriend I was meeting up with a random girl who I hoped to become friends with, and I remember us laughing about it," she recalls. "But I'm so glad I did meet up with her, because we became instant friends!" They had their first friend-hang at a local French bakery. They connected about all they had in common, including shared Zodiac signs (Cancer) and their respective long-term relationships. For two hours they unpacked their previous friendships and chatted about what led them to the app. "From then on, we texted all the time and made plans to hang out again," says Rachel.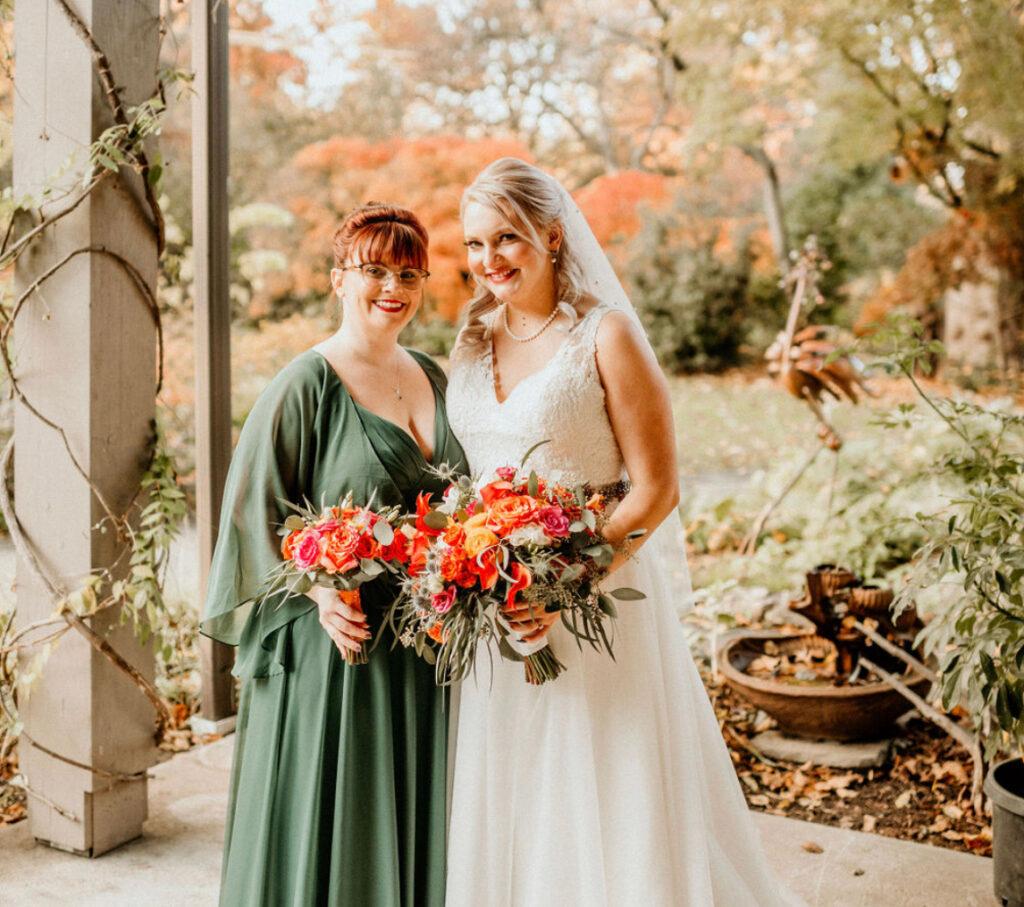 They became each other's go-to plus one for every kind of event, from concerts and a fall festival to live shows of their favorite true crime podcast. The summer they both turned 30, they celebrated together with family and friends. In addition to wanting the same things out of a friendship and being intentional about communicating that, Rachel and Steph's personality styles also complemented one another. "We're both pretty similar and down to earth," Rachel says. "Steph is usually the first person to know whatever's happening in my life." And Steph says caring and bubbly Rachel offers her a sense of support: "A lot of my guy friends are straight–shooters, which I like because I'm very sensitive and it helps give me thick skin, but I was craving a little more comfort when I met Rachel."
When Steph got engaged in December 2019, Rachel was there to go along on tours of potential venues and offer her perspective from time she spent as an event planner in a previous career. The following year, Rachel also got engaged at the height of COVID-19 and, yet again, they had a big life milestone to navigate together. "It was stressful because so much was up in the air with the pandemic," Rachel says. "But we helped each other through it." They were both in each other's wedding parties and were there for wedding showers and bachelorette parties. "Between Rachel and two of my other friends, half of my bridal party were people I met on Bumble BFF," Steph says.
It's been more than four years since they met and, once again, Rachel and Steph are sharing another first together as they start families. Steph is in her third trimester of pregnancy and Rachel is in her second. Steph says moving on to the next phase of life with Rachel by her side feels very thematic of their relationship. "We both became friends at a time where we had boyfriends and lived with them and then we started feeling like we were ready to get engaged," says Steph. "Then we got engaged within a year of each other and got married, and now we're ready to start our families."
Looking back at where she was prior to meeting Steph, Rachel says it was like something was missing. "I felt very lonely for a long time," she says. "My husband is an amazing partner, but there's nothing like a good girlfriend."
Main photo credit: Lexus Gold Photography