Career
Can You Keep Up with Kris Jenner? She's Hiring on Bumble Bizz
Can you keep up with Kris?
Not only has she empowered her children to build their own empires, but she's simultaneously built her own — and now Kris Jenner needs someone who can hit the ground running and do an unparalleled job as her personal assistant. Knowing that Bumble users are no strangers to making the first move, Kris is going directly to Bumble Bizz to hire that person!
We're teaming up with the entrepreneur, producer, brand builder, and manager extraordinaire to help her find the best personal assistant she's ever had on Bumble Bizz. And if you don't call the west coast home, not to worry! Kris is considering candidates from around the country.
"Being that Bumble Bizz takes the 'women make the first move' concept and focuses on female empowerment and opportunity in the professional space, I am so excited to use this platform within the Bumble app for my search for the newest member of my team," Kris tells us.
Beyond business, we admire the fact that Kris has instilled in her family a sincere drive to go after everything that they do in life full throttle — all while in complete support of one another. Much like we've built our own, she's built a Hive of women who support and challenge each other to become the best versions of themselves and reach for their dreams.
Fire up Bumble Bizz for the unique opportunity to match with on Kris' verified profile for the chance to be hired. If you're a strong candidate, expect to hear from Kris herself. Those most fit for the job will be narrowed into a pool of three to meet and interview. The person who generates enough buzz will join Kris Jenner's personal team to work directly with her on daily scheduling and organizational tasks and, without a doubt, benefit from a once-in-a-lifetime mentorship.
Don't think you have Bumble Bizz? If you have Bumble, you already do!
Bumble Bizz is a mode within the Bumble app; we have three modes: Bumble Date, Bumble BFF, and Bumble Bizz, When you open the app, you have the option of switching between all three profiles! To switch modes, tap the logo at the top of the screen and swipe between Bumble Date, Bumble BFF, and Bumble Bizz.
To make the best Bumble Bizz bio in the game, check out our top tips for standing out. Want to be on Bumble Bizz but not Date? Just hide dating mode!
The 'hide dating mode' feature is easily set up with a few simple steps:
Start by navigating to the mode switching menu
Swipe left to navigate to "dating mode"
Select the small "x" icon at the top of the switch to dating menu
Once selected, this icon will prompt the 'Don't need dates?' alert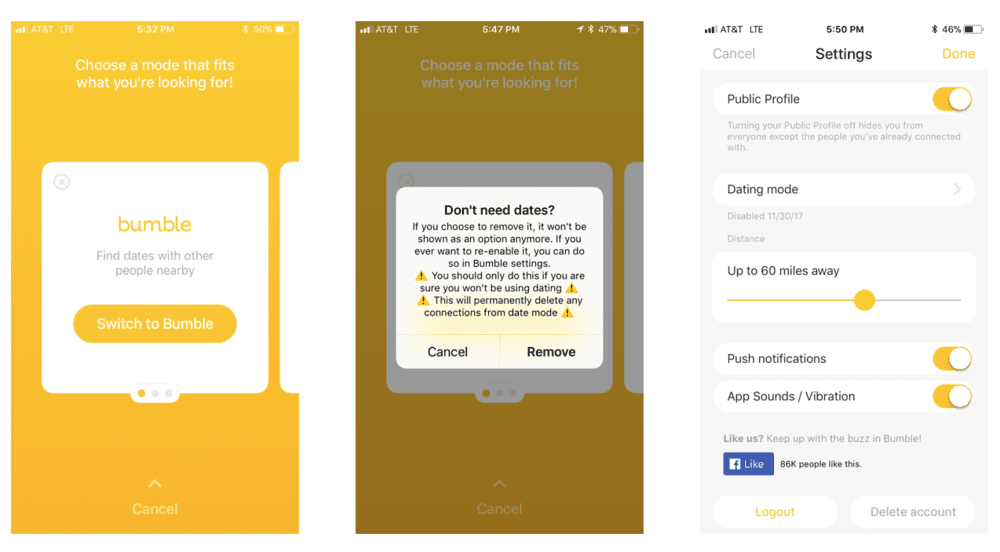 5. Select "Remove" to finalize the disabling of dating mode
6. Finally, navigate to the settings menu to view the time date stamp of the removal (Note the date stamp beneath "Dating mode")
For More Bumble Bizz Tips: How to Get Started With Bumble Bizz