Love
After Meeting on Bumble, Nathan Helped Israel Come Out to Family and Friends
By Melissa Kravitz Hoeffner
Coming out doesn't always immediately lead to finding true love, but for one California couple, a journey of self-discovery at the height of the pandemic led to an unexpected happily-ever-after.
Nathan, a grad student, chose to use Bumble because he liked that potential matches could make the first move. "I was always scared to take that chance," he says. Wedding videographer Israel, on the other hand, was on Bumble as he was looking to meet people after moving from Portland, Ore. to Fresno, Calif. "I was still in the closet, and just so grateful that I moved to a town where I wasn't going to know anyone," he says. "I could experiment and put myself out there."
When they matched in July 2020, things didn't exactly go smoothly. Even though they had much in common—they were both foodies, fans of the same pop rock band, and into anime and gaming—neither wanted to make the first move. Instead, they both watched the timer on their match countdown. With just one hour left, Israel finally built up the courage to write the first message. "I thought he was really cute!" Israel says. He quickly wrote "hey" as an intro—and it worked!
The two spent the next week messaging on Bumble, exchanging playlists, and sharing their goals, many of which overlapped. They both wanted to travel the world, move to a major city, and settle down with someone. Eventually, Israel felt that he needed to tell Nathan he wasn't out yet. Nathan wasn't completely comfortable with it, but to Israel's relief, they kept talking. Still, after they scheduled a date, Nathan canceled. He'd been heartbroken and cheated on before, and wasn't ready to potentially go through that pain again. He told Israel that he thought they'd be better off as friends.
After a brief period of silence, Nathan picked up their conversation. He realized that even if a relationship wasn't on the cards, he could still help with Israel's coming out process. "Israel being in the closet made me remember when I was in the closet," Nathan says. "I would have liked someone LGBTQ+ in my corner supporting me and giving me advice." Again they planned to meet in person, but this time as friends.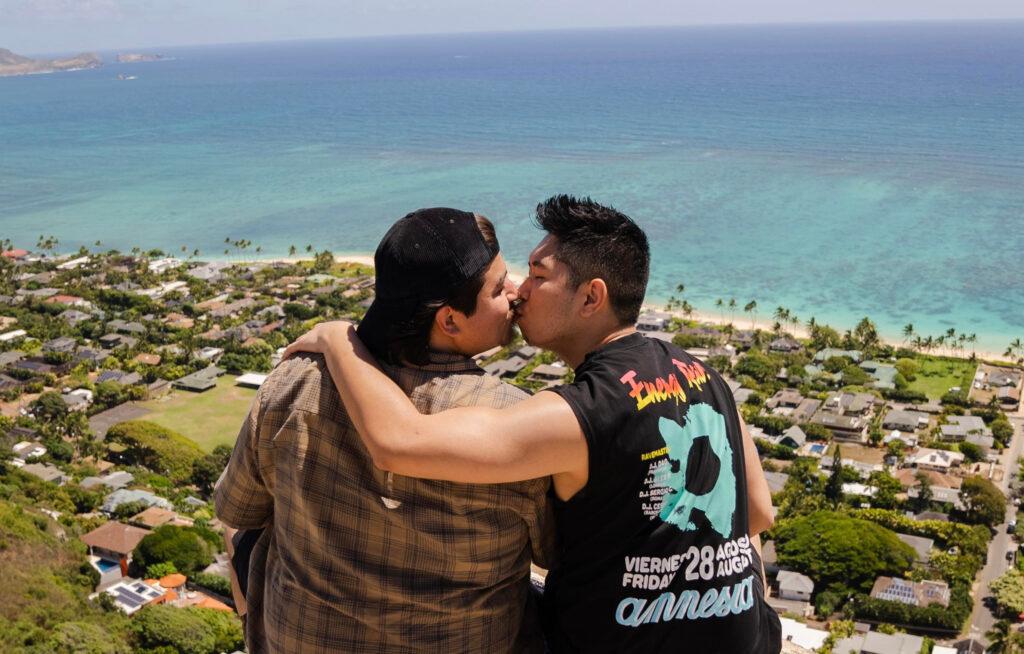 Because it was 2020, they didn't have many options, so they got boba tea and went to a local park. They spent hours talking, sharing their life stories with each other. And while they both enjoyed each other's company, the interaction left both of them confused. The bond felt like more than friendship. "When I saw him, I saw husband material," says Israel. Nathan realized that he was still torn. While he liked Israel, "I was scared of the situation," he says, and all the uncertainty and potential hurt that comes with starting a relationship.
Once again, their chat went quiet. Finally, after a few days, Israel decided to text Nathan, just to check in. Nathan responded with an invitation to come over and watch TV. Somewhere in their eight hours of watching shows together, Nathan's fear about getting into a new relationship started to subside. The fact that Israel wanted to sit next to him for an entire day watching cartoons confirmed his feelings. The romantic spark was undeniable. Nathan leaned in for a kiss and everything changed. The idea of being "just friends" evaporated, and the two acknowledged their feelings for each other.
After that date, their relationship quickly developed. "Because of COVID, we kind of skipped the dating phase," says Israel. With restaurants and entertainment venues shut down, the two spent time at each other's homes, watching TV shows, listening to music, and having deep conversations every night. "Lockdown worked in our favor, because we missed the awkwardness and went to the intimate connection very soon," says Israel. There was an adjustment period—this was Israel's first serious relationship, and he was still finding himself.
Just a few months in, with Nathan's love and support, Israel felt ready to introduce "gay Israel," as he called his true self, to his loved ones back in Tulare, Calif. He was ready for people to know, accept, and love him for who he really was.
"I was excited for Israel to be fully out," Nathan says, noting he was confident those close to Israel would meet him with support. He knew, however, that not everyone from Israel's former church would be as supportive, and didn't want those few negative reactions to bring him down. "I was ready to replace any hate with love and support from me and people in our community," Nathan says.
Nathan was right: Israel's friends were supportive. "My best friend was so accepting, and she became someone I could talk to about dating Nathan," Israel says. He began telling more friends, some of whom were shocked, but all of whom ended up being supportive. They sent gifts (including an LGBTQ+ coloring book, stickers, self-care products, and a journal to document the coming out journey) to show support. "They really tried to make me feel included and loved," Israel says. He was impressed at how his hometown friends quickly became his allies. "It was cool to see that growth in my friends, and to see how much they truly care about me," he says.
After telling friends, Israel was ready for the next stage: coming out to his family. That October, after his relationship with Nathan had been official for two months, Israel decided to introduce his boyfriend to his mom and grandparents on his birthday, when everyone would be together. He told them about his life-changing love a few days before the big party. "My mom was like, 'I love you, I'll always be on your side,' he says, "And she was excited to meet Nathan." She even bought a pride-themed bottle of champagne for the birthday celebration.
Now, Nathan and Israel have shared many relationship firsts, hitting milestones like going official on social media (which was also Israel's public coming out), traveling as a couple, and moving in together in July 2021. In the future, they hope to get married. Just like when he first laid eyes on him in the park, Israel still sees Nathan as future husband material, and the feeling is mutual.
Main photo credit: Shea B. Captures