Love
Scott and Wendy Never Intended to Marry—but Said "I Do" in Front of 15,000 People
By Dina Cheney
When Wendy, an elementary school art teacher, joined Bumble in 2017, she was looking to "meet someone nice to date." Divorced for several years, her goal wasn't to remarry. So when she stumbled across Scott's profile, what she sensed was a kindred spirit she'd have fun with rather than a potential husband.
They were both approaching their fifties, had been divorced, and were raising kids at similar ages. They shared a love of spending time outdoors, and noticed each other's tattoos. Once they matched, Wendy sent Scott a message; he was immediately drawn to her profile photos. "She looked happy and like she was someone who enjoyed life," Scott, who works in law enforcement, says. Immediately, they started talking about live music, food, and the logistics of dating while raising teenagers.
Since they lived two hours apart in New York State and were on parent duty, arranging a meet-up was far from simple. "We talked for a month before we went on a date," remembers Wendy, sharing that they truly bonded over discussions about parenting. When they were finally able to meet up, they chose Woodstock, NY, which was halfway between them and roughly an hour drive for each.
While eating vegan food, "little sparks started to fly," Wendy says. "We didn't want the date to end." Scott agrees, adding, "There was no effort. It just felt comfortable and easy." To extend the date—a challenge, since it was winter, and most places in the town shut down by five or six p.m.—they found a local bar with a pool table and stayed and chatted. When they arrived home later that night, they continued to talk over text, and Scott asked when he could see Wendy again.
For their second date, the couple met for a vegan Chinese lunch, followed by a long conversation in front of the fire at Wendy's house. Everything about being together felt so natural, including a chance meeting with Wendy's son. The couple began trying to meet up as often as possible—which sometimes happened only once a month due to logistical hurdles.
After the first year, the couple talked about moving in together, but decided that it was a no-go. Wendy's and Scott's jobs were far apart and some of their kids were still in school. At the time, "parenting was the priority because we as a couple were going to be fine," Wendy says. "The kids needed to be prioritized."
Over the next few years, Wendy and Scott began celebrating holidays and going on summer vacations with all four of their kids. During this time, they spoke repeatedly about not feeling a need to remarry. But, then Wendy started jokingly saying things like, "I don't see a ring on my finger," recalls Scott. "After four or five times of that, I was like, 'What's your ring size and style?'"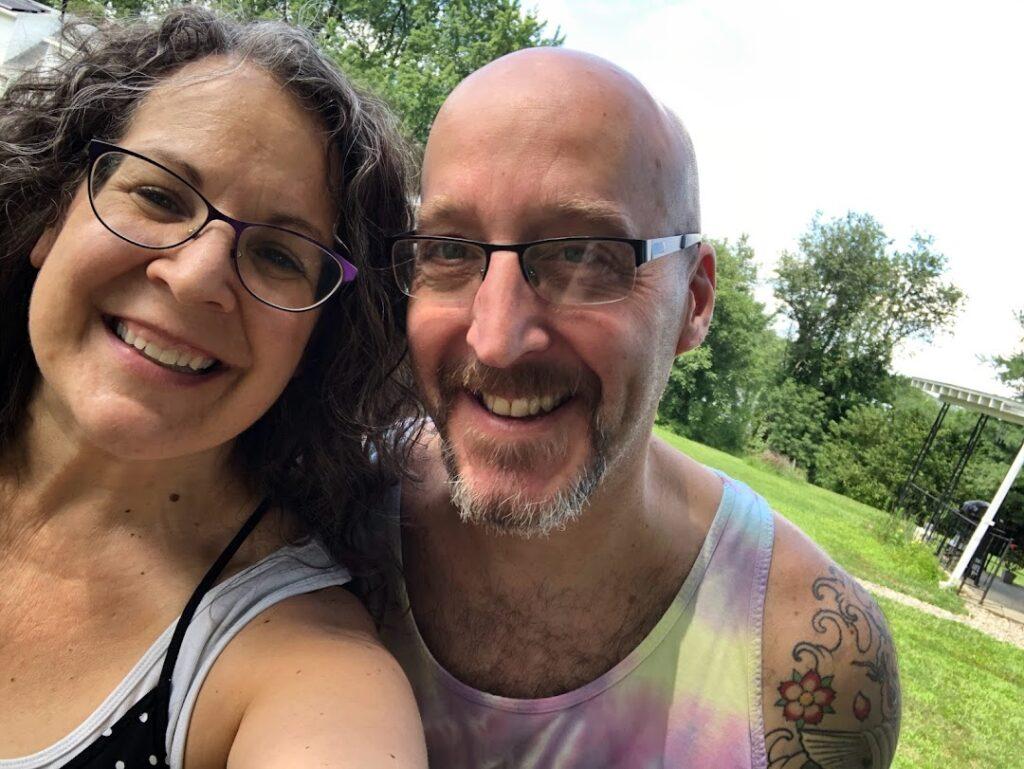 Finally, during a family summer vacation in Burlington, Vt., while their teenagers were sleeping, Scott made his move. As was their routine during the trip, the couple was sitting in front of Lake Champlain, drinking their morning coffee. As Wendy went to kiss Scott, he slipped a wedding ring on her finger. Then he told her to look down and asked her to marry him. "I got all teary," remembers Wendy. "It was really sweet."
Although Scott and Wendy had wanted to marry in the summer of 2020, the COVID-19 pandemic pushed back their plans. When they learned of a James Taylor concert scheduled for August 2021 at a local amphitheater, they knew they had their location and date for a lowkey, popup-like ceremony.
After buying tickets and lawn chairs for themselves and their kids, they asked one friend to officiate and another to serve as the photographer. On the wedding day, they found a spot right by a scenic fountain. There, their friend, Jen, officiated, with Wendy and her kids on one side and Scott and his kids on the other. Following the brief ceremony, the group took in the concert. Scott jokes that James Taylor was their wedding band—and that the 15,000 other concertgoers were their wedding guests.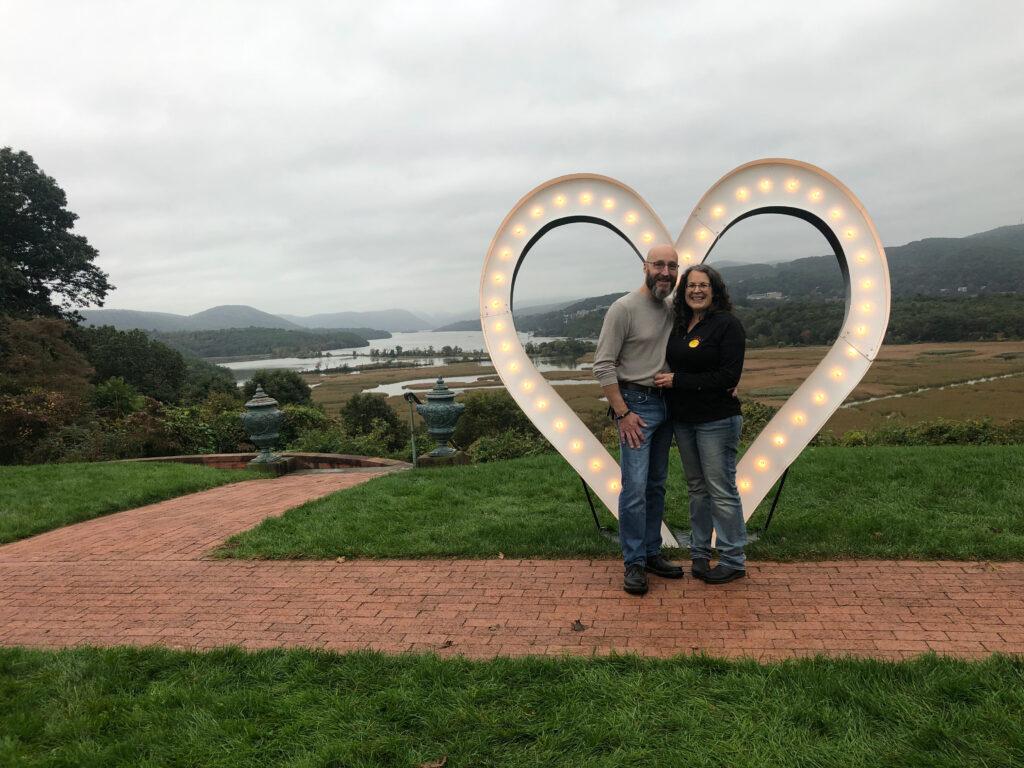 Today, the couple leads a fun, spontaneous life as empty nesters. After selling their respective houses, they bought a home together in the Hudson River Valley region of New York, where they hosted their first family Thanksgiving in 2022. On weekends, they attend pottery shows, selling Wendy's ceramic works. "We really enjoy doing it together," she says, affectionately explaining that Scott handles the business and lifts all the boxes.
Every day, they "do little things for each other to make our lives easier and more pleasant," says Scott. For example, says Wendy, Scott starts a fire for her in the mornings, even though he's heading to work, because he knows it'll make her happy.
Remarrying was never the goal for Scott or Wendy, but it has turned out to be a source of great joy and comfort for both of them. "I never thought I'd do the marriage thing again," says Wendy. "I didn't know that I wanted this, but here I am married, and I'm so happy."
Main photo credit: Kristen Mazzotta Photography