Love
Jody Moved to Hawaii for a Tour with the Coast Guard. He Left With a Fiancee.
By Sara Gaynes Levy
When Jody, a member of the U.S. Coast Guard, got stationed in Oahu, Hawaii in 2016, he wasn't thinking about dating at all. It was his first assignment after graduating from officer school, and he was planning to focus on himself and his career. "I actually didn't date for the first two years, and wasn't planning on dating until my next tour," he says. But, in the summer of 2018, still in Hawaii, he changed his mind and downloaded Bumble. "I was like, all right, I'll go on a couple dates," he says. "But I wasn't intentionally looking for someone."
Then he saw Tashawna.
Her profile said she loved books and being outside. Jody was pulled in by both. "I don't read as much as she does, but I thought that was pretty awesome," he says. "And then I thought it would be great for us to do things outdoors." He swiped right.
Tashawna, who grew up in Hawaii, was drawn to Jody's great smile and the quality of his travel photos. (Jody is an amateur photographer.) She swiped right too, and they began chatting. Tashawna was also excited that Jody seemed outdoorsy. "I remember us just getting right into talking about going on adventures and stuff. I'm from a part of town that a lot of tourists are told to stay away from, but I always tell whoever comes to visit: you really just need to do all the local things." So Tashawna asked Jody: do you like the beach? (His answer: yes, of course.) "We have the best ones out here," Tashawna told him. "You should come." They hadn't been talking long, and Jody was taken aback that Tashawna wanted to meet so quickly. "I remember him asking me: is there anything else you wanna know about me before we plan a date?" Tashawna says, laughing. "But I was like 'no!' I think because it was a local, outdoor setting, I was pretty comfortable."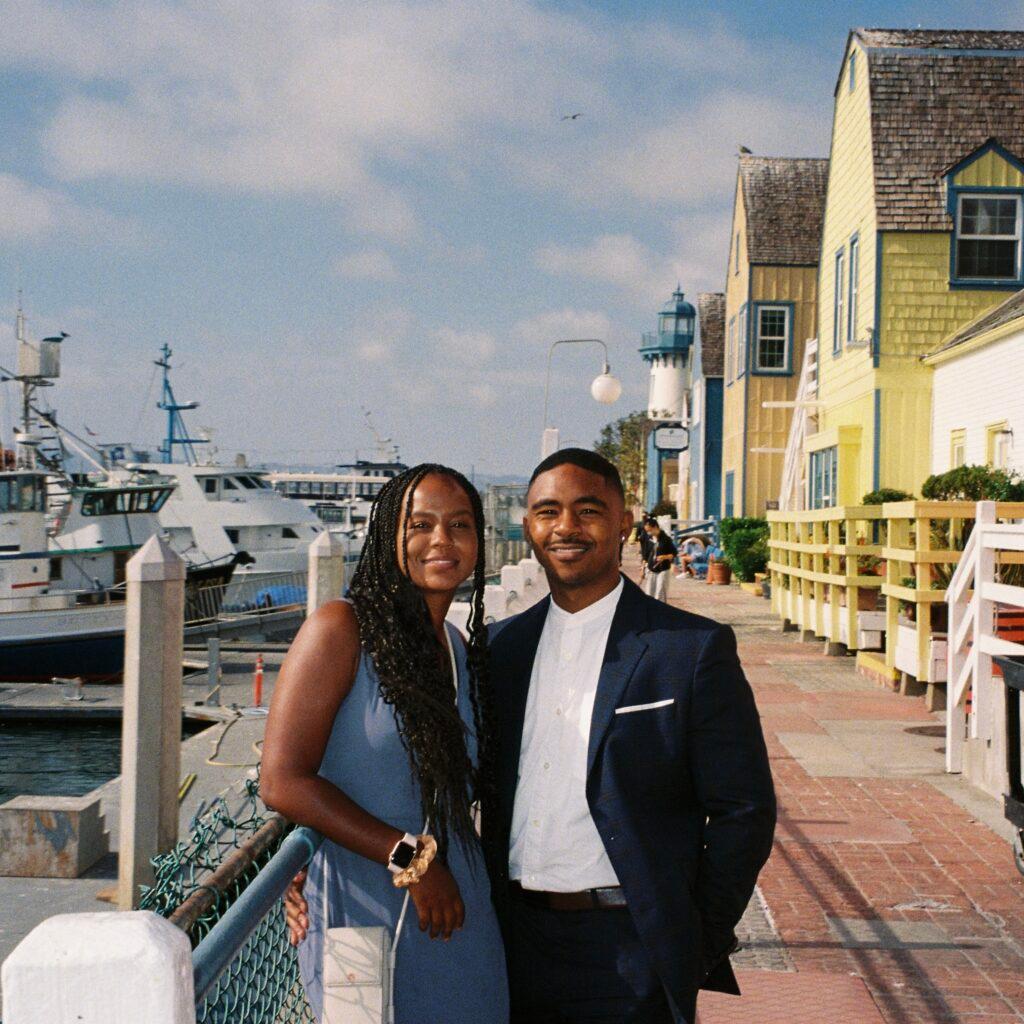 When they met each other on the beach, the vibes were right immediately. "I just remember meeting him and loving that he showed up like a local boy in surf shorts. He wasn't trying to impress me," says Tashawna. "And he got in the water multiple times, which I thought was cool because the waves were pretty big." Jody found Tashawna fascinating— they talked about her experience growing up in Hawaii as a non-Hawaiian, and her career goals (Tashawna is now a behavioral technician, but at the time she was gearing up to go to grad school for behavioral psychology). Both agreed it was a stellar first date.
They went out again, this time to dinner—and again, and again. But Jody had some bad news on the horizon: he would be going to Virginia for most of the summer for training. They tried to keep things casual, avoiding the "boyfriend" and "girlfriend" labels, but they still ended up talking almost every day of the five weeks that he was away. When Jody came back to Hawaii, they continued to see one another, going official not long after. Their relationship flourished, they say, because the things they have in common (like loving the outdoors and travel) also make them open-minded to new ways to see the world. "They allow us to experience new things, while coming together," says Tashawna.
As the end of 2018 approached, Tashawna and Jody exchanged "I love yous" and began to talk about their futures. Tashawna was trying to decide where to apply for graduate school, and Jody had to select his top locations for his next tour, which would begin in 2019. They began to realize they wanted to take one another into account when it came to where they'd live next, so when Jody chose San Francisco as his top pick for placement, Tashawna applied to a school there as well, and a school with an online program just in case.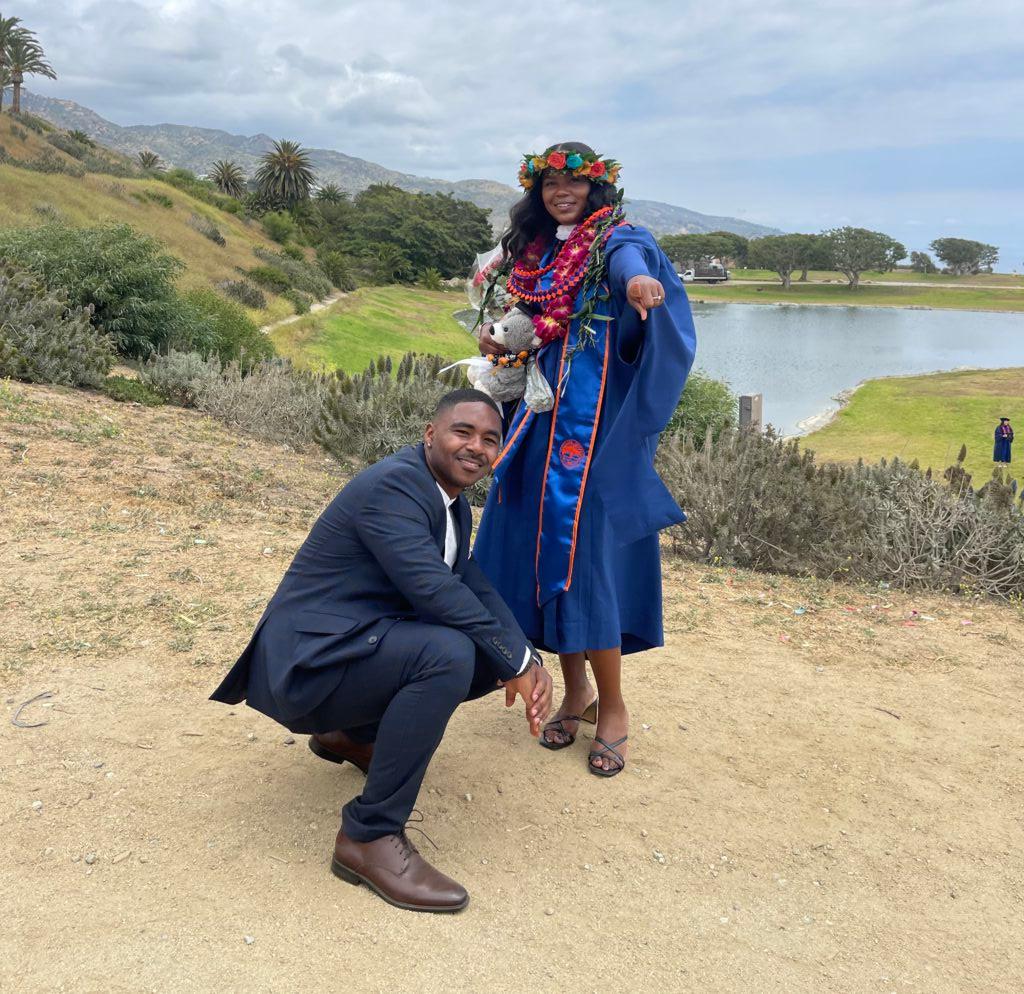 San Francisco didn't end up working out, though, as Jody got placed at his third choice— Miami, which was thousands of miles from both their families (Jody is from the Los Angeles area) and Tashawna was accepted to the school with the online program. Still, armed with the ability to go to school anywhere and confidence in their relationship (and the knowledge that there's no snow in Miami for an island girl!), Tashawna told Jody to say yes to the placement, and that she'd move across the country with him.
"When we got here it was like, oh, I don't know anyone," says Jody. "She doesn't know anyone. We really relied on each other." And while it was a challenge to deal with the culture shock of Miami coming from Hawaii, their relationship continued to grow stronger. "I had a really difficult time getting my career off the ground here," says Tashawna. "And I think the biggest thing that helped us through was communication. He would remind me all the time: we're gonna get through this." To Jody, this reassurance came as second nature: he was the one who had needed her to uproot her life, and he wanted her to know that he was so grateful she came on this journey with him. "I would tell her: we're a team. You flew all the way down here to be with me. I had a guaranteed job. So I always made sure she knew: you're doing great," he says.
And Tashawna wouldn't have moved for just anyone, she says. She says she remembers a moment where she was washing her hands in Jody's apartment back in Hawaii and out of nowhere wanted to scream out "I love you!" At that moment she knew: he was her person. Jody knew too. So in spring 2022, Tashawna went back to Hawaii to visit her family, and Jody surprised her by meeting her there.
He planned a staycation at a hotel and an elaborate dinner, which he told her was to celebrate that his next station would be in Portland, much closer to their families. Over dinner, he told her they'd be filming themselves doing a social media trend where couples act surprised, so she needed to turn around on the count of three. When she spun around, he was down on one knee with the ring. "I opened up the box, and she just started crying," says Jody. "And I had forgotten to press record!" But it was no matter: they'll remember the moment forever.
Tashawna and Jody legally married in spring 2022 and are planning to have a wedding celebration next year with friends and family. They couldn't be more excited to start the next chapter of their lives together. "I never went into Bumble thinking all this would happen," says Tashawna. "But I'm so grateful that it did."