Love
Alix Was Having a Hard Time Finding Someone Who Celebrated Her Queerness. Then She Matched With Zac.
By Kaitlin Menza
Alix's Bumble profile didn't pull any punches. "It was something like, 'I'm a bisexual intersectional feminist, so if you don't like that, you can pretty much move on," says her now-boyfriend, Zac, who works in I.T. It was her strong sense of self that attracted him when they first matched in November 2020—as well as her first photo. "She was wearing bright red lipstick, and she had a really big smile," he recalls. "She came up, and I was like, she's hot!"
Putting her identity front and center was a pretty recent decision for Alix, who works as a diversity and inclusion advisor and wanted to try changing her approach after years of what she calls "intensely horrible" dates. "Being bisexual comes with a lot of stigma around promiscuity and what you're interested in. People would just assume that I'd be into a threesome or that I'm not faithful," she explains, even though she and Zac are based in the fairly progressive city of Melbourne, Australia. "I'd get comments like, 'Oh, are you going to make up your mind?' It was really difficult to find someone who actually understood my sexuality and respected it."
Their first date was at a bar in a suburb of Melbourne, after the second round of COVID-19 lockdown restrictions had lifted, and both were pretty jittery: Zac considered canceling hours before from nerves, while Alix accidentally tried to hug a bar staffer hello at first because he was wearing a shirt like what Zac said he'd be in.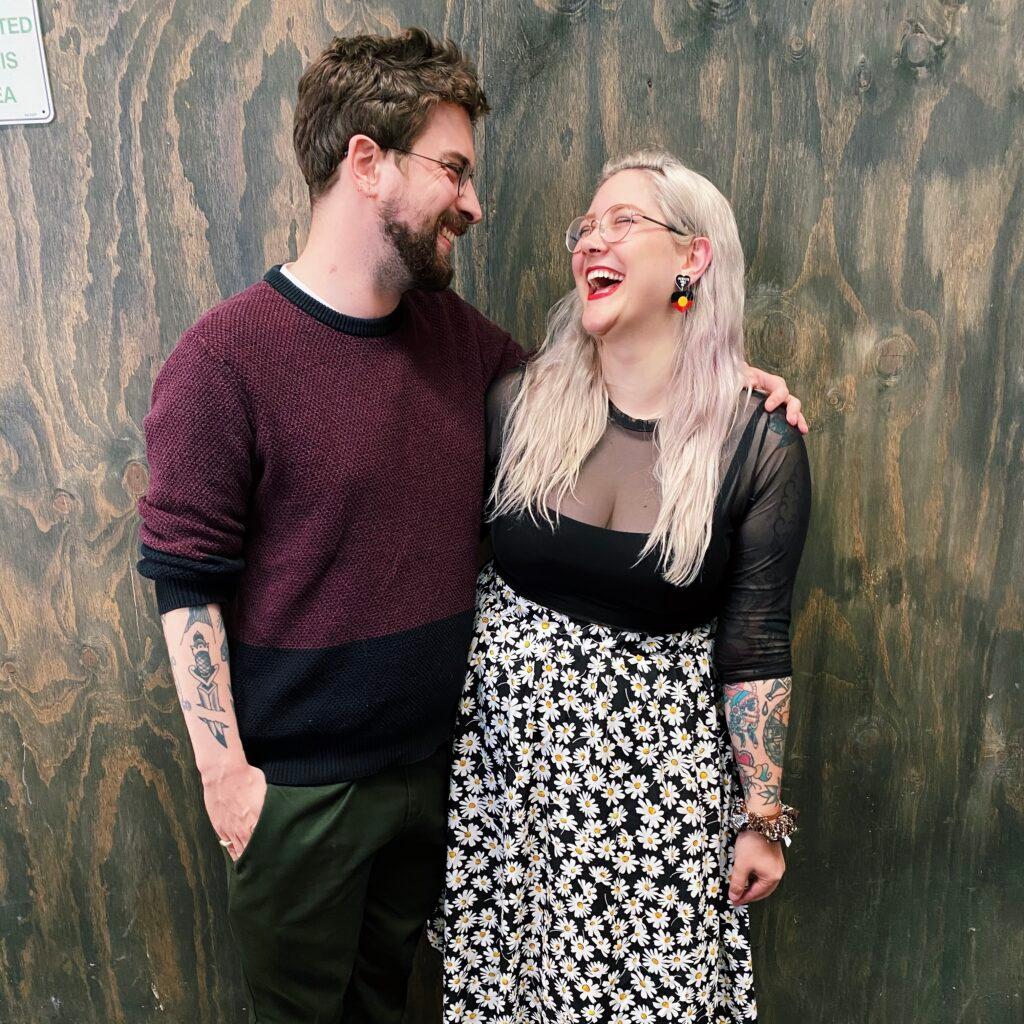 The first date lasted for 27 hours. "We didn't stop talking for about the first ten hours of it. We just didn't shut up," Zac says. Plenty of wacky hijinks unfolded that first day. The couple wound up comforting a heartbroken guy they found crying on the bar's back stairwell, spending about $300 on cocktails, and having their first kiss right there at the bar table. But the longevity was mostly due to their unbelievable connection. "I laid eyes on her and it was almost like a switch flipped," Zac remembers. "This sense of safety came over me. I generally tend to be quite reserved and awkward meeting people for the first time so it was an uncommon experience to feel so comfortable so quickly."
They got into deep conversation right away. "It had been hard for me to find someone who saw eye to eye with me on things I find important: social issues, racial equality, LGBTQ+ inclusion, celebration of people who are fighting for their rights," says Alix. "But Zac and I were talking about a lot of these things on the first date. He was probably the first person who not only agreed with what I was saying, but had his own perspectives that were very aligned with my morals."
Given the first date marathon, neither was left wondering if they'd hang out again, and the couple exchanged I-love-yous after a month of knowing each other. "We were at a pizza parlor and Zac leaned in to say, 'I need to tell you something,'" Alix recalls. "And he goes, 'I've been meaning to tell you this for a while, but I f***ing love you.' I nearly cried, and said I loved him back." In their giddiness, Alix characteristically went straight to the point: "Right, you love me, I love you. What's the plan?" she recalls saying. So the couple launched into a conversation about their future. Alix was delighted to find that Zac was ready to discuss marriage, children, and buying a home. "He was open to making that known: what his intentions were, and where he wanted to go with the relationship."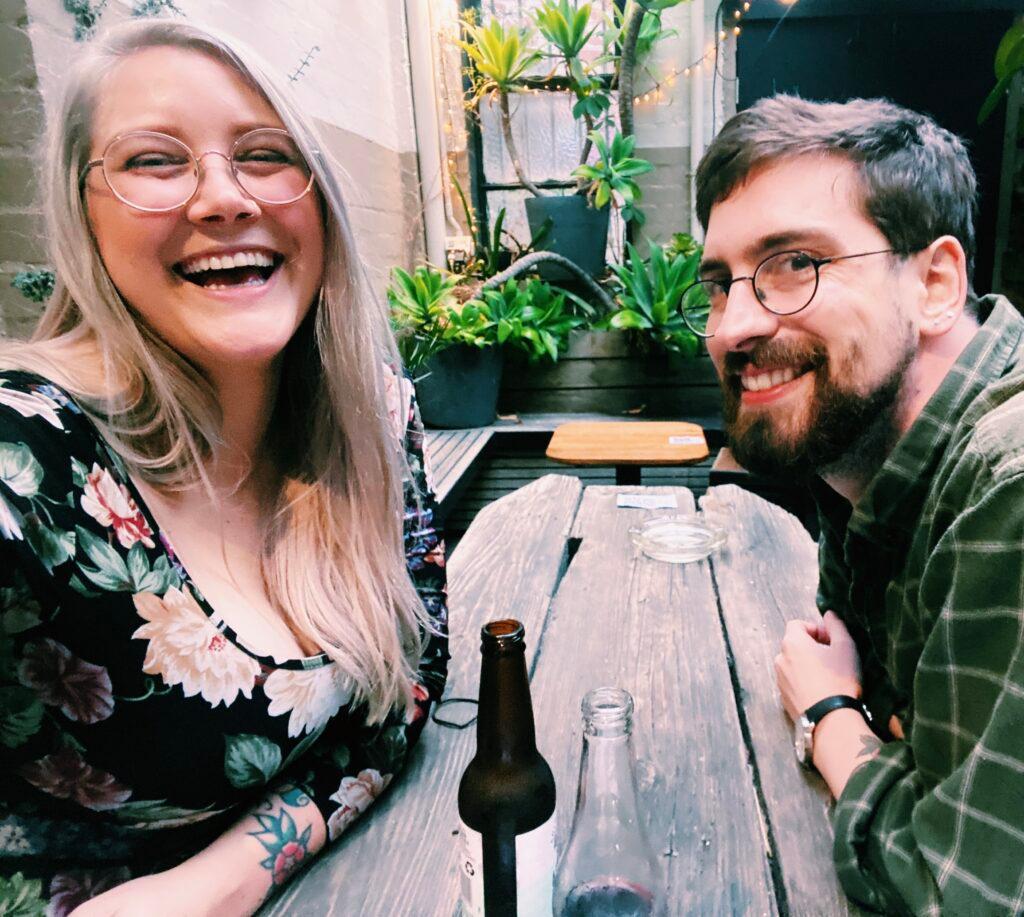 They moved in together in February 2021, and adopted a new kitten named Bucket (as Alix already had one cat named Mop). As pandemic confinement returned to Melbourne, they leaned into nesting—and bought their first home together, which they'll close on around Christmas. When more socializing was permitted, Zac accompanied Alix to LGBTIQ+ events and parties. (Alix is also the co-founder of Rainbow Women Melbourne, which connects and empowers professional LGBTIQ+ women around the city. Zac walked with her in a pride parade.)
"I think the differentiation between acceptance and celebration is huge," says Alix. "Zac's just so well-versed in the right way to make sure that I feel supported." For instance, shortly after the two started dating, Zac made sure to attend a panel about queer issues that Alix was speaking on. "He made himself available to not only listen and interact with the Q&A section, but he also messaged me throughout to tell me how great I was doing." They also label their relationship as queer. "There was one time we were speaking about our relationship and I asked Zac if he felt like he was in a 'straight relationship' and he immediately said, 'Hell no, baby! We're in a queer relationship because you're queer as hell. Ain't nothing straight about this!,'" Alix shares. "And I got some silly butterflies."
Given their openness about the future (and everything else), Alix knows that there's a proposal in the works. "Bloody Zac's trying to tell me his plans to propose! I want it to be a surprise," she says. They've also discussed a vision of their dream wedding day, which "wouldn't have to be a typical woman in a white dress, man in a black suit vibe," Zac says. Either way, they are both clear, as Alix says: "This is the-rest-of-your-life kinda love."