Love
It Took Traveling the World Together for This Couple to Lock It Down
By Kaitlin Menza
When Amanda first spotted Luke's Bumble profile in March 2017, she swiped right because she thought he was cute, and also because of his travel photos taken all around the world. "I messaged him saying, 'I recognize all the places that you've traveled—Thailand and Italy and Greece,'" Amanda recalls. 'I've also been to those places!'"
The couple were both based in the New York City area at the time, but as they'd soon learn, "We're both free spirits and love traveling," says Luke. One place Amanda wasn't as familiar with was Manhattan's Upper East Side, so after nearly a month of messaging, the couple's first date was Luke showing her around all the best spots in his neighborhood. There was an easy chemistry right off the bat.
"Really from the second I met Amanda, I loved everything about her personality," says Luke, who points out that her job as a pediatric oncology nurse means she's particularly warm and welcoming. On her end, Amanda thought he was almost too tall, handsome, smart, and well-traveled: "But he was genuinely a nice person. I was like, what's the catch here?!"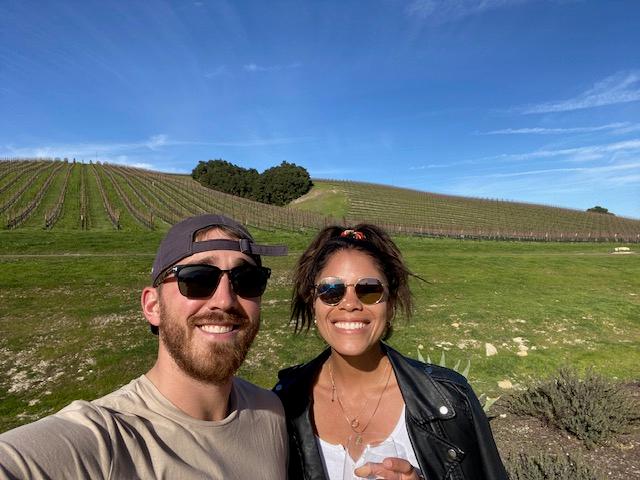 It turned out there was a bit of a catch: about a month after their first date, Luke's job as a superintendent on retail and hospitality construction sites put him on an assignment in California. The pair were happy with their connection, but not nearly serious enough to consider pursuing a long-distance relationship. "I tried to keep him at arm's length because I knew he was leaving," Amanda says. They kept dating casually until he left, but stayed in touch once he did, and even hung out when Luke found himself back in New York. Still, over the next year Amanda dated other people and turned down Luke's invitations to visit California. "I just didn't want to get my heart hurt," she says.
On a long break between projects in 2018, Luke embarked on a trip around the world. Amanda was fully single again, found herself texting with Luke every day, and had time off before starting a new job—so when Luke invited her to meet him somewhere, she finally said yes. They reunited in Portugal, where they explored Lisbon and the island of Madeira. "We spent basically all day together for nine or ten days," says Luke. They realized they could no longer deny their connection. "Once we went on our trip, that was pretty much it," says Amanda. They FaceTimed every day for the rest of his travels, and met up again four months later in Costa Rica.
After their trips, Luke returned to New York, where he and Amanda briefly lived together before he had to move to California once again, this time for a major two-year project. "He said, 'I'll give you time but I want you to come with me.' And I loved my job, so it was really hard," Amanda recalls. "But there's always a balance between loving your personal life and loving your work life. I felt like he really was my person, so I went." After a few visits for job interviews, Amanda officially moved to Santa Monica in July 2019, and the couple spent a blissful few months surfing, playing beach volleyball, and making new friends.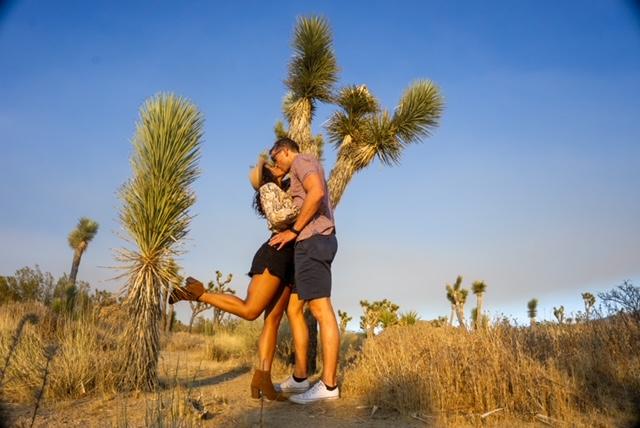 Then came the pandemic. With both of them in essential services, Amanda and Luke had a hectic year, but otherwise, 2020 strengthened their bond. "It only reinforced how well we fit together," Luke says. "We're each other's best friends." And so, he chose this wild time to ask her to marry him.
His first choice was to propose while traveling, naturally, but as the months went on, vacations and even tiny family gatherings proved impossible. "I didn't want to wait forever because I was super excited to propose and be engaged and start planning our future," Luke says. So while his mom was visiting last December, he rented a house with a balcony overlooking the ocean and asked Amanda to marry him at sunset. "I'm a big, giant crybaby, so I just totally choked up and couldn't say anything," he laughs. Getting on one knee with a ring seemed to convey the basic message, however, and she said yes.
The couple got married in a tiny ceremony this year, but the big celebration will be in February 2022. Ever the globe-trotting duo, this time they're bringing friends and family along on a matrimonial adventure in Tamarindo, Costa Rica. "Honestly, we both love each other like crazy," Luke says. "I couldn't be happier about who I ended up with."