Love
Bree and Tyler Hit It Off from the Start. Then, Life Threw a Curveball.
By Kelsey Miller
In every serious relationship, there comes a moment where things get real. Life throws a curveball—a medical crisis, a big move, a pandemic—and you have to decide: are you going to face it together? For Bree, "there was no question about it." She was with Tyler, one hundred percent.
Bree and Tyler matched in March 2017, and met up just a couple days later at a brewery in Omaha, Nebraska, where they both lived. The click was instant: "We agreed to meet up just for drinks. And as soon as I sat down, she ordered food for herself, right away," Tyler recalls. He loved it. She wasn't fussed about first date rules—she was hungry!
First dates are all about impressions, and often about impressing one another. But both Bree, a marketing director, and Tyler, a sales manager, are the straightest of shooters. Two weeks and two dates later, Tyler got a little concerned when he hadn't heard from Bree in a few days. He didn't waste time trying to plot a next move, or hold back to play it cool. He texted her, writing: "I'm interested in seeing where this goes…If you're interested, I'd like to take you on another date. If not, just tell me now." She wrote back immediately. She was definitely interested.
That's when things became official. Four and a half months later, they got real. In August 2017, Tyler was diagnosed with stage 4 Glioblastoma, a rare and aggressive form of brain cancer. Bree was with him when the neurosurgeon explained he'd have to have brain surgery and, needless to say, he'd need full-time help while recovering. Tyler was 28. He lived alone, with a part-time roommate. "The doctor kind of looked at me and at him," Bree recalls, almost laughing. "And he said, 'Well, someone's got to move in with you.'"
Bree moved in without hesitation. But a week later, while the two of them were unpacking her boxes at Tyler's place, he asked anyway: Did she really want to do this? "I said, 'It's going to be a long road ahead for me. It's going to be very challenging. I wouldn't hold anything against you if you decided you wanted to walk away from this right now,'" he says. In fact, he urged her to consider leaving. "She looked at me like I was a fool." Absolutely not, she said. She was all in. "I hadn't told him I loved him yet," says Bree. "But I knew."
Tyler had surgery, followed by eight weeks of radiation and 14 months of chemotherapy, after which his tumor was undetectable. Unfortunately, the doctors explained, it would return eventually. With this type of cancer, says Bree, "it's not a matter of if it will come back, but when."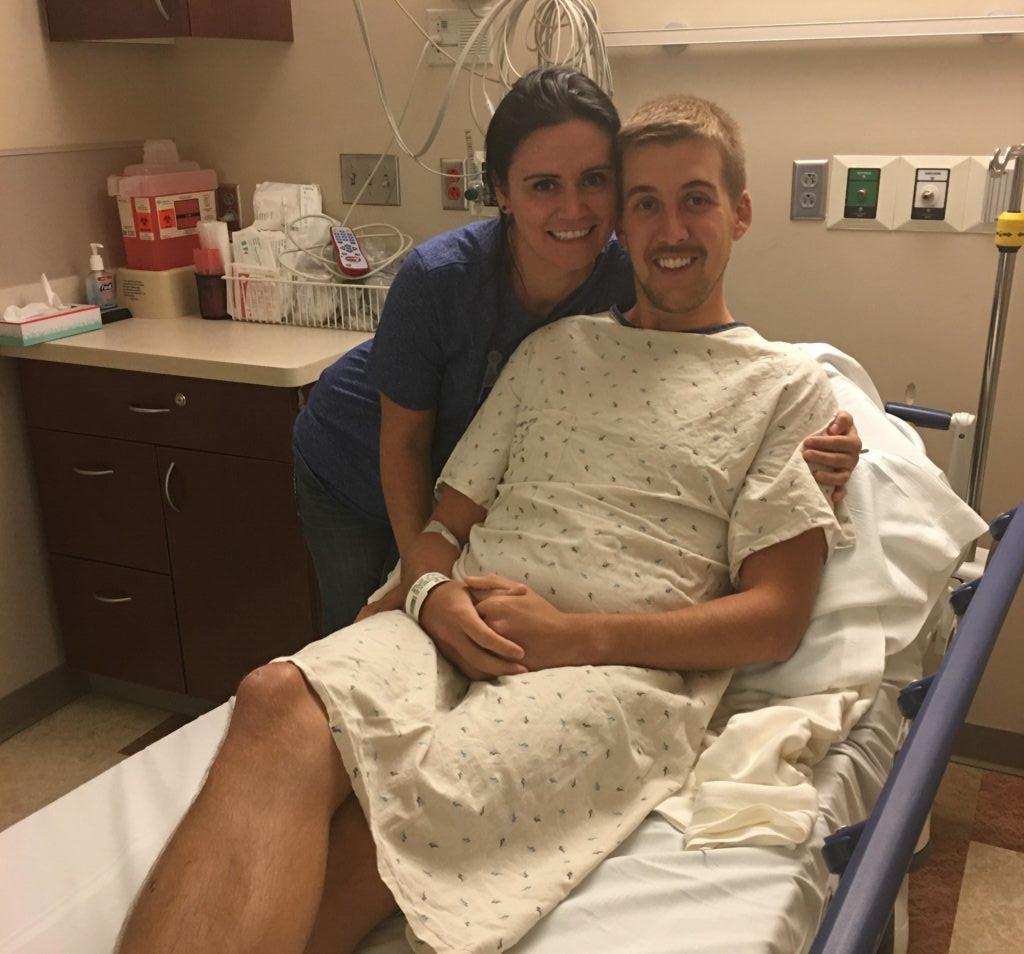 Bree and Tyler had already had more hard conversations than most twentysomething couples—including the discussion over whether or not to freeze his sperm before treatment, which ended in the realization that they couldn't afford it, and therefore would most likely not have biological children. But they'd also talked about all the things they could do, to make whatever time they had a great time. They moved to Denver ("I'm a mountain guy, and it was always on my bucket list," says Tyler). He surprised Bree with a trip to Jamaica for her thirtieth birthday. They went to Costa Rica and Nicaruaga. They checked out new cocktail bars, tried skydiving, and went to countless baseball games. They had a blast.
In May 2019, Tyler surprised Bree with "the most romantic, unique proposal" at the top of Denver's historic clock tower, a well-known local landmark. They wed the following August. It was a much-delayed and downsized wedding due to COVID-19, but fantastic nonetheless. Bree surprised Tyler by sending out his best man in a wedding dress for their first look. Tyler surprised Bree with an acoustic version of their song, Zac Clark's "Mountains," which he'd asked the singer to record for them. He played it at the reception, and it became their first dance.
Then, one week later, another surprise. Bree came down with a nasty bug, and could barely get out of bed. Her doctor sent her for a COVID test immediately, and she spent the day frantically texting relatives, assuming she'd caught it at the wedding. Thankfully, everyone was negative, and after that harrowing day, she decided to lighten the mood by pulling a prank on Tyler. They had friends coming over that night, so she decided to "give Tyler a little heart attack," by telling him she was pregnant right before they arrived, let him sweat for a minute, then tell everyone about the joke. She even peed on a pregnancy test, so she'd have a prop. Then she jumped in the shower, and grabbed the test on her way out. To her astonishment, "it just said 'pregnant,'" Bree recalls. "I was like, wait, where's the 'not' part that's supposed to be there?" She screamed for Tyler to come to the bathroom, where she stood clutching the test, gobsmacked. Tyler was ecstatic, taking photos of the test and delighting over their "small miracle."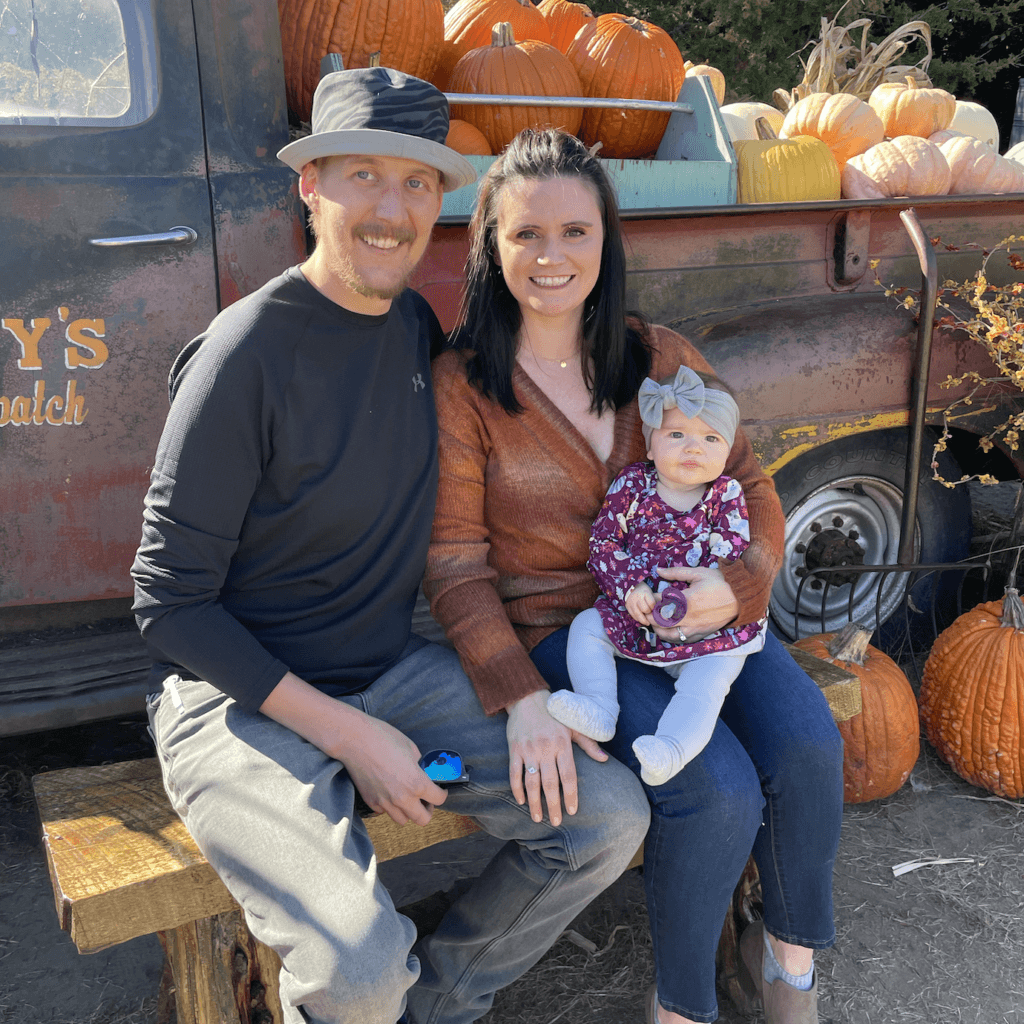 When Bree was six months pregnant, Tyler's tumor returned, along with another, inoperable one. He immediately began a much more aggressive course of chemo. It was one of the hardest periods of their lives, with Tyler weathering severe side effects and Bree struggling through a complicated pregnancy. She had to be hospitalized herself, and was eventually induced a month early. Even in this unimaginably stressful moment, there was still some levity. "With his chemo, Tyler had to eat at a certain time," Bree explains, and during her induction, he naturally forgot. "So, the doctor comes in and says, 'I think we're ready to start pushing.' And Tyler's like, 'I have to eat!.'" They gave him five minutes to get something from the cafeteria. "He was eating chicken nuggets as I was pushing," Bree says, laughing. "I felt like the nurses were thinking, 'Who is this couple? They are such a mess.' But it was just the kind of lifestyle we had!"
Nearly a year later, their life is still complicated—but filled with enormous joy with the addition of their daughter Brooklyn. "It's been a challenge, of course," says Tyler, who is still in treatment. "But I'm not happy unless I'm challenged."
Bree and Tyler's story is full of grand gestures, big leaps, and unimaginable hurdles. In just five years, they've learned so many huge life lessons, and they hope their daughter will learn from them too as she grows up. "I think when something hard happens, people often just give up," says Bree. "But a beautiful relationship comes out of going through the hard stuff. If you can get through the hard stuff, then little moments, like watching Tyler with her, make it all worth it."
"The big things I'd like Brooklyn to learn from this are that life isn't perfect, and never will be." adds Tyler. "You have to step back and look at the big picture on a regular basis, to see the positivity that's in your life, even in dark times. I think love—it sounds clichéd the way people talk about and movies portray it—but love really does trump all."