Love
Bumble Success Story: Caroline + Jerome
Newlyweds Caroline and Jerome first matched on Bumble in December 2015! Their adorable story is below.
How long did it take to meet up after matching? What did you do for your first meet up/date?
We met up after a week and a half of chatting on the app. For our first date we got drinks at Ninth Ward in the East Village on December 23rd.
Caroline, what was the first message you sent on Bumble?
I asked Jerome to pick his favorite: Jessica Simpson, Rachel McAdams, or Scarlett Johansson.
Jerome, what was your first reply back?
Rachel McAdams (I overanalyzed this question thinking it was a trick, but apparently she likes all three of these celebrities. I actually spoke with one of my coworkers and asked them what they thought the right answer would be; clearly it didn't matter.)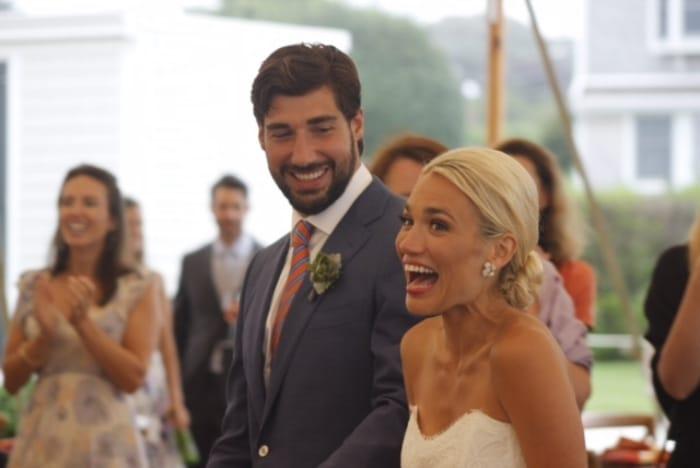 Caroline, how did this match feel different?
Jerome looked very cute in all of his photos. I thought it was too good to be true and that he would not be as handsome in person – turns out he was! On a less superficial note, I could also immediately tell that he was a gentleman. There wasn't too much to our first conversation, but he seemed sweet, polite, and a little shy. I was excited to meet him and see if he was more talkative.
Jerome, how did this match feel different?
I thought Caroline was beautiful. I had never been nervous before a date until I met up with Caroline. I was very anxious to meet her. I think I offered 10 different dates in a matter of a week to make sure we locked something down on the calendar. I was determined.
Caroline, what was your first impression of Jerome? How did you feel before the first date?
I thought Jerome was a little awkward at first (as was I!), but after about 5 minutes, the conversation was flowing and I laughed A LOT. Jerome resonates kindness. He has these really kind eyes and a very sweet demeanor. I didn't feel like I had to prove anything; I was myself right from the start. After I left the date, I felt like I had met someone very special. I remember looking out the train window listening to music feeling like my life had just changed. However, I didn't want to get ahead of myself, so I played it very cool until we went on a few more dates.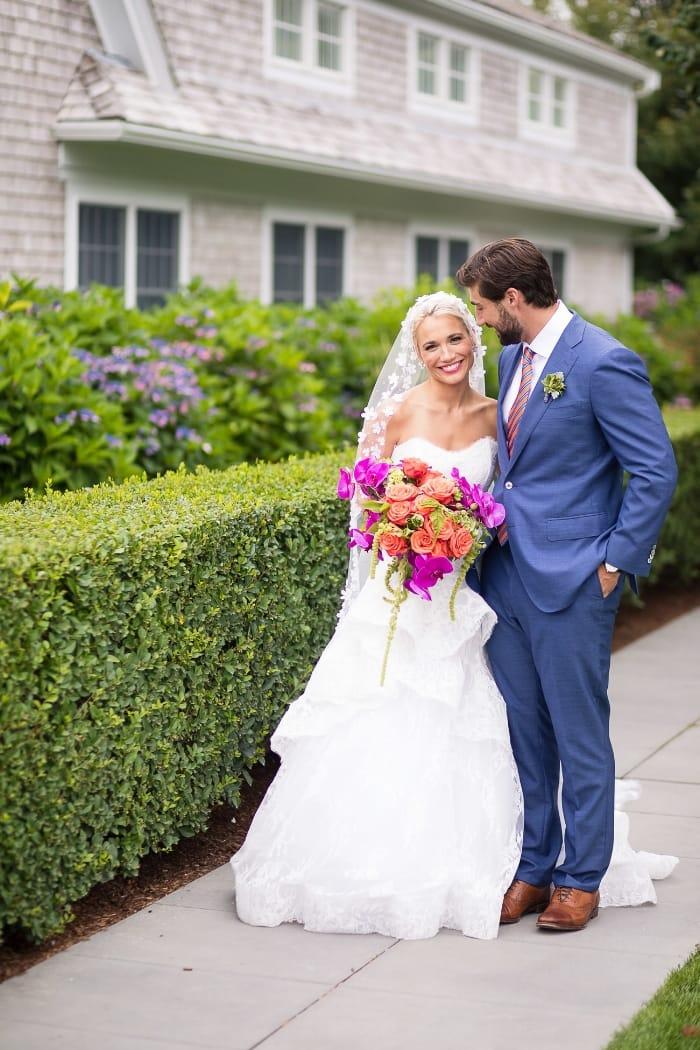 Jerome, what was your first impression of Caroline? How did you feel before the first date?
I showed up to our date spot very early to have a drink beforehand to calm my nerves. Caroline showed up a few minutes late. She had this big smile on her face and it sounds cheesy, but I felt a connection immediately. She completely lights up a room when she walks in. After the date, I asked to kiss her goodnight on the sidewalk before she hopped in a cab. I left knowing I had to see her again.
Caroline, what do you consider a unique aspect of your relationship now?
Two months after we starting dating, Jerome moved to London for work and I stayed in NYC. The long-distance was hard, but there was no question that we wanted to stay together. I grew up a lot this year after meeting Jerome. I traveled back and forth to London many times alone, facing my fear of flying, and saw parts of the world I thought I would never see. Our communication and connection remained so strong throughout the distance that there was no question he was my soulmate. We don't take anything for granted in our relationship. We both met at a time in our lives where we were looking for a change and knew exactly what we wanted. There are no questions.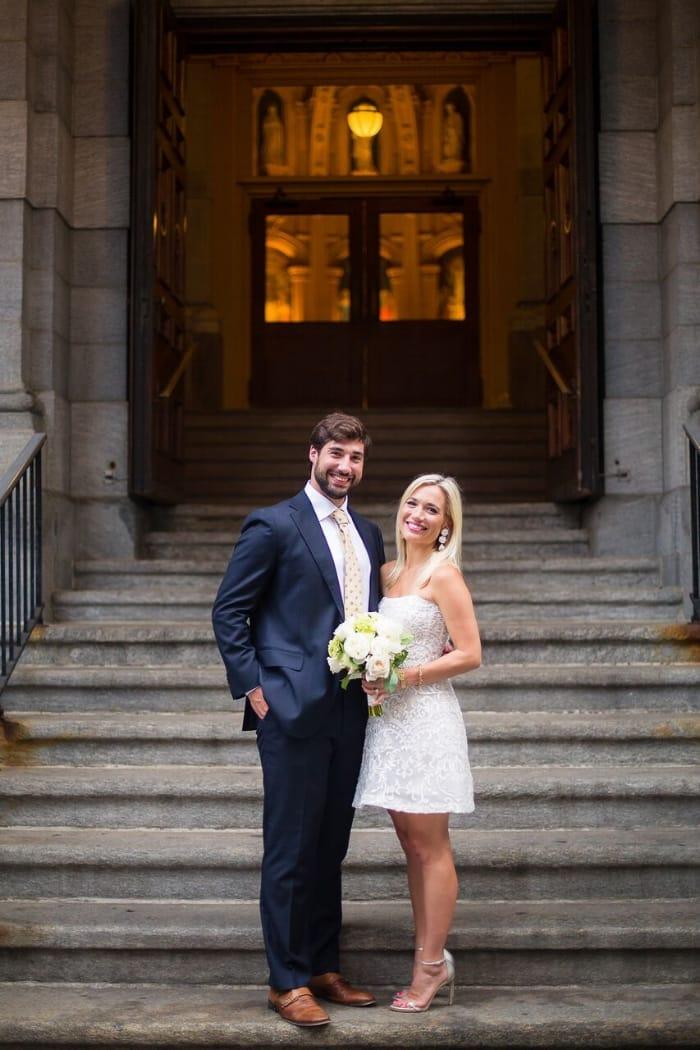 Jerome, what do you consider a unique aspect of your relationship now?
We are best friends and getting through long-distance made us even closer. I don't think the honeymoon phase will ever be over, or at least not for a long, long time. I always laugh the hardest when I'm with Caroline and I hate being apart from her. Also, last Halloween (my friends always make fun of me for this) we dressed up as Bumble (Caroline as a bee and I was a beekeeper). I guess that's unique?
Where are you now? Where are you headed in the future? (Traveling, next steps, etc.)
Well, we got married three weeks ago on Cape Cod! (Thank you Bumble!) We're currently living in Hanover, New Hampshire while Jerome attends Tuck Business School at Dartmouth. Caroline is working remotely here for a fashion start-up. After spending the last year mostly apart, we're looking forward to being in the same place, starting a family soon, and exploring New England together. It's definitely a change of pace from the big city life where we first met.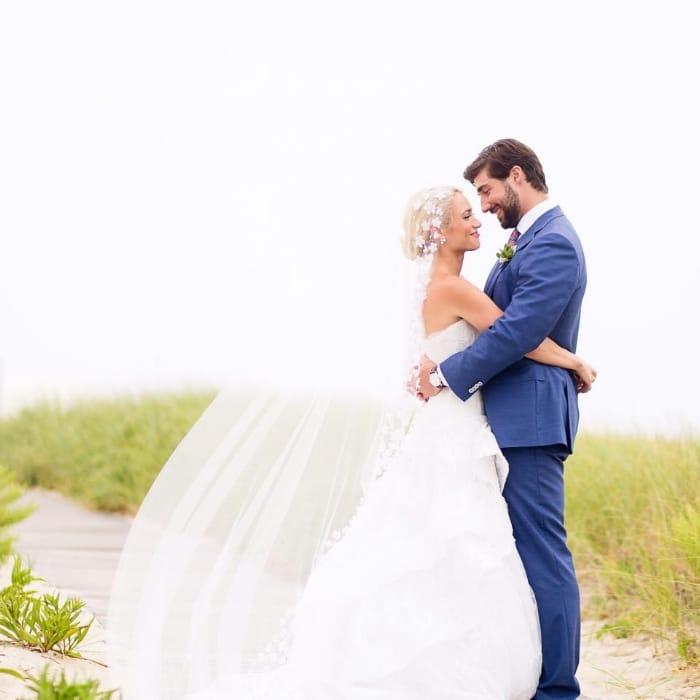 Thanks so much, Caroline and Jerome, for sharing your story! We couldn't be happier for you two!
Nothing makes us more excited than hearing Bumble success stories. To submit your own success story, email stories@team.bumble.com!