Love
Charlott and Jamie Left Their First Date Agreeing to Just Be Friends. Now They're Married.
By Franki Cookney
Before joining Bumble, Jamie found that traditional online dating wasn't working for him, as a person who uses a wheelchair. "First of all, you've got to think of some imaginative statement or fantastic opening line," he says. "You eventually get a woman to say hello, and then you say, 'By the way, I'm disabled,' and next thing you know, you've been blocked and deleted." Sadly this kind of experience was not a one-off for Jamie. "It happened loads," he says. "I got so fed up of it that I ended up searching 'what dating apps are there where the woman makes the first move?!'"
He downloaded Bumble in the hope that women would be more likely to read his profile and understand who they were matching with before they got in touch. Browsing profiles, he says he was immediately taken with Charlott's smile and liked that she had a dog in one of her photos. For her part, Charlott was drawn to "the twinkle in his eye" and his upbeat attitude. She not only read his profile, but she also looked him up online. And Jamie had a significant online presence. After a case of shingles in his early 30s had attacked his spine and left him semi-paralysed from the waist down, Jamie had become a motivational speaker and prominent local sportsman. So when he checked that she had clocked his disability, he was pleasantly surprised when her response was, "Yeah, of course. So when are we going to meet up?"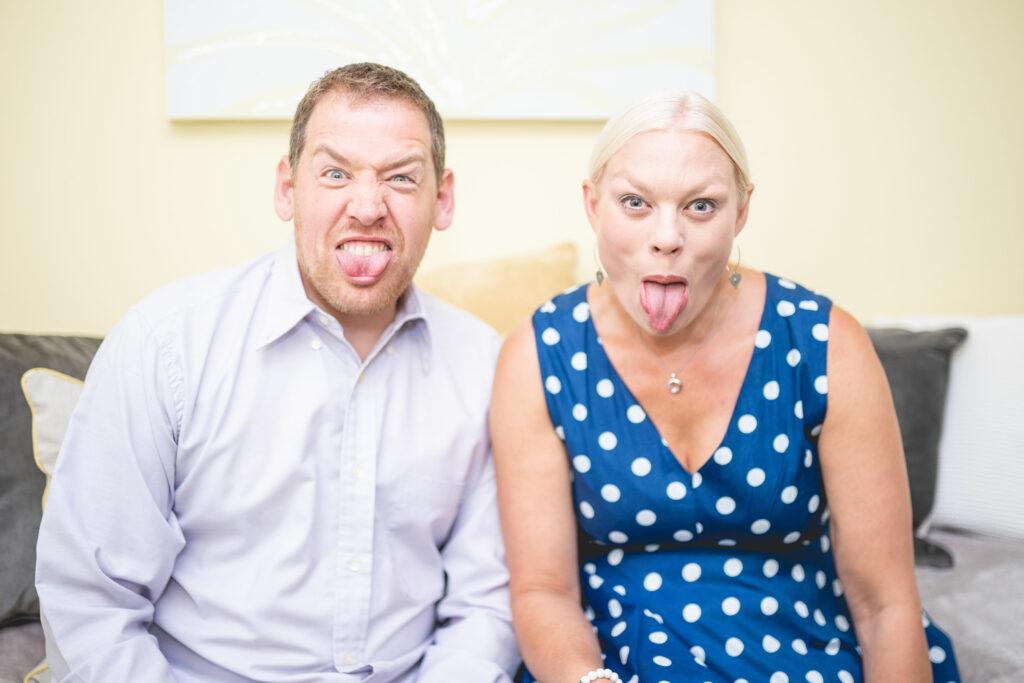 Charlott suggested they meet for tapas near where they both live in South Wales, but for all his adventures and public image, Jamie had never heard of tapas. "She said, 'Oh don't worry, you'll love it!' and she just ordered a load of food," recalls Jamie. "My first impression was that she was a bit too bossy for my liking!" Charlott didn't immediately take to Jamie either, interpreting his laid-back attitude as cockiness. But they'd had a good conversation and they had to admit they had a lot in common. They both love hiking, which Jamie does with special adapted crutches, and even discovered a shared ambition to climb to a Mount Everest base camp. So, despite the seeming personality clash, they agreed to stay in touch as friends.
The following week Jamie found himself at a loose end, so he texted her on the off chance to see if she wanted to grab some food. "To tell the truth, I had nothing else planned and I was just a bit bored," he laughs. Charlott was on her way back from the airport after a work trip and hadn't eaten, so she figured, why not?
She ended up making quite an entrance. "She walked into the pub, and she's got a cello strapped to her back, a violin in one hand, and a dog in the other," he says. "She piles it all onto the chair next to me and says 'Don't mind these. Oh and don't talk to the dog, don't even look at the dog!'" Jamie was baffled and unsure whether to laugh or be perturbed. In fact, Charlott worked for an auction house at the time and the instruments were valuable antiques which she'd collected on her trip. They weren't insured to be left in her car so she'd had to bring them in with her. Meanwhile, she'd just picked up her incredibly anxious dog from a dog-sitter and knew she needed to keep the pup near her—but also that the dog didn't respond well to strangers.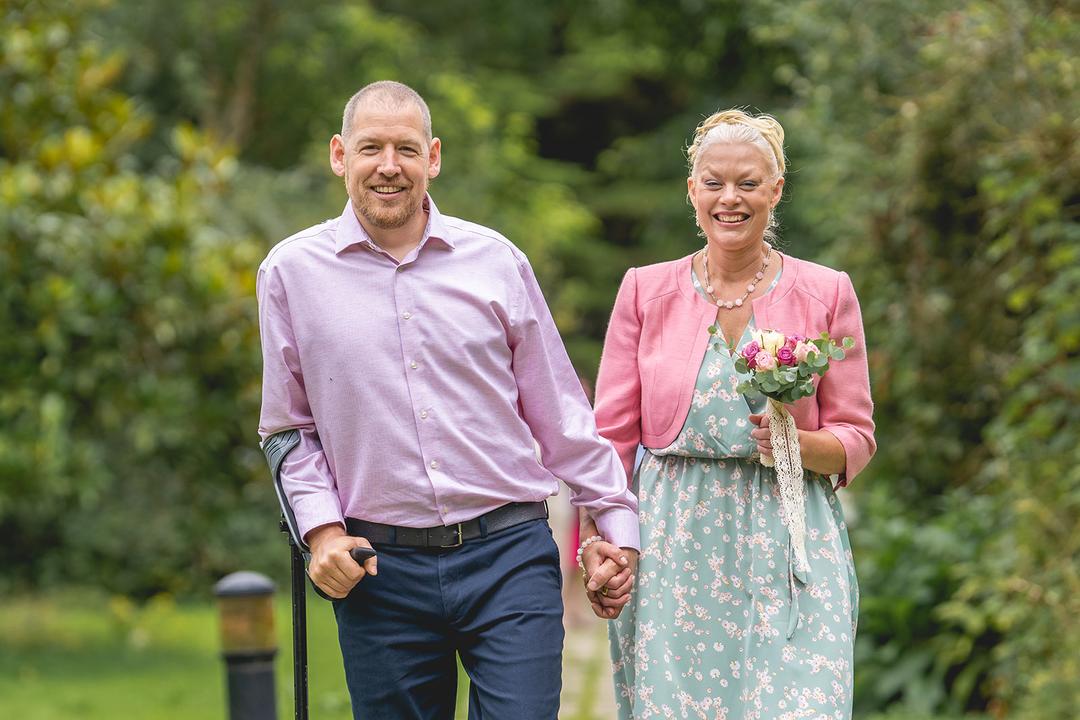 "I don't think I realised how it was going to look," admits Charlott. "But because we were only meeting as friends, I wasn't worried. Actually I think that's what made it a better date. We were both much more relaxed." The absurdity of the situation broke the ice. Once Charlott had explained, Jamie's initial anxiety was allayed and they were both able to see the funny side. By the end of the evening they were both feeling a lot more chemistry. Charlott discovered that Jamie owned a campervan, something she'd also had previously, and that they both loved travelling. He started to realise that her "bossiness" was actually a bonus. "To be honest, I don't like making decisions anyway so I was like 'Oh cool, I'll never have to order a meal ever again,'" he laughs. The evening ended with a goodnight kiss. The next day they met up again and within a week they were officially dating. Even Charlott's anti-social dog took to Jamie after just four days. "It's normally six months minimum, so that was a good sign," she laughs.
They began spending more and more time together. The fact that they lived in the same town meant it was easy to bounce between his and her place, and take off for a weekend in the campervan whenever they felt like it. But in summer 2019, six months after they met, they decided to buy a place and officially move in together. That same summer, Charlott, who'd been unhappy in her job for a while and looking for an opportunity to leave, hit upon the idea of coming to work for Jamie. She quit and became Jamie's assistant, organising his speaking events and workshops. They also started training to climb Mount Everest, with flights booked to Nepal for the following year. For a while, their new life seemed to be working perfectly. And then the COVID-19 pandemic hit.
Like many business owners, they were forced to pivot. "All the schools and colleges shut down and all my motivational talks just ended," says Jamie. Spurred by their love for their local area, they set up a support and skill-sharing community for small businesses. But being locked down together while working out of their spare bedroom and still finding space for romance was no easy feat.
"It's taken its toll," says Jamie. "We're a professional team but we're also a couple and we've got to be careful we don't lose that." Charlott agrees: "It's hard, and was especially hard in lockdown. The relationship kind of came second." Assigning themselves very different roles within the company has helped. So has making time for separate activities and nurturing their own personal interests, both in and out of lockdown.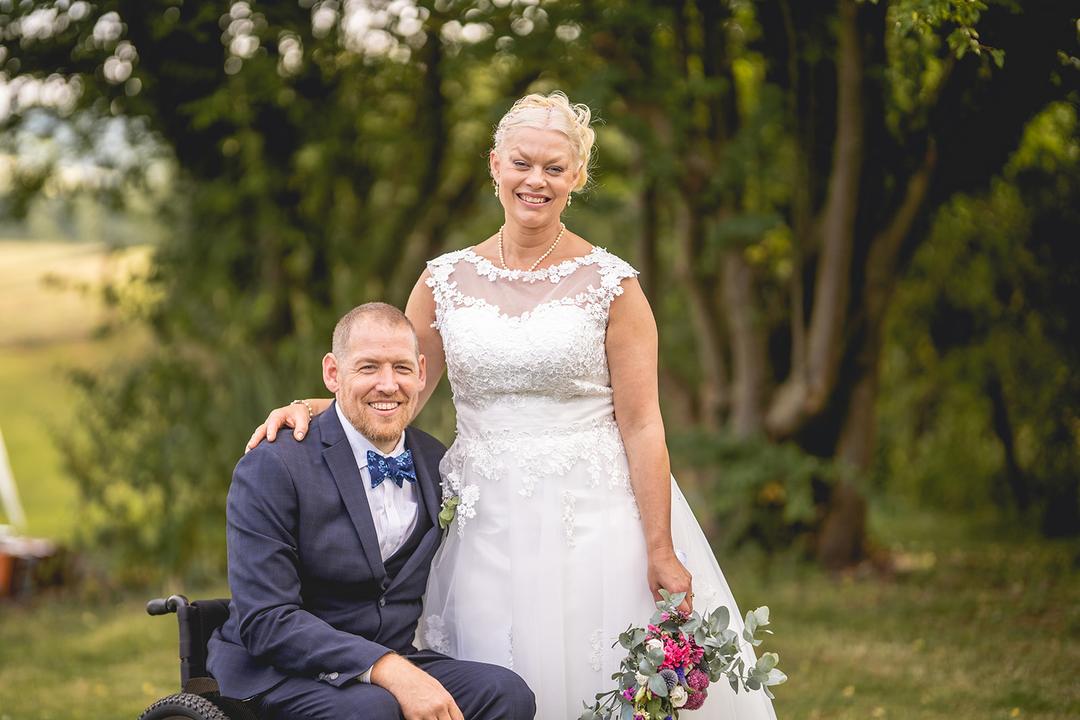 They clearly managed to find a balance, because in spring 2020, Jamie proposed. Their dream of climbing Everest had been postponed by the pandemic so, instead, they hiked up Twmbarlwm, a scenic hill in South Wales. "We got to the top and sat down and Jamie said, 'We were supposed to be on Everest now,'" recalls Charlott. "Then he said, 'I was going to ask you to marry me on Everest. This is not quite Everest, but will you marry me anyway?'"
Charlott said yes, and the couple married in summer 2021, celebrating in their local village hall. They were also able to achieve their dream, completing the Everest Base Camp challenge in May 2022 on the anniversary of Jamie's proposal. It's fair to say they've taken on more than most people in the first few years of their relationship, but the couple are proud of how they've got through it. Now, says Charlott, they're looking forward to what comes next: "I think it's a really, really exciting road ahead."
All photo credits: Jon Plimmer Photography