Love
In Small Towns, Jodie and Blaire Felt 'Different.' It Brought Them Together.
By Sara Gaynes Levy
Even before Jodie, a city chamber of commerce director, and Blaire, a financial advisor, came across each other on Bumble, they were both in the habit of making sure their matches read their profiles closely. Jodie wanted to make sure that her potential dates saw the photos of her in her wheelchair, which she has used all her life (she was born with spina bifida, a birth defect that results in the spine not forming properly, causing mobility problems). Blaire, meanwhile, wanted to make sure his matches saw that he is trans.
When Jodie swiped left on Blaire in February 2021, though, all she noticed was his handsome smile and dark hair (she says she's a sucker for dark locks). For his part, Blaire had swiped on Jodie after being intrigued by her tattoos and how she "seemed so happy" in her photos. They chatted a bit, and then Jodie asked her big question: "Are you sure the wheelchair's okay?" Blaire responded that of course it was, and confirmed on his end: "You do know I'm trans, don't you?" Jodie…did not. She had missed this part of Blaire's profile entirely. But she didn't give it a second thought. The two kept chatting, and bonded over their shared life challenges, including how they'd previously struggled with dating, particularly since they were both living in very small towns in Oklahoma. "I think because we've both had a lot of struggles in life, we just got each other," she says. Blaire agrees: "We connected over being different."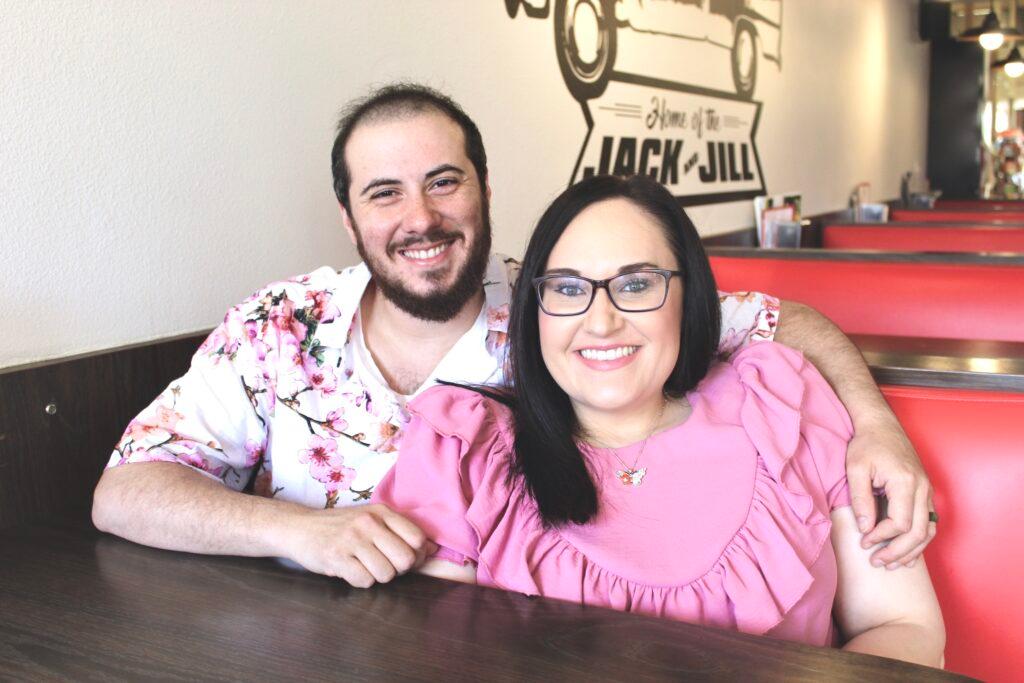 Jodie and Blaire's towns were about 90 minutes apart at the time, but after about a month of chatting, Blaire made the drive up to see Jodie for their first date. Looking back, Jodie admits she felt nervous to meet Blaire offline, unsure if their connection would be the same in person. But when they finally met, "it was love at first sight," says Jodie. Blaire says from the second he walked into Jodie's house they just began talking, and didn't stop for nearly two hours. Their conversation ran the gamut from their shared love of sci-fi to their worldviews and life experiences, all without an awkward silence. "We both see the world a bit differently than the average person and we connected about that," says Blaire. "She told me more about her diagnosis, her surgeries, and going to the children's hospital growing up. I talked about my transition, and how my family has handled it." Eventually, they decided to take a break from chatting to watch TV together. "It was a great night," Blaire recalls fondly. They were both smitten.
Despite the distance, Blaire was working part time and able to make the drive pretty regularly, often staying for the weekend, too. In fact, early on, Jodie had a big work event that Blaire came up to help her with. "He was taking care of me, and running all these errands for me, and I was like—wow, I really love you," she says. After about two months of dating, Blaire surprised Jodie by saying he thought they should live together. "I was nervous, because I'd never lived with anyone before!" she says. Blaire says his motivation for asking Jodie to move in was, of course, because he wanted to see her more often, but also because he really wanted to be there for her and take care of her. "She doesn't ask for help often, but I wanted to cook for her and hold her every night and be that someone she comes home to," he says. "She works so hard, and especially for someone that uses a wheelchair."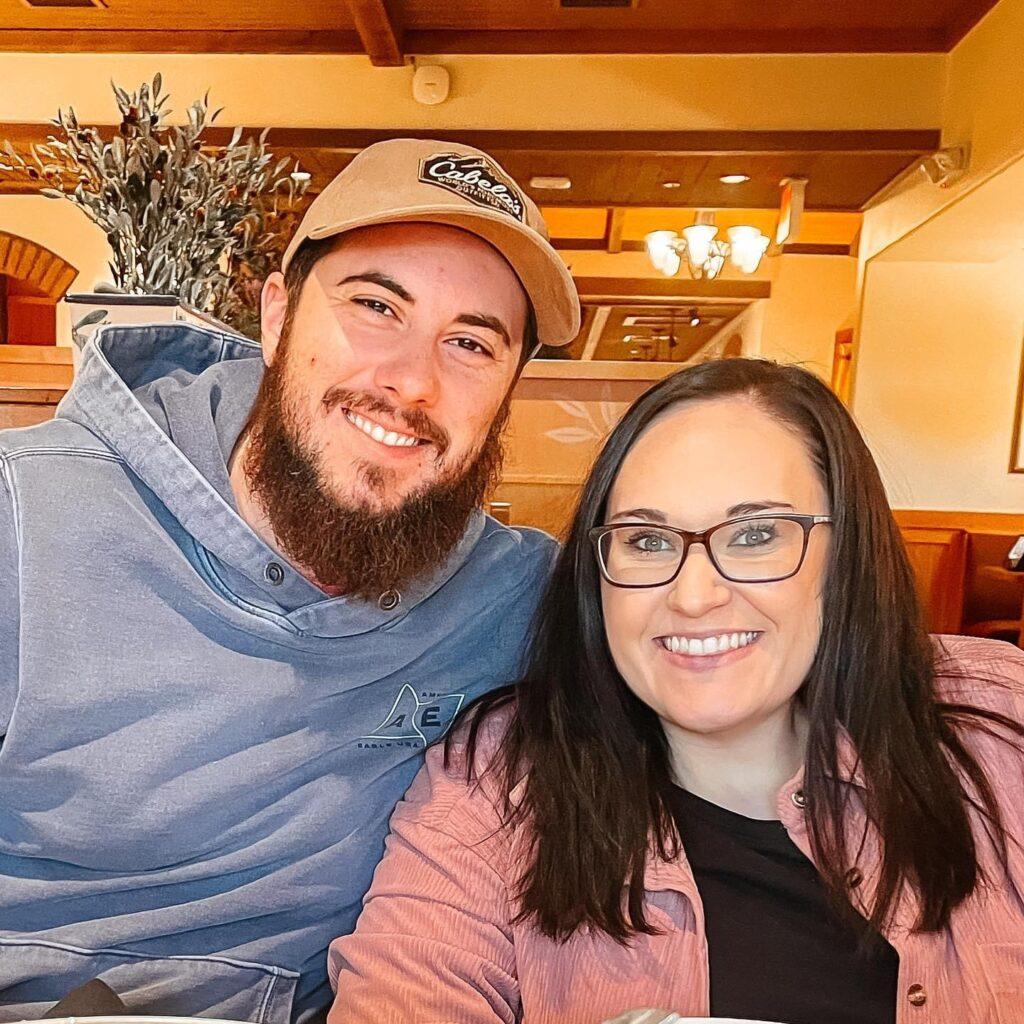 While it took Jodie a few months to warm up to the idea, this angle worked—especially after Jodie had a surgery and saw that Blaire really meant what he was saying. "I really needed someone, and he just stepped up," Jodie says. By August 2021, they moved in together. In fact, everything in their relationship has moved quickly. "We said I love you super fast— after, like, two weeks. We brought up marriage super fast!" says Jodie. "But I really believe that he's my soulmate." Jodie chalks this up to how thoughtful and caring Blaire is, without ever being patronizing about her health. "He never sees my wheelchair and always wants to go above and beyond to help me," she says. "It all came so naturally to him." Blaire, meanwhile, is drawn to Jodie's relentless optimism in the face of hardship, something that inspires him daily. "She is like this rare breath of fresh air," he says. "She has this happy energy that just draws me to her and brings out my gentle side."
The strength and power of their relationship was a surprise to both of them. Jodie joked initially that she was just excited to meet someone she wasn't related to, since her small Oklahoma town consists of a lot of family members. But Blaire was unlike anyone she'd ever met. "I would read about soulmates in books, but I didn't know if I believed in it," she says. "But when I experienced us meeting, I was like, okay, this is what soulmates are."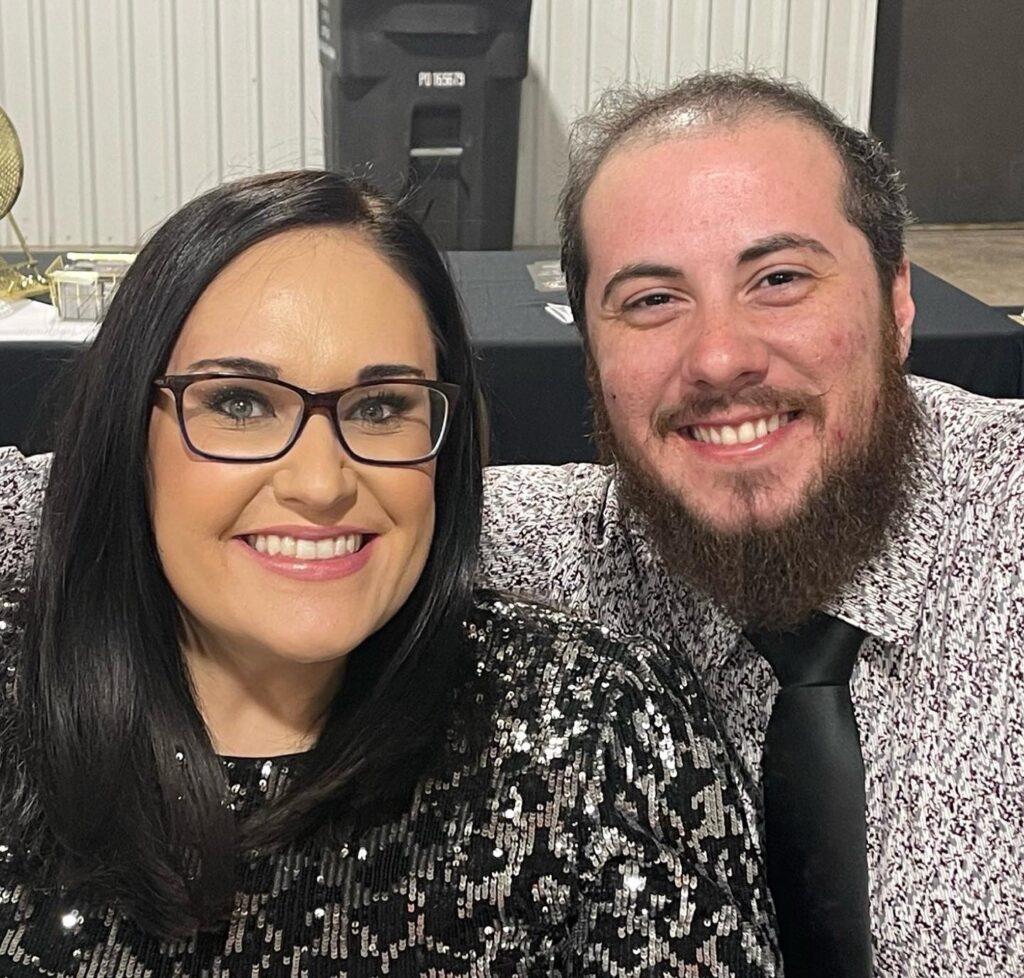 A few months after they moved in together, Blaire started planning a proposal. "I was going to go ring shopping with my cousin, but I just couldn't wait," Blaire says. Jodie and Blaire happened to be shopping one day when Blaire saw the "perfect ring," positioned at such an angle in its case that Jodie couldn't see it from her wheelchair, so Blaire was really the one to pick it out. "And I was like, what about that one?," he says. She tried it on, and it fit perfectly. Blaire dropped to one knee right there in the store. Jodie said yes, and they celebrated with cookies. ("We love our sweets!" Jodie says with a laugh.)
Their wedding, which was in June 2022, had nods to their Bumble beginnings, including a bee theme, since their time on the app brought them to each other. And despite their early dating challenges, they're both very grateful Bumble helped them find one another. "I've had a boyfriend before, but Blaire's really my first everything. He's my first love," says Jodie, holding back tears. "We always say I'm there for him mentally, and he's here for me physically. And it's just so wonderful."
Main photo credit: Rose Rock Studios