Love
Katie Beat Cancer. Then Baseball (and Bumble) Brought Her to Brand.
By Ashley Edwards Walker
When Katie joined Bumble in February 2018, she was coming off an intense few years. In 2009, she lost her mother to colon cancer. Three years later, while pursuing her PhD at the University of Texas, Katie received her own double cancer diagnosis of Hodgkin's lymphoma and melanoma. She spent the next year undergoing treatment, then another year recovering from the grueling side effects of radiation and chemotherapy. When she wasn't at the hospital or a doctor's office, she was usually isolated at home. So when she finally got the news that she was two years cancer-free, "I decided that it was time to go out into the world and do some healing," says Katie. "And that healing actually came in the form of a baseball journey to see all 30 major league baseball ballparks in one season."
The trip was something she and her mom had always talked about doing, but Katie had written it off once her mom died. Being forced to confront her own mortality, however, had made her reconsider. Katie decided to see it through for the both of them. At the end of the trip, she managed to see her and her mom's favorite team, the Chicago Cubs, play; through a connection, she was able to throw the opening pitch. "My mom was always rooting for the underdog," says Katie. "So we were Cubs fans for life."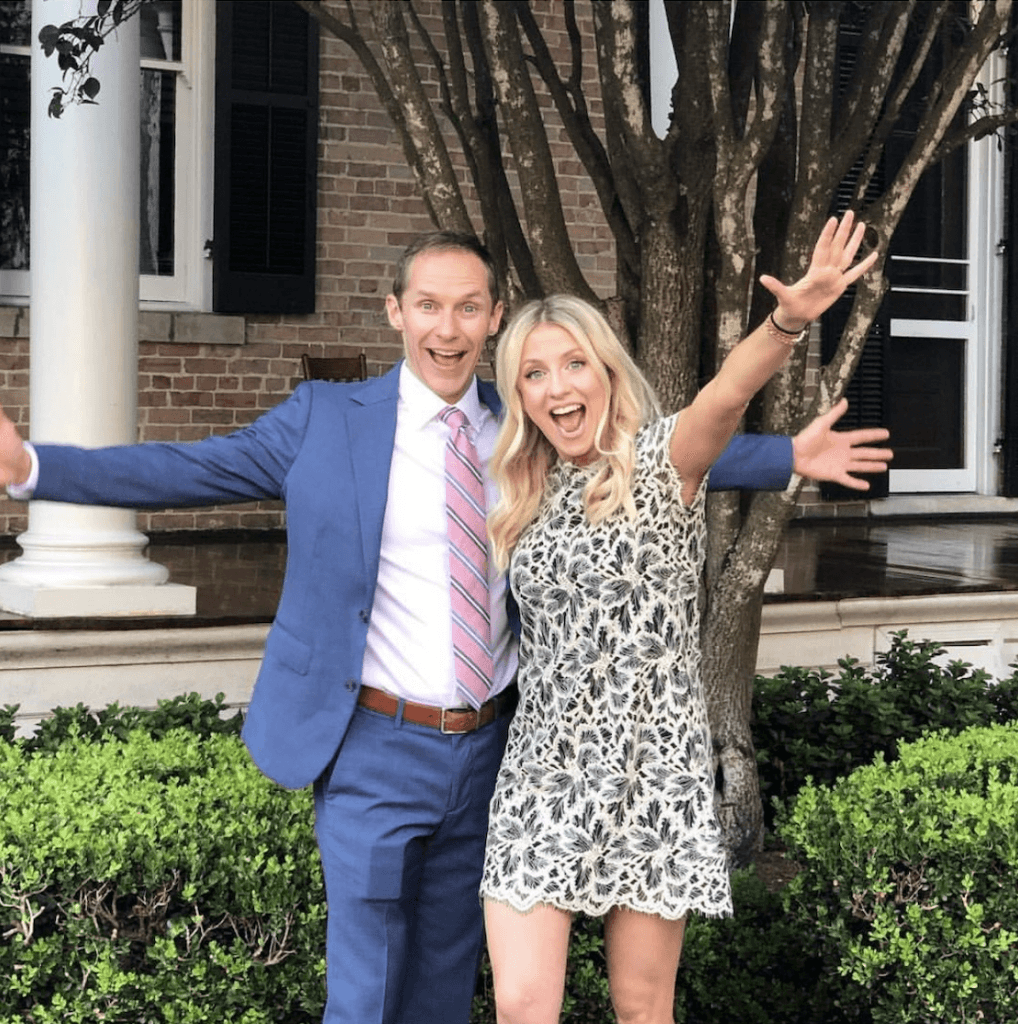 When she returned home to Austin, Katie decided she was finally in a place to find her person. She was 41, had never married, and had never used a dating app before. Even though she was skeptical about finding a real connection with someone she met online, she downloaded Bumble. After creating a profile and uploading a photo of her at Wrigley Field, home of the Cubs, she started swiping.
One of her first matches was a man named Brand. Not only was he around her age (37) with "an air of kindness" about him in his photos, he was also wearing a Cubs hat. Brand's profile mentioned that he'd just moved to Austin, so Katie's first message was to ask him where he was from. He answered politely (Des Moines, Iowa), then added: "More importantly, tell me about that Cubs picture!" Even though the photo didn't say where she was, he knew the stadium and jersey well enough to know she'd been rooting on his favorite team.
Four days later, Katie and Brand met for drinks. It didn't take long before they settled into a rhythm, bonding over the Cubs (of course), movies, books, and a mutual interest in Pickleball, a paddleball game that's a cross between badminton, ping pong, and tennis. "It's a big hit in retirement communities in Florida and Austin," jokes Brand. They were so engrossed in their conversation, Katie completely forgot a friend was picking her up for a group dinner they had planned until her friend showed up at their table, interrupting their date. Later at dinner, her friends were shocked when Katie admitted she was already thinking about getting off of Bumble. "I was like, 'I really liked him, so why would I keep looking?'"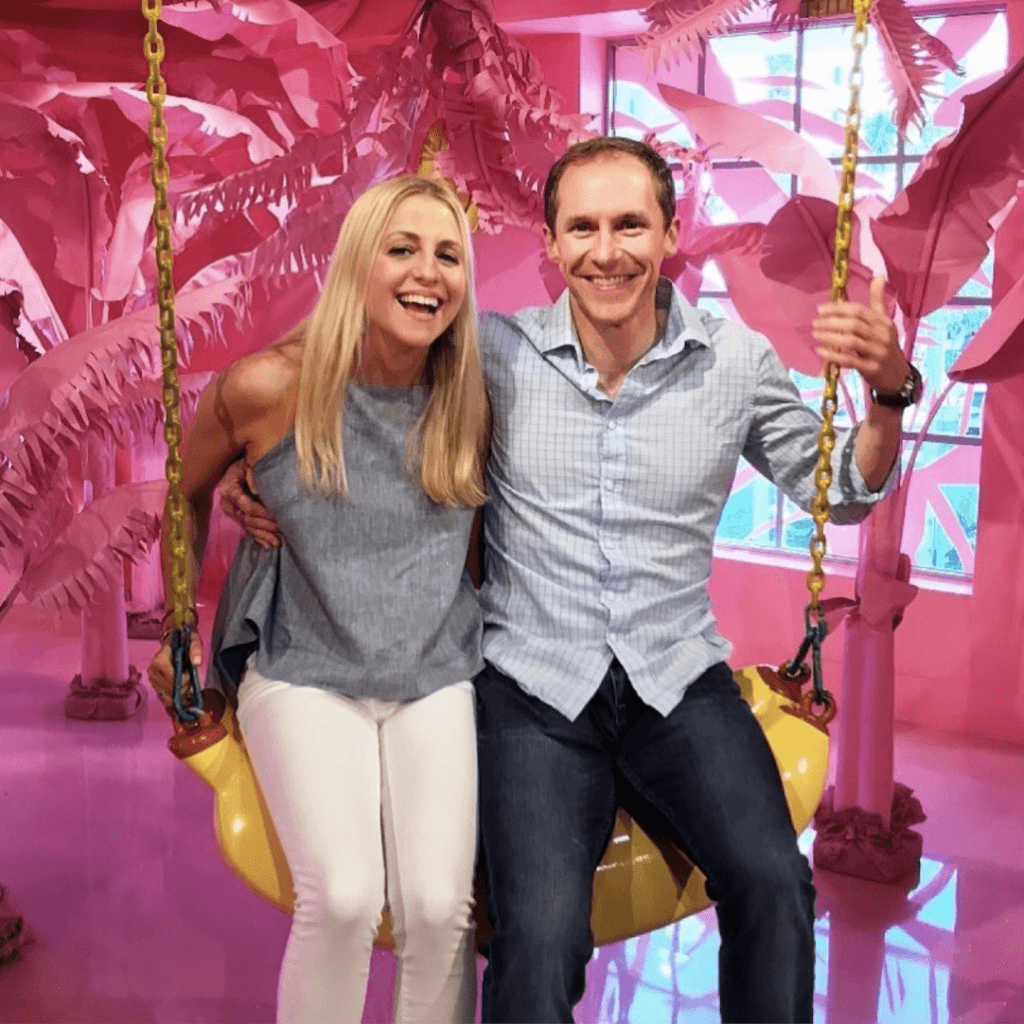 Brand also thought the first date was fantastic. He liked how easy Katie was to talk to, and how welcoming she'd been given he was new to Austin. He went home that night and journaled about their meeting, writing "how smart, fun, classy, and funny I found her."
As their relationship progressed, Katie continued to tell Brand more about her connection to the Cubs, her mom, and the long journey she'd been on to honor them both after her mom's death and her own recovery. "Every time she would tell me something new I'd say, 'I can't believe the story,'" says Brand. "And eventually, I started joining the chorus of people who were saying, 'You need to write a book about this.'" With Brand's encouragement, Katie decided to do just that. Her memoir, A Season With Mom: Love, Loss, and the Ultimate Baseball Adventure was published April 2021.
But writing a book isn't the only thing Katie and Brand have been up to. In May 2018, three months after meeting on Bumble, they moved in together. As a couple, they love to hike and travel—including, yes, to watch the Cubs play. For Christmas, Katie even purchased a brick at Wrigley Field with both their names on it. In May 2019, Brand proposed at a nature preserve near their home. Their original wedding ceremony was planned for May 2020, but they decided to elope due to COVID. They tied the knot officially in May 2021 in Todos Santos, Mexico, with safety precautions in place.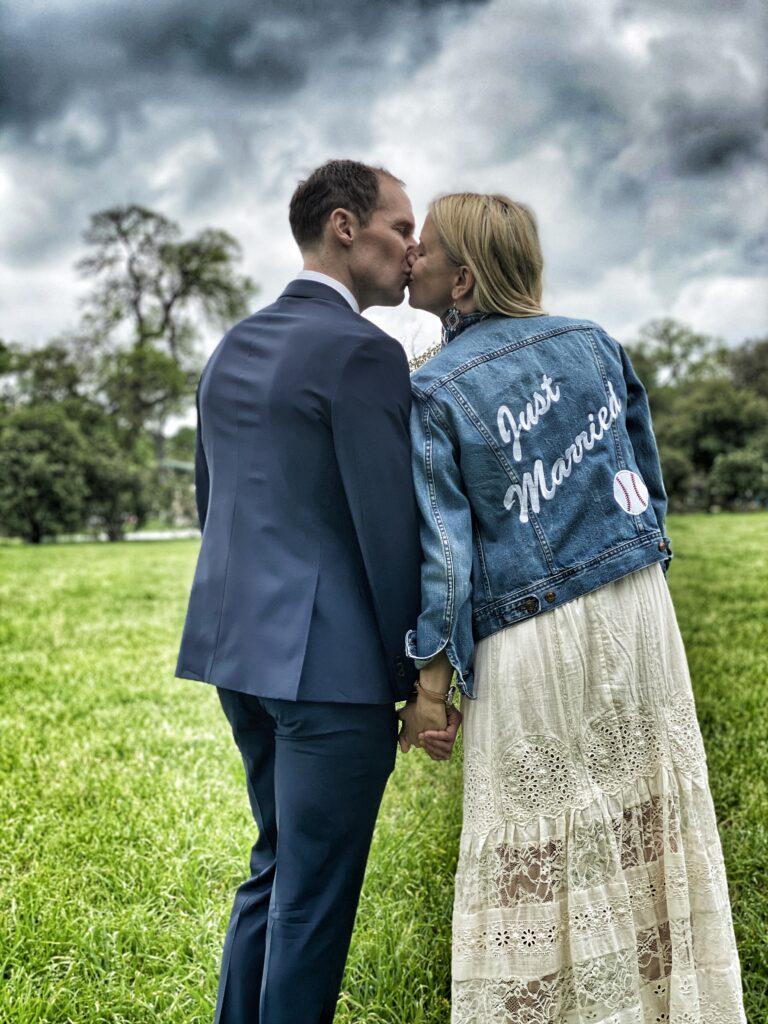 For Brand, everything he wrote in his journal the first night he met Katie still rings true. "She's exactly the person I thought I was meeting," he says. "And those are all the reasons and more why I love her more today than I did yesterday."
Katie's grateful that Bumble was part of their journey. "I think I sort of naively associated online dating as less than romantic," she admits. "What I didn't realize was that Bumble was the way to meet Brand. The romance, fate, and magic came after."
Main photo credit: Jenn Emerling Weddings