Love
Despite 600 Miles Between Them, Madhura and Yatharth Found a Very Modern Love
By Shireen Jamooji
Back in fall 2018, Madhura was cautiously testing the dating waters. She had recovered from a bad breakup and was ready to download Bumble after being encouraged by her friends. Yatharth's profile caught her eye, although perhaps not for the best reasons. Looking back she laughs about that moment. "His pictures were so terrible," she says. As a photographer, she still finds this lapse unforgivable, but she adds, "I liked the way he smiled." His humorous bio tipped the scales in his favour, and she decided it was worth swiping right.
It was good timing: Yatharth was only in Madhura's city of Mumbai for three days. Yatharth's job as an oil and gas engineer demanded a lot of travel, and he was no stranger to dating apps as a convenient way to meet new people. An introvert by nature, he was drawn to Madhura's openness. "She seemed so happy and friendly," he says. She in turn was impressed by his responsiveness and ability to keep the conversation alive. So while they knew that the connection might be short-lived, they decided not to let the opportunity to meet pass them by.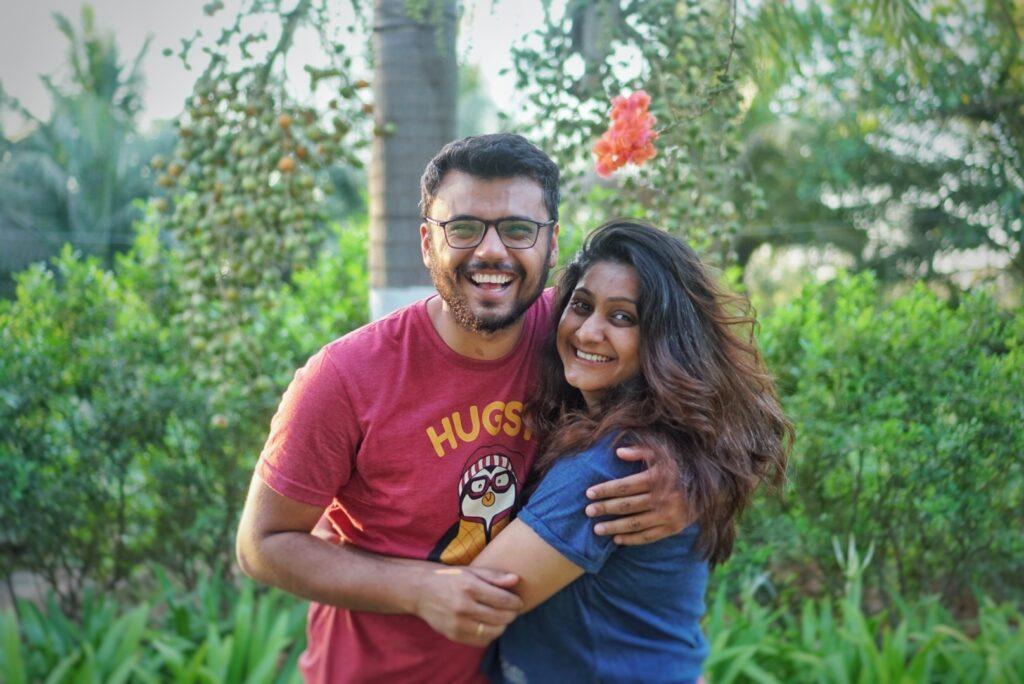 Even though they were on opposite ends of the city, Yatharth braved the hellish Mumbai traffic to meet for their first date. "I wasn't so keen on traveling that far," Madhura admits, "so it felt special when he made the effort." When they met, it was clear the match translated beyond their chats on the app. Their conversation flowed easily with little of the usual first-date trepidation. As they talked they discovered they had many shared interests including travel, food, and Bollywood music. Both were adventurers at heart, but with very different outlooks on love and life. While Madhura considered herself outspoken, Yatharth believed in a more reserved approach. "I loved how non-judgemental she was about the world," he says. After that night they parted ways, and Yatharth returned to Rajasthan—over 600 miles away—while Madhura remained in Mumbai.
In her mind, Madhura had already written the relationship off. She hadn't been looking for anything serious after her recent breakup, and committing to a long-distance connection at such an early stage seemed rash. But Yatharth wasn't ready to give up that easily. He wasn't sure why, but he knew Madhura was worth the effort and he continued to reach out. "I appreciated that he put in the work," says Madhura. For her, the fact that Yatharth always took the time to make meaningful conversation really set him apart.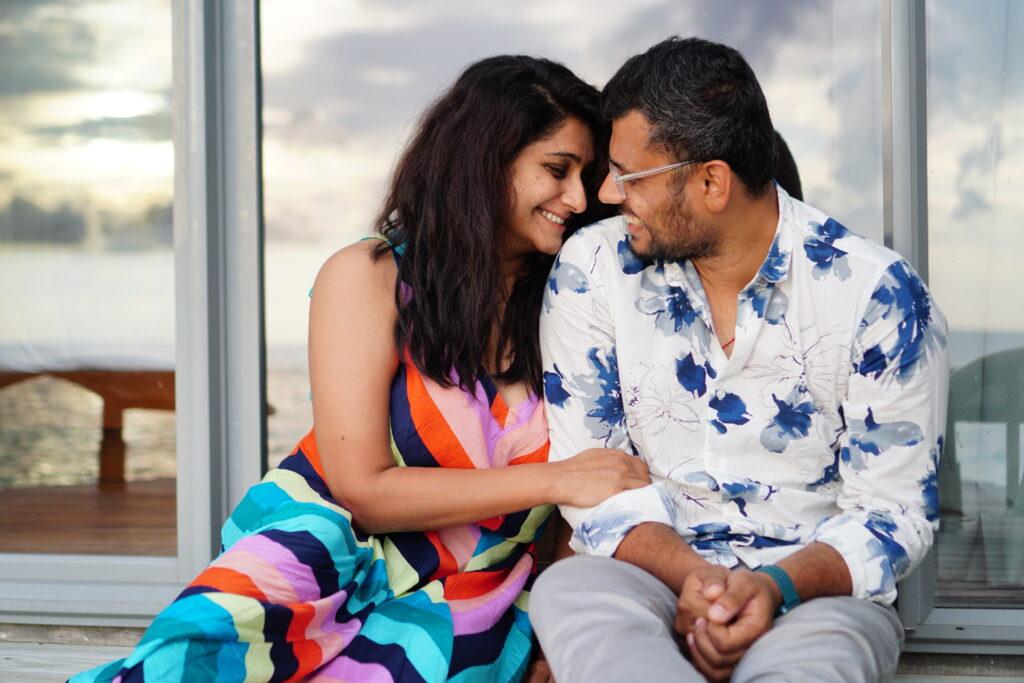 They stole chances to meet whenever they could, and one such opportunity came when Madhura was shooting a wedding in Jodhpur. Yatharth rearranged his schedule to meet her there, and it was on the terrace of a small hotel that they shared their first kiss. They officially started dating when Madhura's friends spotted them together and asked her about him. She responded: "He's my boyfriend…I think."
As their relationship developed, they had to manage the challenges that came along with long-distance dating. They kept in touch however they could, with busy work schedules keeping them far apart for the better part of a year. Yatharth remembers clearly the first time he realised their relationship might be turning into something more. "She told me she was going out with her friends for the night and I felt this pang of jealousy that I wasn't there," he laughs. "I couldn't even explain why." Madhura's moment of realisation came over a phone call. Given the distance, they had taken to asking each other a series of 'what if' questions, imagining what their lives together might look like. That night Madhura asked him, 'If you could take me on a date right now, where would we go?' Yatharth looked up at the sweeping, star-filled desert sky above him and envisioned a romantic evening camping underneath the stars. On the other end of the phone, Madhura was stunned. "He was describing my ideal date!" she says. "And I didn't even have to tell him!"
Yatharth's proposal came first. In winter 2019, he rented a yacht, and while out at sea, he got down on one knee and proposed, asking, "Will you be my companion for life?" Adding at the end, "I brought you out here so that if you say no, I can jump!" Luckily, that wasn't necessary and on top of her acceptance, Madhura had her own proposal planned a few days later. "I knew it was unconventional, but these days Indian men are learning to give women the space to be financially and emotionally independent." This exchange of proposals served as a marker of the open partnership, companionship, and mutual respect that they cherish.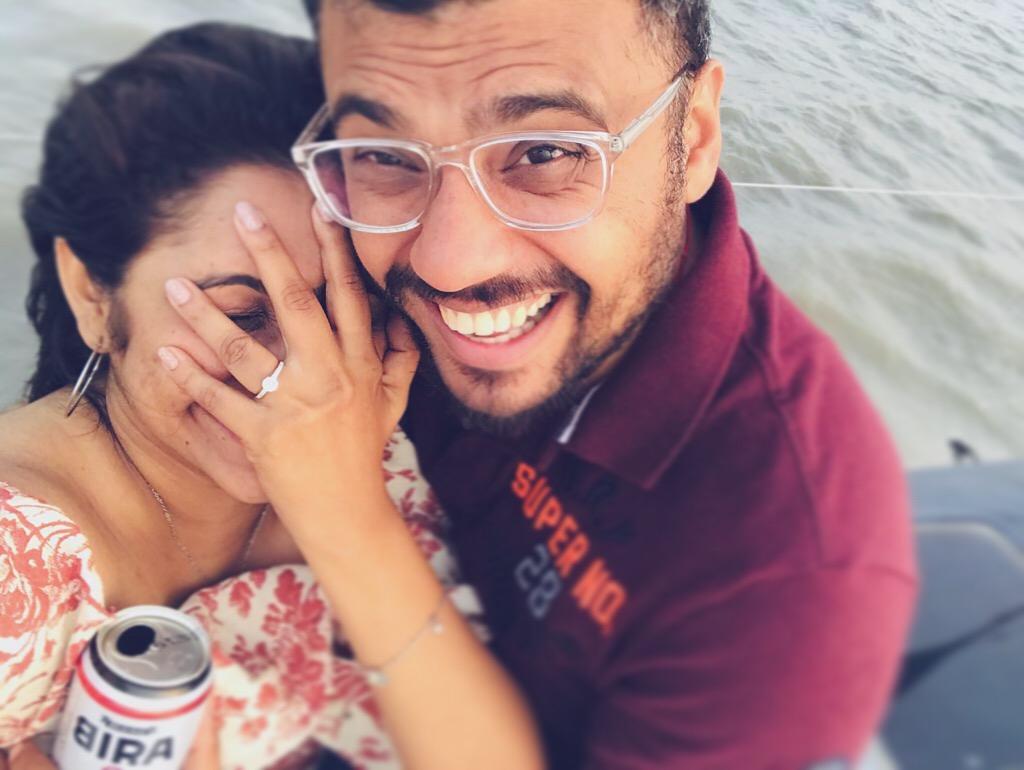 They had a shared dislike for roller coasters and amusement park rides, but Madhura somehow found a giant wheel at a mela, or traditional Indian fair, and persuaded Yatharth to get onto it with her. As it started spinning faster, both scared and screaming, she took out the ring and said, "I hate giant wheels, you hate giant wheels. I hate marriage, you hate marriage. But if I have to be on a giant wheel or in a marriage, I'll only do it with you." And that's what sealed the deal for the happy couple.
They dreamed of having a big wedding, but given the COVID-19 pandemic, they ended up having a small, intimate affair, which ultimately suited them better. "We didn't know anything about being a bride and groom anyway," Yatharth confesses. What mattered most to them is that they had found a partner for life. "He's my best friend first, everything else second," says Madhura. "That was important for me." Through travels, dinners, movies, and evenings in, they had found the person willing to step up and be there for the moments that really matter. "In the end, it's all about the work you're willing to put in," says Madhura. "People are often not willing to put effort into keeping a relationship alive. But that effort is why we are together today."
Main photo credit: Royd Tauro for Little Big Weddings