Love
It Took Matching on Bumble Twice for Yami and Oscar to Get Their Happy Ending
By Ashley Edwards Walker
Yami and Oscar first matched on Bumble in 2017, but their relationship didn't go anywhere at the time; the initial 24-hour period members have to initiate a conversation expired before Yami reached out. Soon after, she got into a relationship and deleted her profile. So it was a surprise when Yami redownloaded Bumble and recognized Oscar's profile among her new matches in the spring of 2020. "I was like, 'Wow, look at him,'" says Yami, a hospitality entrepreneur, of the instant attraction she felt toward Oscar. Oscar was also intrigued. After doing his own scroll through Yami's own profile, he noted where she'd written "please, just be real" and decided to message her. "I was like, 'Great, so that means I can skip the pickup lines and we can have an actual conversation,'" Oscar recalls of their initial exchange. "And she was like, 'Yes, please. Thank God.' And that's where we took off from."
Yami and Oscar quickly made plans to go on their first date, but their busy schedules and social distancing kept getting in the way. Yami missed a virtual date planned for May when her grandmother fell ill. Then Oscar, a medical student, had to cancel plans they'd made to meet up in order to finish a research project for school. Still, they kept talking over text, getting to know each other. Finally in June, right after Oscar submitted his completed project, they met for a picnic in the park at Brooklyn Heights Promenade.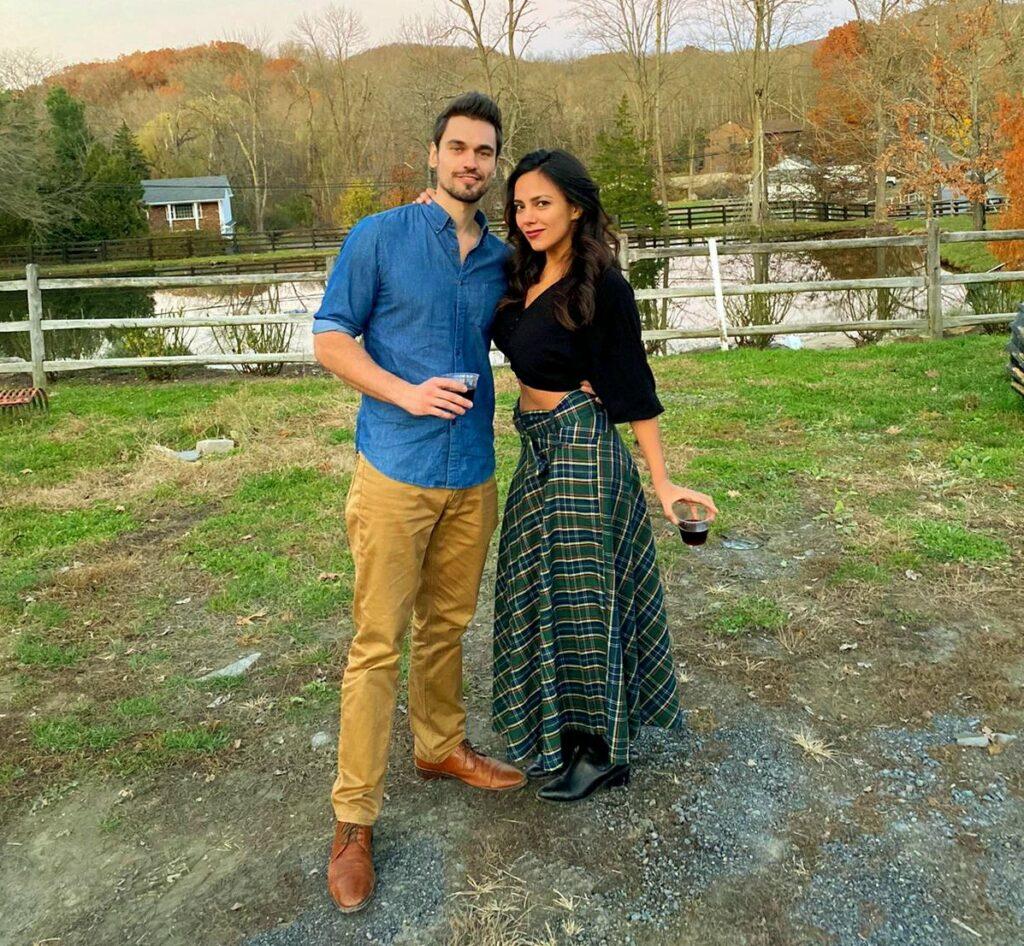 Yami remembers Oscar walking toward her, the sun glinting off his green-blue eyes. She felt instantly smitten by him. Later, she told her best friend that she knew at that moment, "This is it." Oscar was also immediately drawn to Yami. "My first impression was that she's beautiful," he says. "Then when we started talking, I just felt such a warmth and energy and positivity from her that I loved."
They spent the next several hours discussing their families and backgrounds. Yami told Oscar she was a lawyer in her native Mexico before coming to the U.S. in 2016 to pursue an MBA. Oscar shared how he'd first gone to school to be a psychologist, then worked as a nurse before enrolling in medical school to become a doctor. "We realized neither of us liked to stay in our comfort zones," says Yami. 
Over the three months that followed, Yami and Oscar continued seeing each other as often as their schedules allowed. One night, Yami invited him over for dinner. But when Oscar showed up, he apologetically explained he still had to finish up some work for his new research project. He worried Yami might be upset about his conflicting priorities. Instead, she told him no problem, poured him a glass of wine, and left him to do what he needed to do. "She respected that I had to work," says Oscar. "I was really impressed." Eventually, they sat down to enjoy the homemade Mexican food Yami prepared and spent hours talking, late into the night. In September, with both of their leases ending, they decided to move into an apartment in Chinatown together.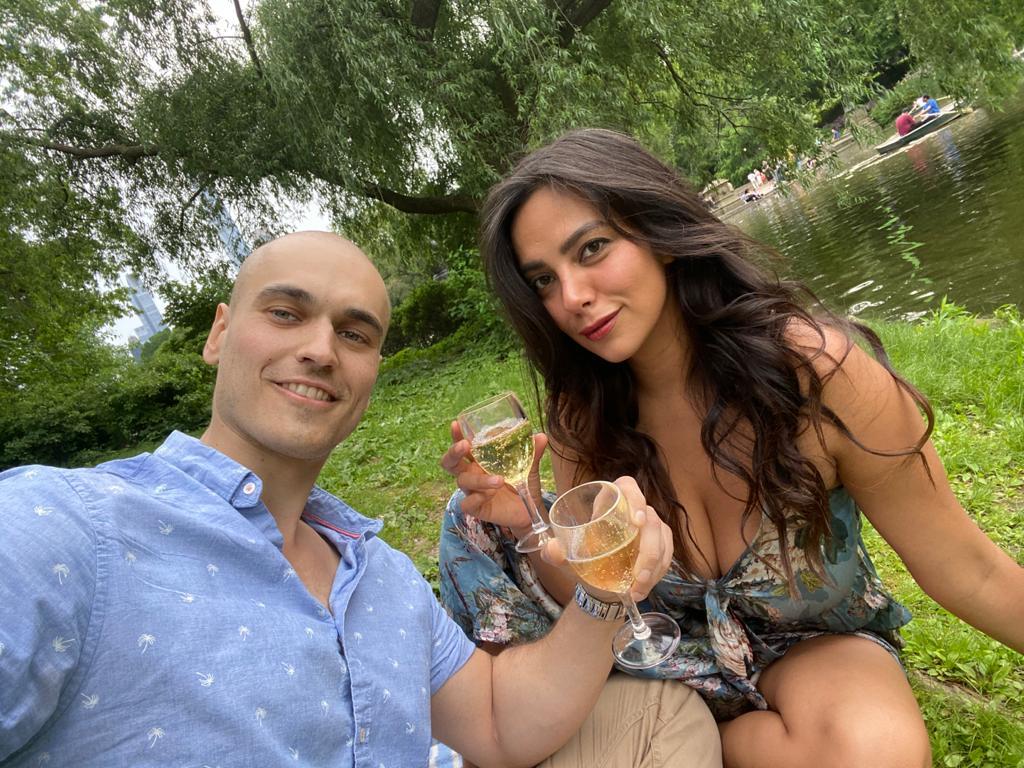 Then, in April 2021, Oscar got some news that neither of them saw coming. While picking up a nursing shift at a Brooklyn hospital, one of Oscar's colleagues pointed out that he looked unwell. In fact, he had been feeling off, experiencing fever, night sweats, and extreme fatigue for about two weeks at that point. When one of the other physicians encouraged him to get examined, Oscar agreed. Within 24 hours, he was diagnosed with leukemia. "I'd learned about it in books, I know the symptoms," says Oscar. "But never in my wildest dreams or nightmares would I have imagined that it could happen to me."
Yami had come to the hospital to be with Oscar after he reached out to let her know what was going on. She was just outside the doctor's office when Oscar received the news. She went to comfort him and, when he wondered aloud about his future and whether he would die, she reassured him. "I told him 'You're sick now, but you're going to get better,'" recalls Yami. Over the months that followed, Yami was by Oscar's side as he underwent chemo and a bone marrow transplant. "Whenever I was feeling down or anxious, she always brought me back down to earth and was a source of support," says Oscar. During Yami's daily trips to visit him in the hospital, "We'd talk, we'd laugh, we'd watch TV," says Oscar. "I wasn't alone, just sitting there and wondering what was going to happen."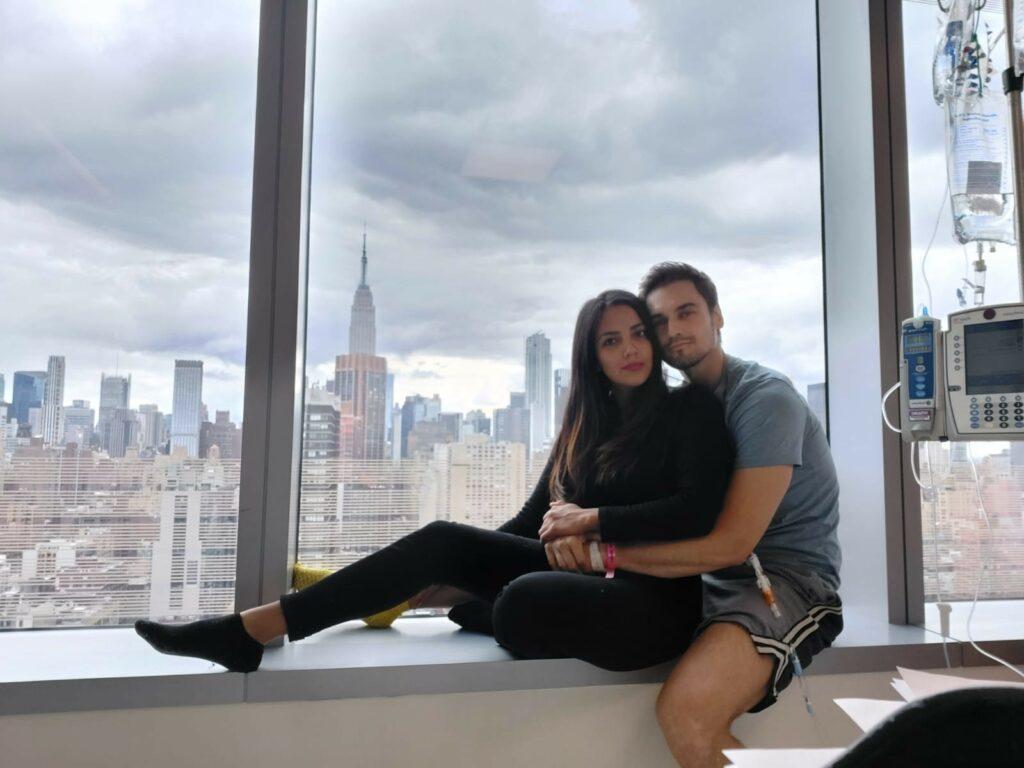 The experience bonded them and solidified their future together. In June, during a break in Oscar's ongoing chemo treatments, he decided to propose. Yami was busy with her new business, a creative studio that curates events, so she nearly missed their friend's "photoshoot," a ruse Oscar had come up with to ensure Yami showed up at the Brooklyn Bridge looking her best. Luckily, when she finally made it to the location, the photographer was "conveniently" still there to capture the moment Oscar got down on one knee. "I couldn't believe it," says Yami. "Everybody all around us was celebrating."
For now, Yami and Oscar are enjoying their engagement. Rather than jump into planning a wedding, they're focusing on Oscar's health, finishing medical school, and growing Yami's business. But knowing he and Yami will finally become husband and wife when they marry in spring 2023 has "given me a lot of strength," says Oscar. "Going through cancer really taught me to cherish these moments and continue celebrating life. Before her, I never thought it was possible to find romantic love and a best friend all in one person."
Main photo credit: CreativeDS