Love
Bumble Success Story: Raji + Nayan
Raji and Nayan matched on January 15, 2016. Below is Raji and Nayan's Bumble success story as told by the handsome Nayan:
"Nayan knew Raji was such a catch that he insisted on an almost immediate Monday evening date. Raji somehow agreed, even though that's her favorite night of the week to have to herself. However, once that Monday actually came around, she asked for a rain check!
Nayan had been out a little too late at his friend's birthday party the night before their first date. He was going to ask for a reschedule. Raji later said she would not have tried for a third time. Raji was also inclined to not go, but at the encouragement of her best friends decided she had nothing to lose. Nayan met Raji at the Little Prince in Soho, at which they later became regulars. It even has their picture on the wall!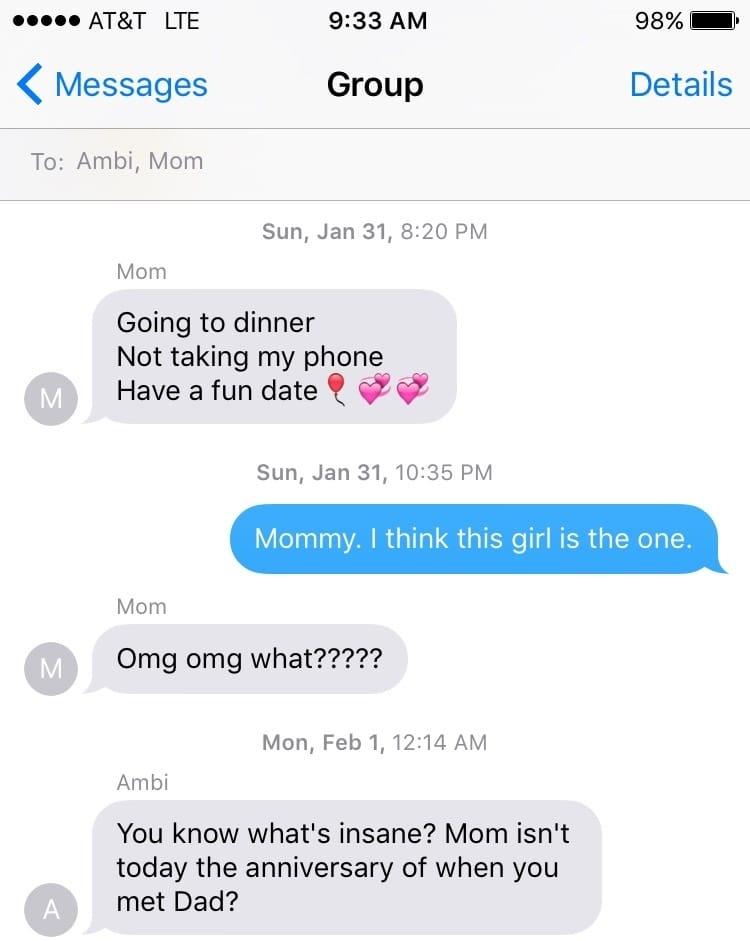 From the moment Nayan saw Raji walk in, he knew she was the one. (So much so that he sent the above text to his mom and sister right afterwards.) Unbeknownst to anyone until his sister Ambika pointed it out, the day Nayan and Raji met was the same day Nayan's mother met his father 17 years earlier.
Raji initially thought Nayan was a little weird when he only ordered apps and dessert at dinner. It was only after their third date that Raji finally decided Nayan was somebody she could put up with. That's when Nayan asked Raji if she would be his girlfriend.
The Engagement, January 10, 2017
Nayan had Raji's manager plan a fake meeting at a restaurant near where he wanted to meet Raji. Raji was not too happy about a 6PM Fashion Week Friday meeting and even thought about bowing out. However, Nayan encouraged her to attend.
When Raji arrived with her manager, she asked if they were at the right place as the setting didn't seem right for a meeting. A waiter tapped her on the shoulder to let her know that she was, in fact, at the right place, and he handed her the first Clue of the evening in an envelope. The Clue told her that she was going to be taking a trip down memory lane. She was to go to the place where they first said their "I love you"s (for the record, Raji said it first!). A flustered Raji made her way to the pizza place, Emporio, to find Nayan waiting with a glass of wine. When the bill came, so did a second Clue.
This Clue led them back to where they had their first kiss, which was at Rintintin just around the corner. After a glass of wine there, Clue No. 3 found its way to Raji. This led them to their favorite date spot, Rubirosa. After sharing an entire pizza, Clue No. 4 arrived. It pointed them to the Little Prince, where they had their first date.
After dessert and some wine, Raji was still completely confused as to what was happening, and she thought Clue No. 5 was leading them home. Fortunately, Clue No. 6 was written on their chalk board wall at home. Nayan proposed and they were greeted by their families shortly thereafter. It was a wonderful evening."
Thank you to Nayan and Raji for sharing your story with us. We're so happy for you!
Nothing makes us happier than hearing Bumble Success Stories. To submit your story, email stories@team.bumble.com!