Love
Shelby & Josh Were Just Coworkers—Until They Matched on Bumble
By Ashley Edwards Walker
In summer 2019, Shelby was attending her first staff meeting at the Fort Wayne, Indiana middle school where she'd recently been hired as the school counselor when she spotted a face that looked oddly familiar. The first thing she noticed about Josh, a math teacher, was that he was cute. But his quiet demeanor told her that he was reserved, so she didn't ask him why they might know each other. It wasn't until later that she realized where she recognized him from: Bumble.
Originally from Ohio, Josh didn't know anyone in Fort Wayne when he moved there for work in 2015. He originally downloaded Bumble as a way to make new connections and get to know the city. "As an introvert, it's easier for me to meet people using an app like Bumble," says Josh. Shelby was more skeptical of dating apps. Having grown up in Fort Wayne, she'd fallen into a cycle of downloading the app, then deleting it when she got "nervous" about potentially matching with someone she knew from high school.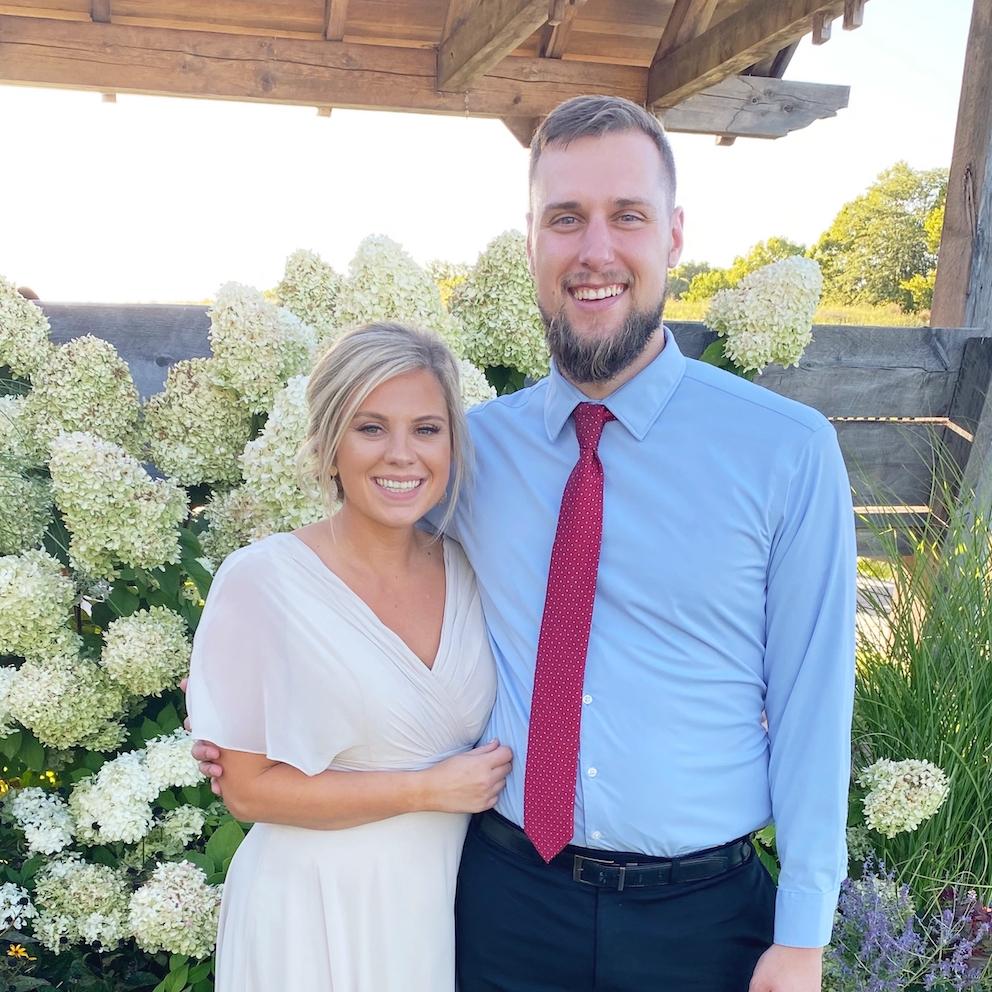 Ironically, Josh's profile had stuck out in Shelby's memory because he was one of the few people on the app she didn't recognize. To test her theory, she re-downloaded Bumble and swiped until she came across his profile again. Looking through his photos, Shelby began to get a better sense of what her quiet colleague might be like outside of the classroom. "I liked that most of his photos were him going out doing things," she says, recalling one picture of Josh at a wedding, and another of him on a guy's night out. But even with her interest piqued, she was nervous: if they didn't match, would it make things awkward at work? That's when Shelby upgraded to Bumble Premium to make sure Josh was in her Beeline, meaning he'd already swiped right on her profile. He had. And Shelby quickly followed suit.
When Josh saw he and Shelby were a match, he was excited. Unlike Shelby, he liked when he matched with people he already had an offline connection with because "I know I'll actually interact with them outside of Bumble," he explains. He thought she was attractive and noticed Shelby's profile included a photo of her at a tailgate party before a football game, so he figured they also shared similar interests. While he waited nervously for Shelby to reach out, she was brainstorming her opening line with friends. In the end, she went with a joke she knew a fellow teacher would love, suggesting she get her lunch duty shift covered so they could go on a lunch date. "Once I got her message, I laughed a little bit, and then we started talking from there," says Josh.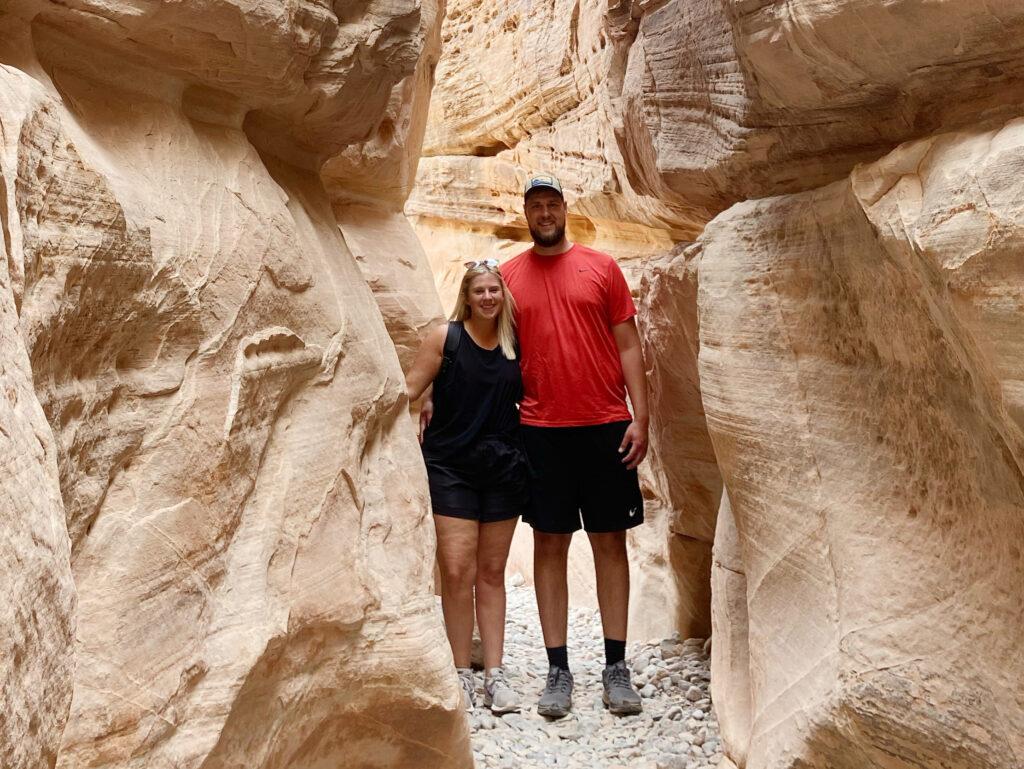 A few nights later, Josh and Shelby met at a local Mexican restaurant for their first date. They broke the ice by talking about work, but the conversation quickly moved to their families as they tried to get to know each other as people, not just coworkers. Although "the conversation was really good," Josh didn't "make a move" at the end of the night. Still, Shelby didn't think much about it since she knew Josh was shy. In retrospect, says Josh, he was being cautious because "if it didn't work out, I didn't want it to be awkward at work."
They continued seeing each other, but things moved slowly. They saw each other throughout the week at school, but they kept their interactions professional. Josh keeps to himself at work, Shelby explains, which is very different from her habit of making friends with her coworkers. Even on "payday Fridays," when Josh and Shelby joined their colleagues for regular happy hours, they were careful to keep their budding relationship a secret. "We would all go as the group, and no one knew that we were seeing each other outside of that," says Shelby.
Although they briefly worried hanging out together with their coworkers would be "weird," they were both relieved to discover it wasn't—in fact, it led to more dates. "We'd be in a group setting, then a lot of times we'd go do something together or go to a bar after that," recalls Josh. In fact, it was after one of these happy hours in October that they ended up back at Shelby's apartment and they finally shared their first kiss.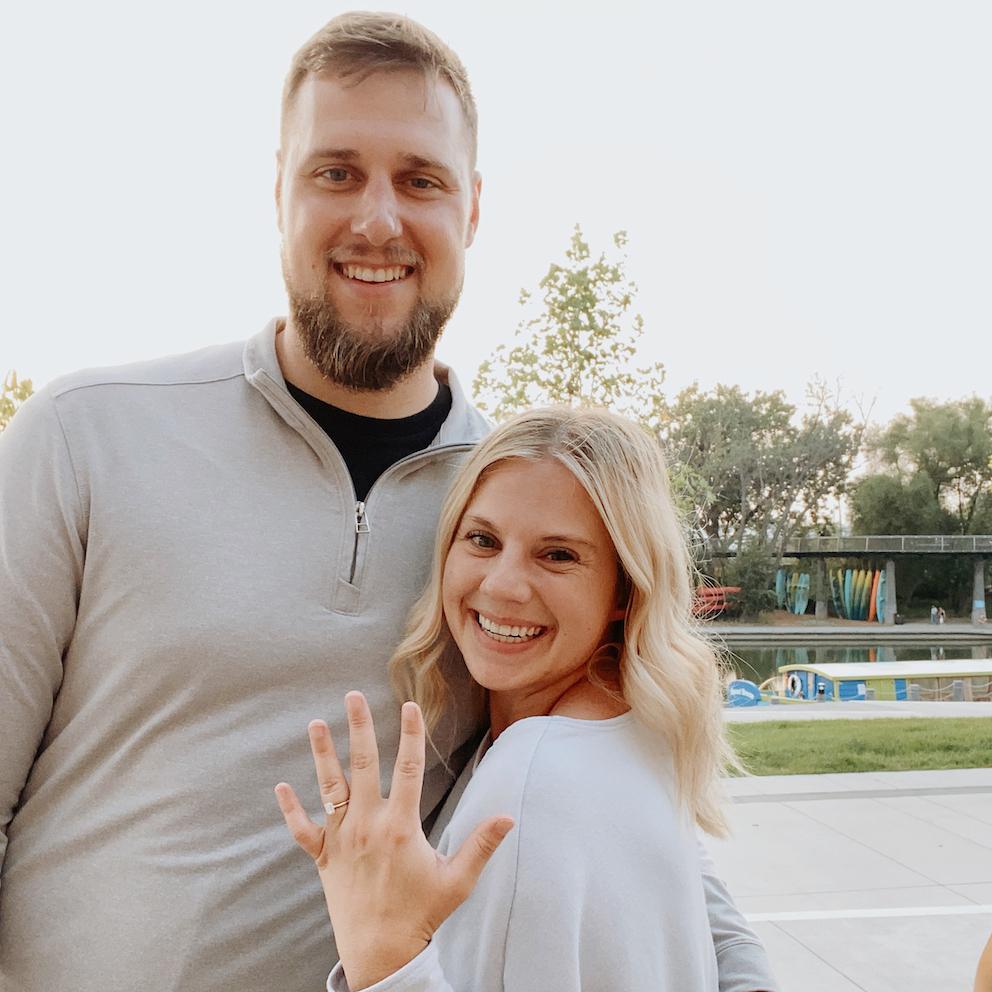 Soon after that first kiss, Shelby and Josh started officially dating. But they strategically waited until December, when their colleagues and students would be out for winter break, before they went public with their relationship on social media. When the news did go live, the likes and comments immediately started rolling in. Even the colleagues who Shelby and Josh weren't as close to, although initially surprised, were supportive of their newfound happiness. "When they looked back at how we interacted, everyone was like, 'Oh, it makes sense,'" says Josh. When classes resumed, their assistant principal, who Shelby is close to, did express concern, initially worrying that Shelby would "break Josh's heart." Once she spent more time with Josh, and witnessed how they interacted as a couple, she became "all for it," says Shelby.
In January 2020, classes resumed—only to be moved online that spring when the COVID-19 pandemic hit. All of a sudden, Josh and Shelby were spending "all day, every day together," Josh recalls. They worked from each other's apartments, passed the time watching TV, and bought bikes to go trail riding together. "It was so natural," he continues. "I just felt like I could be myself. That's when I knew it was going to be a long-term thing." That summer, Josh bought a house and asked Shelby to move in with him. It was around that time, while attending the wedding of Josh's former roommate, that Shelby also realized she and Josh were in it for the long haul. After a few drinks at the reception, Shelby let loose on the dance floor. Afterwards, she worried her outgoing behavior had been a turnoff for Josh. When she tried to apologize, Josh told her, "'What are you talking about? I loved it,'" recalls Shelby. "He doesn't just let me be me, but actually appreciates our differences."
Nearly a year later, in July 2021, Josh proposed at a park in Fort Wayne. The two tied the knot in spring 2022. And all because Bumble helped these two opposites attract. Says Shelby: "If it weren't for Bumble, we would have never evolved to be more than coworkers."