Love
Faced with Tragedy, Cody and Sierra Found Home with Each Other
By Kelsey Miller
Cody remembers the moment he got his first message from Sierra. One look at her profile, and he felt the wind knocked out of him. He took a screenshot of it and texted it to a friend: How did this girl and I just match?! Cody, a business intelligence analyst in Kansas City, Mo., had been deliberately single for two years, following the breakup of an earlier relationship—a choice he'd made, he said, "in order to really work on myself," before starting another one. He joined Bumble in the fall of 2020, cautiously wading back into the dating pool. "I'd been on for a month and had no luck," Cody says. "I thought maybe it was a sign. Maybe I should just be done." Then Sierra matched with him.
"There were two things that caught my eye," Sierra says, recalling Cody's profile. He'd used one of the Profile Prompts to describe his favorite meal: a hamburger, with peanut butter. "I thought, 'Why would you mention that?!' It was so weird to me!" Weird, but funny too. And then there was the second thing: "He reminded me of my celebrity crush," Sierra laughs. Today, they both crack up over their goofy origin story—the hearthrob and the hamburger that brought them together.
They didn't get together in person for nearly a month. "It took him forever to ask for my phone number," says Sierra. "We chatted on the app for so long that I eventually just replied to one of his messages with my number." It wasn't that Cody was hesitant—far from it. He was charmed, and eager to make a good impression. He had several women friends who were dating too. "They were always saying they hated how guys could be so aggressive on apps," he says. "So I tried to do the opposite. I thought, 'Okay, I'm going to respect her boundaries. She'll reach out when she's comfortable.'"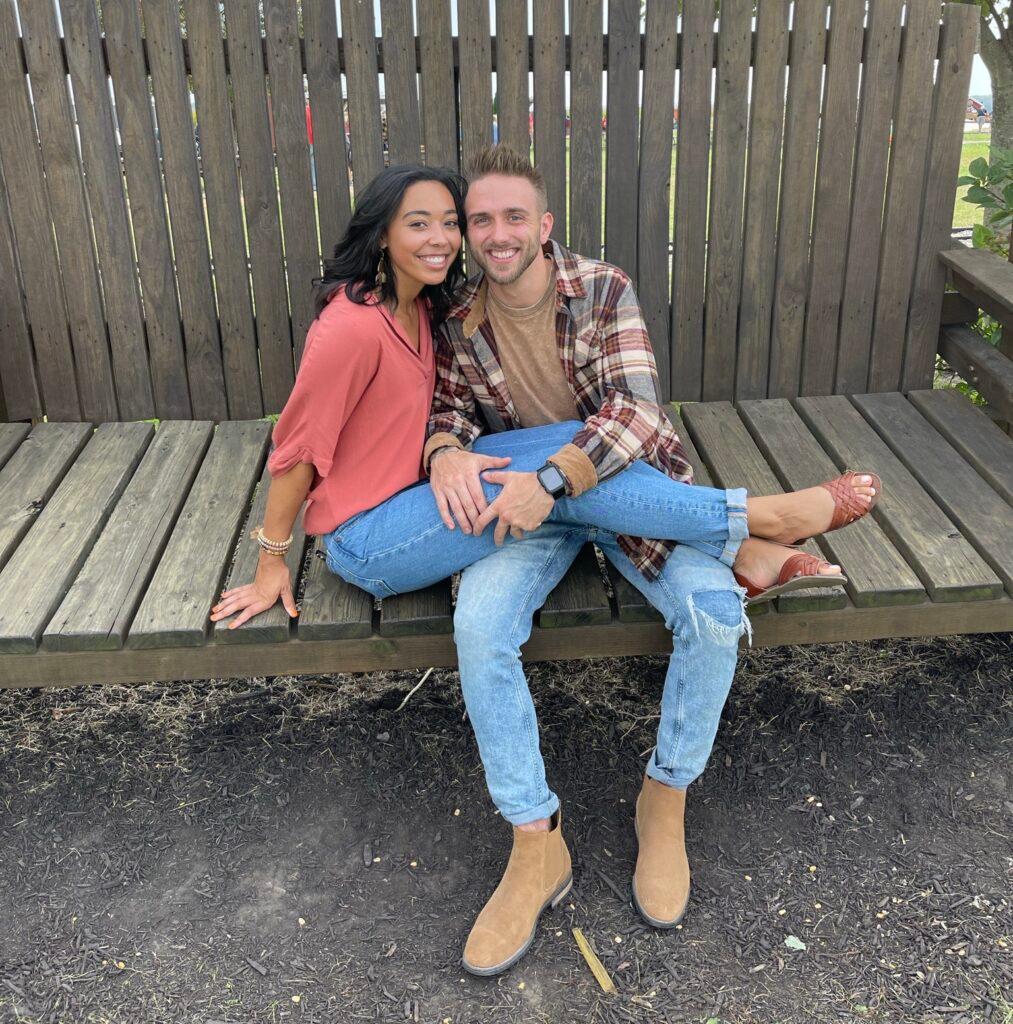 By the time they did meet up that November, at a Kansas City wine bar, their casual, introductory chit-chat had already evolved into a closer conversation. Sierra was in graduate school, working toward a degree in mental health counseling. Cody was always eager to hear about school, her ambitions for the future, and her specific interests in mental health work. "He was genuinely interested," Sierra recalls. She was used to being the one on dates who asked the questions and kept the conversation going. With Cody, there was an instant, effortless back-and-forth. After the wine bar, they walked around the city, talking about one another's childhoods and families.
"I remember driving home feeling blown away," recalls Cody. "It sounds clichéd, but I felt I could truly be myself. I felt so warm and welcomed by her, and immediately accepted." The feeling was very mutual. "I was instantly obsessed," says Sierra. "I actually had another Bumble date scheduled for a few days later, but after meeting Cody, I knew I had to cancel." Neither could quite believe it—let alone say it aloud—but they already felt like a couple.
Their second date solidified it: Sierra introduced Cody to her family, taking him on a double date with her sister and brother-in-law. Soon after that, Cody invited Sierra to meet his parents. "It was important to me for her to meet them before I 'officially' asked her to be my girlfriend," he explains. "My mom especially." They watched a football game at Cody's parents' house, then Cody went to work on a garage project with his dad, giving Sierra some time alone with his mother. Two hours later, he came back to find them still chatting on the couch—another instant connection. "That's when I really knew how special Sierra was," Cody recalls. "My mom got along with everybody, but I'd never seen her hit it off like that with someone. She fell in love with her."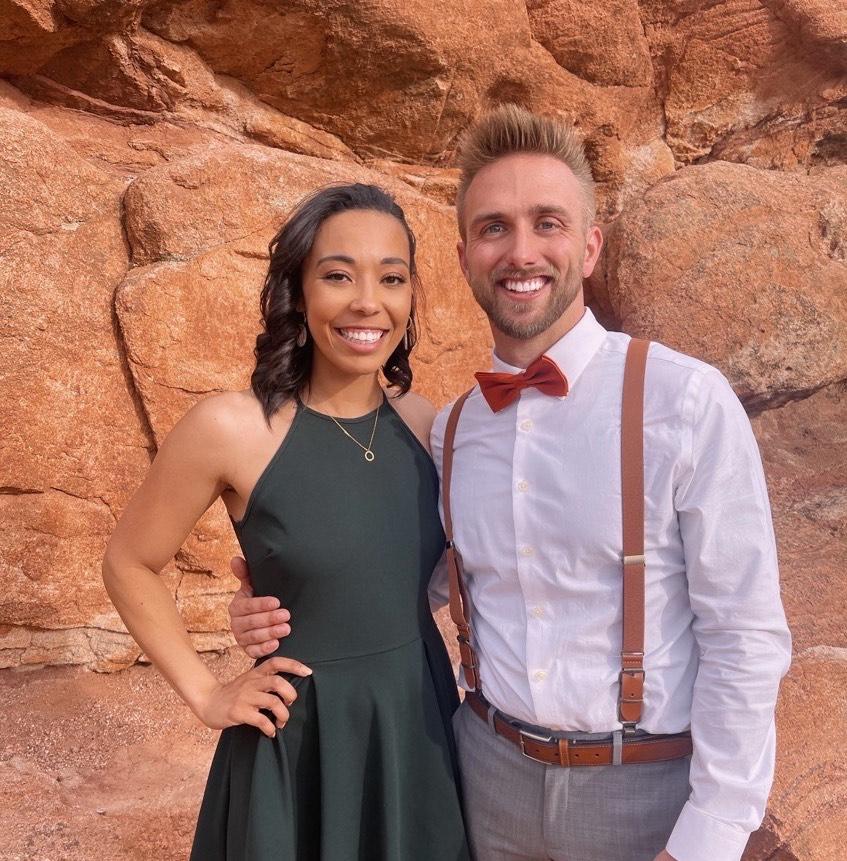 Cody and Sierra knew they were falling too, and fast. But a week later, everything came to a sudden halt when Cody's father was hospitalized with COVID-19. Sierra rushed to Cody's apartment, anxious but optimistic. Days later, Cody's mother was admitted as well, and both were put on ventilators. The following week, Cody's parents both died on February 10, 2021.
"It was…a lot," Cody recalls, struggling to explain the surreality of this sudden, enormous loss. "A blur," Sierra agrees. But she'll never forget the last phone call she had with Cody's mother. "She said he was lucky to have me. She asked me to take care of him, and make sure he took care of himself. " And she did. Cody had few family relationships aside from his younger sister, who came to stay with him too. "It was Sierra who supported us through that time…day and night, thick and thin, she was there for us and never complained," he says. "It was never a chore for her."
Weathering this trauma and grief together, Cody and Sierra's relationship grew into something deeper. The dizzy days of new romance had passed, but the love between them was no less precious. "During that time, I'd gotten to see every aspect of Sierra, and there wasn't one that I didn't fall in love with," says Cody. Adds Sierra, "I knew already, but that period solidified it. This was the man I wanted to spend the rest of my life with."
That October, on their ten-month anniversary, Cody and Sierra attended a local lantern festival, an annual evening event where attendees write messages or wishes on paper lanterns and release them into the sky. Sierra just thought it would be a fun night, and it was. But when she saw Cody step away to write on his lantern, she thought perhaps it was a prayer for his parents, so she gave him some privacy. Cody returned, unfolding his lantern to light it, showing Sierra the message: Will you marry me?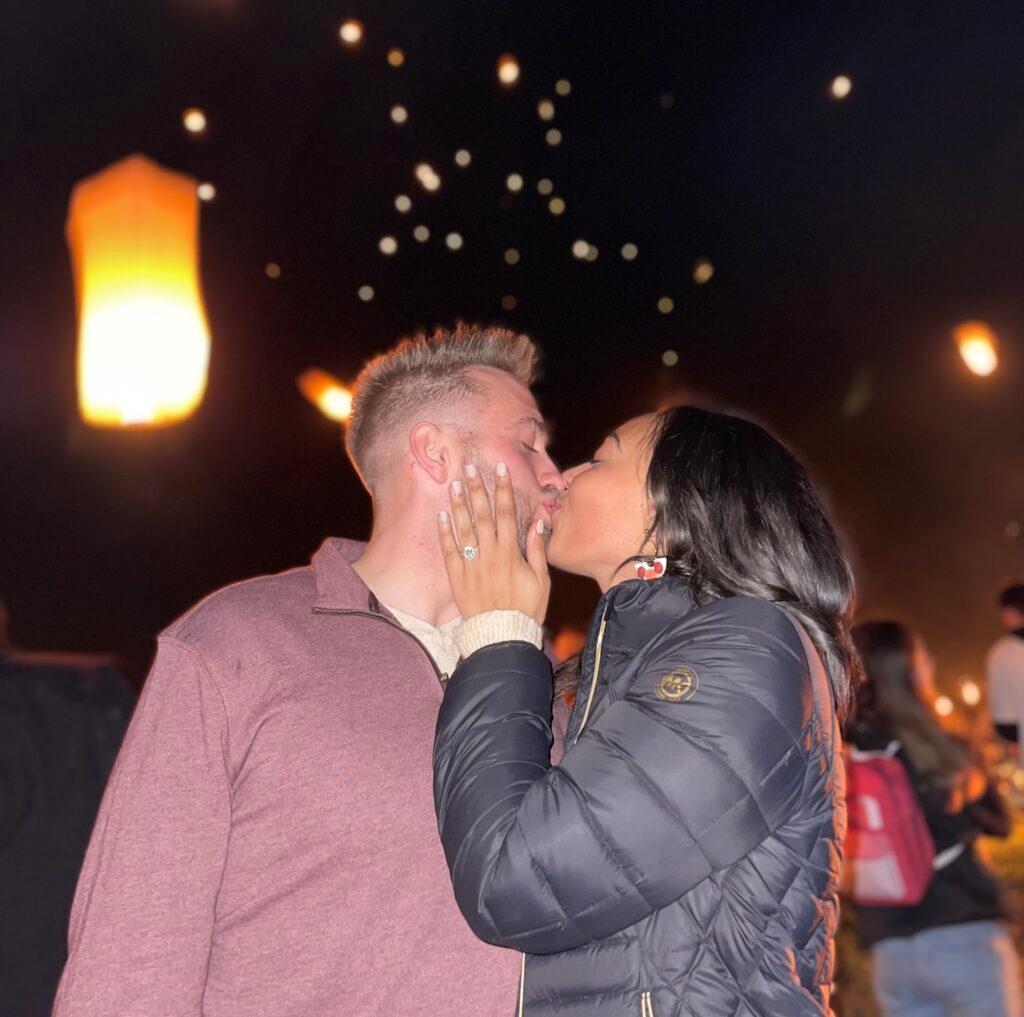 Sierra reared back in delighted shock. "It took me a few minutes to remember to say yes!" she remembers, tearfully. She looked around to see her family rushing toward them across the field. As they stood there, hugging and cheering, the classic 18th century choral composition Messiah began to play from a speaker somewhere in the crowd. It was Cody's mother's favorite song—the one she'd asked that they play at her memorial. In a way, it felt like Cody's family was celebrating with them too.
The two were married in the fall of 2022, but Cody and Sierra already felt united for life. "He's my biggest cheerleader," she says. Cody supported Sierra through the grueling final months of grad school, and urged her to follow through with her dream of starting her own counseling practice. "I was so nervous," she says. "I didn't think I could do it—and I wouldn't have if he hadn't encouraged me to go for it." It was a no-brainer for Cody. He knows firsthand how strong and capable she is—and needless to say, their relationship is built on their ability to support each other through hard, daunting moments. Married or not, they were already family. "I've lived in this same apartment for eight years," he explains. "But it wasn't until she moved in that it felt like home."
Main photo credit: Kars Photography