How To
Want to Stand Out on Bumble? Try Sending a Compliment!
Seeing the Bumble profile of someone who sparks your interest is always an exciting part of dating. Maybe they're wearing your favorite sports team's jersey in one of their photos, or their answer to a Profile Prompt made you laugh out loud. Whatever makes you want to swipe right, you can now tell the person before you match using Bumble's new Compliments feature.
Sending a Compliment may help you stand out from the crowd and get a head start on a potential conversation by commenting directly on a part of someone's profile. In fact, members who use Compliments have a statistically increased likelihood of matching and are more likely to have a good chat. Plus, it's a fun and thoughtful way to let a potential match know why you like their profile.
Read on to find out how you can send someone a Compliment on Bumble, and how to view the ones that have been sent to you.
Sending a Compliment
Anyone can send a Compliment on Bumble. To send someone a Compliment, first find the part of their profile you'd like to comment on. You can send a Compliment about their bio, a photo, or one of their Profile Prompts. In the bottom left-hand corner of any of these profile features, you'll see a yellow icon with a heart inside a speech bubble. Click on this and a text box will open for you to write something fun and positive—and snappy, since there's a 150 character limit! (If you're struggling to think of what to write, check out our tips on sending Compliments here.)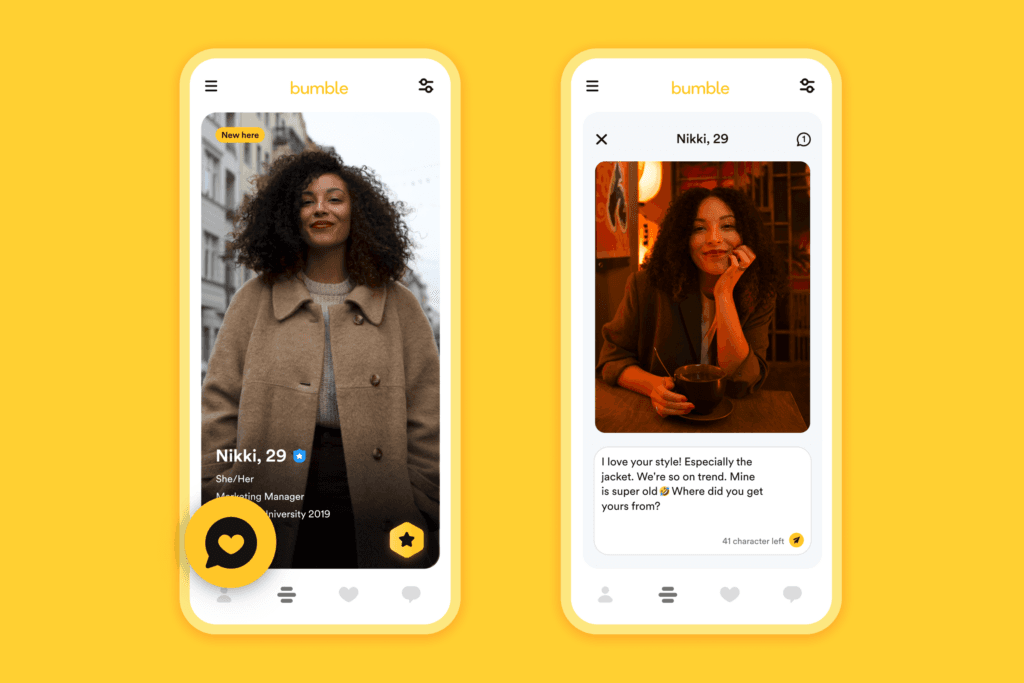 Keep in mind that sending a Compliment counts as a right swipe, so make sure you only send them to folks you'd like to match with. If you're able to make the first move and you match, sending a Compliment also counts as starting the conversation. If you're not able to make the first move, you'll only be able to message the receiver if they respond to your Compliment.
You're only able to send a certain number of Compliments for free—so save them for the folks who really catch your eye! If you've used your allowance but see another profile that captures your interest, no sweat; to buy more Compliments, simply start to send a Compliment in the usual way, and when you press send you'll then be able to purchase more. One of these will be used to send that Compliment, and the rest are saved for you to use when you see another profile you're excited about. (Don't worry, any Compliments you purchase won't expire!)
Receiving a Compliment
If someone sends you a Compliment, you'll be able to see it when their profile pops up in your potential match feed. If the Compliment puts a smile on your face and you like the rest of the sender's profile, you can match with them as usual by swiping right. The Compliment will show up in your chat and you'll have 24 hours to respond before your match expires. You can either reply to their Compliment or start a new conversation topic.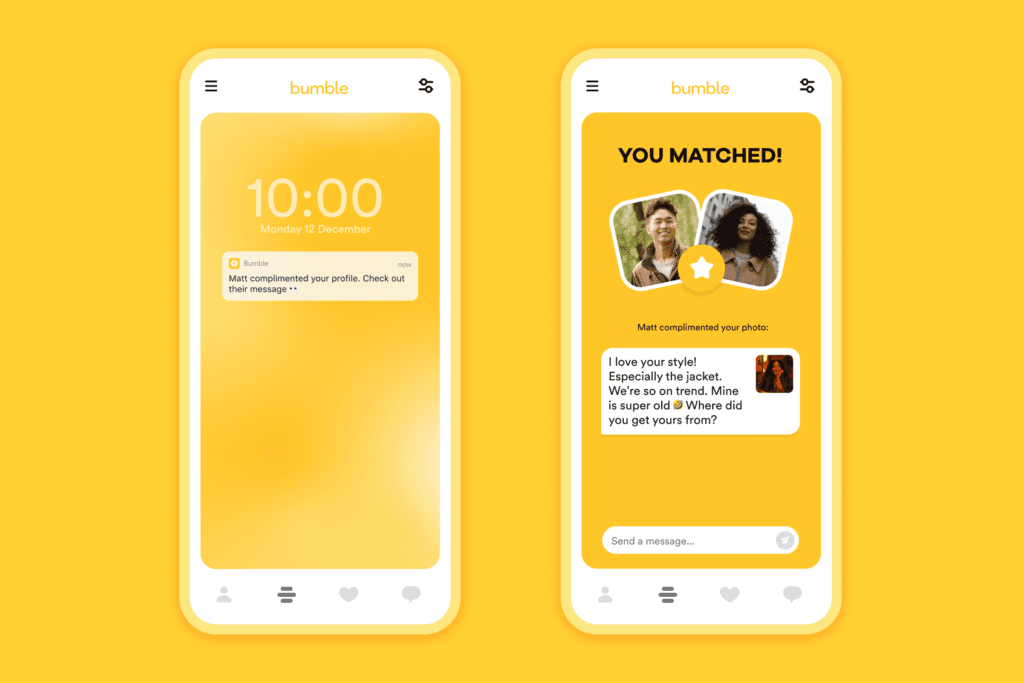 You're also able to see Compliments that have been sent to you in your Beeline. If someone compliments you, you'll see a notification pop up on the gray heart located at the bottom of your screen. Clicking on this will take you to your Beeline where you'll be able to reveal up to five Compliments per day as well as a condensed version of the sender's profile. If you want to reveal any more than five Compliments in a day, you can sign up to our paid Bumble Premium subscription for an unlimited number of reveals in your Beeline.
Starting a connection with a Compliment is not only flattering, but it can also help make your conversations kinder and lead to more meaningful matches. Good luck!