How To
How to Play the Question Game on Bumble
Having a conversation with your Bumble match is always exciting, but sometimes it can feel a little daunting to come up with a new opening line if you're making the first move or if an existing chat has fallen flat.
This is where Bumble's Question Game comes into play. It's a free, built-in feature that allows you to shuffle through pre-written questions that you can send to your match. The twist? You have to answer the question too—and you can't see each other's answers until you've both responded. As soon as you and your match have hit send, boom! Your answers will be revealed and you'll have a great springboard for conversation.
How do I play the Question Game?
From any chat screen with a Bumble match, tap the Question Game button on the right-hand-side of your text box. (It looks like a yellow speech bubble with a white quotation mark inside.) If you're using the Question Game to make the first move, you'll find the button above the text box in your chat screen. The questions you can choose from range from silly to spicy so there's something for everyone—just shuffle through them until you find one you like. Here are a few examples:
Among your friends, what are you most known for?
What is the greatest misconception about you?
If I showed up to our first date dressed as a dinosaur, how would you react?
When do you feel at your sexiest?
What are you trying to signal through your first Bumble photo?
If one of the suggested questions doesn't catch your eye, you can type out your own question to ask your Bumble crush and send it via the Question Game feature instead! Once you've sent your question, it'll appear in a yellow box on your match's chat screen with a button for them to click on to send their answer.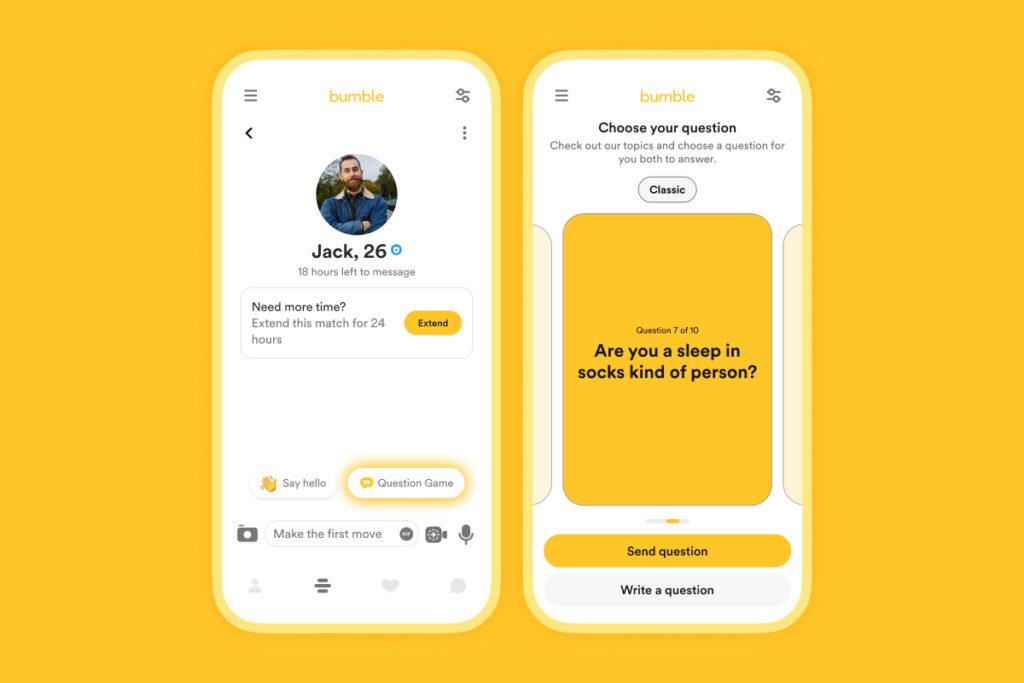 When should I use the Question Game on Bumble?
When you want to make the first move: Sending the Question Game as your first move can be a welcome change from "Hey, how are you?" for both you and your match. Choose a lighthearted question like "Top 5 places you want to visit?" that's bound to get the conversation off to a strong start, and save the deeper, flirtier questions for later.
When you want to revive the chat: The Question Game is also a great feature to use when you want to revive an existing chat. Sometimes, completely shifting the topic of conversation can shine a light on other parts of your personalities and spark something new to talk about. Bonus: It just might encourage your match to send another Question Game in return to keep the messages flowing!
When you're stuck on what to ask: It can be tricky to know what to ask your Bumble match to get to know them on a deeper level, so let the Question Game do the work. With questions like "What's the secret to getting to know you?" and "What is the greatest misconception about you?" you might just learn something about them that you may not have thought to ask otherwise.
Whenever you want to: The Question Game can be used as the first message you send to a new match or the last message you send before meeting up for your first date. (Think about writing: "Who's going to arrive at the date first?") Use the game whenever you want to inject a bit of fun into the conversation with your Bumble match.
Is there a limit to how many questions you can send?
No—you can play the Question Game as many times as you'd like with one match, but try to finish the conversation about the question that's currently being played before sending another. You never know what interesting tangents will spring from your Question Game answers so let the chat flow!
What happens if a match doesn't answer the question?
If you've made the first move with the Question Game, then your match will have to answer it in order to continue the conversation—unless you send another message in the regular chat box that they can respond to as well.
If your match hasn't answered the Question Game, don't sweat it! You or the other person can still continue the conversation with regular messages in your chat outside of the game. Just note that neither of your answers will be revealed if only one of you responds.
If I get asked a question, how should I respond?
If your Bumble match invites you to play the Question Game, don't stress too much about your answer. The key things to remember are: keep it positive, specific, and open-ended. This is a great chance to be playful with your match, so write something that you think could be a fun conversation starter and get a laugh when your answers are revealed. For example, if the Question Game asks "Are you a sleep in socks kind of person?" Instead of answering: "Yes," try "Of course! How else am I supposed to protect my feet from the monsters under the bed?"
A big part of dating is being willing to put yourself out there, and we know that's not always easy. The Question Game may lead to fun conversations that help you and your match get to know each other better.