How To
How to Use Bumble's Photo Verification Feature
In an effort to continuously keep fake accounts at bay, Bumble and Bumble For Friends have a feature that allows you to request that your matches photo verify their profile. Bumble's Photo Verification was initially rolled out to keep you safe and happy, but the addition of the ability to request verification adds an extra layer of confidence to every interaction. Now you can flirt, connect, and network comfortably, knowing the person you're talking to confirmed that they match their photos.
Here's how to verify your Bumble profile
1. Go into "Edit Profile" and tap "Verify Your Account".
2. You'll be prompted with an example of one of a hundred random photo poses. Take a selfie mimicking that pose and send it to the Bumble photo moderation team using the simple step-by-step verification process outlined in the app.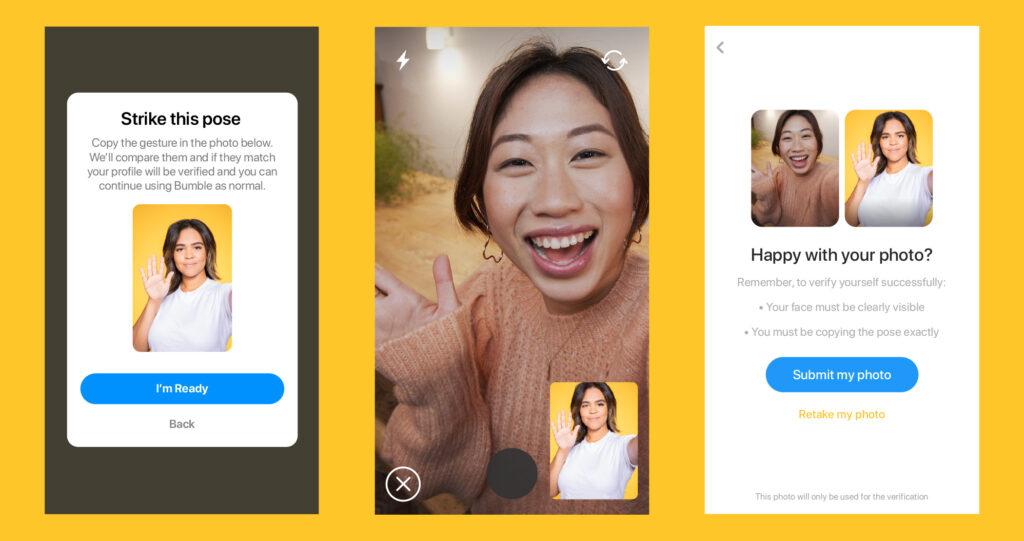 3. All photos are reviewed by a real person on Bumble's team.
4. In a few minutes. you'll receive a confirmation or rejection of your verification. Don't worry if you make a mistake or your verification doesn't go through on the first try — you'll be able to try the process again until you're verified.
5. If a user has been reported as a potential fake profile and is rejected in verification, their profile will be turned off. This means they will see no one on Bumble or Bumble For Friends and no one will see them.
6. If their photo is verified, the user will continue Bumbling as normal.
To help streamline the Photo Verification process, make sure you have strong photos in your profile. The Bumble team will use these photos to cross reference your selfie prompt, so clear shots of your face will help move things along.
Here's how you request Photo Verification on Bumble
1. Within the chat, select the blue link labeled "ask for photo verification." Bonus: asking for verification counts as a first move. The other person will receive your request. Note that in order to request that a match be photo verified you must first verify your own profile.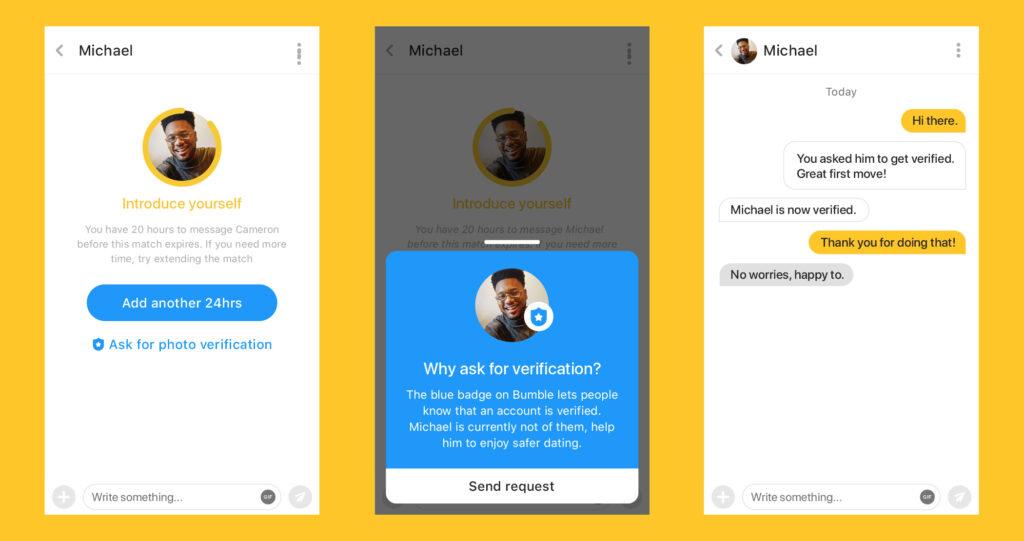 2. Once they've chosen their action, you will receive a notification that the other person has either verified their profile or chosen to forgo the opportunity. If they do not verify themselves, you can choose to end the interaction.
So make sure that you're verified, and keep on swiping knowing that you're matching with other real people who are also looking for a real, meaningful connection.