How To
Here's What It Means When You Agree to the Bumble Pledge
At Bumble, our mission is to help our community create kind connections, which means that we require everyone on our platform to treat each other with respect.
We want to make sure that you have a safe and inclusive experience with Bumble. This is why every member worldwide who joins the app has to take the Bumble Pledge, which serves as an agreement to adhere to our guidelines and help us keep Bumble a safe platform.
Before you can start using Bumble, a screen with the pledge will appear, and you'll need to agree to it before you can begin swiping. It reads:
Welcome! We're excited to be part of your dating journey.
Here we treat everyone with kindness and respect, no matter their race, religion, nationality, ethnicity, skin color, ability, size, sex, gender identity, or sexual orientation.
In our mission to actively keep Bumble safe and inclusive, we ask you to join us by adhering to our guidelines.
And remember: We've always got your back!
With love, The Bumble Team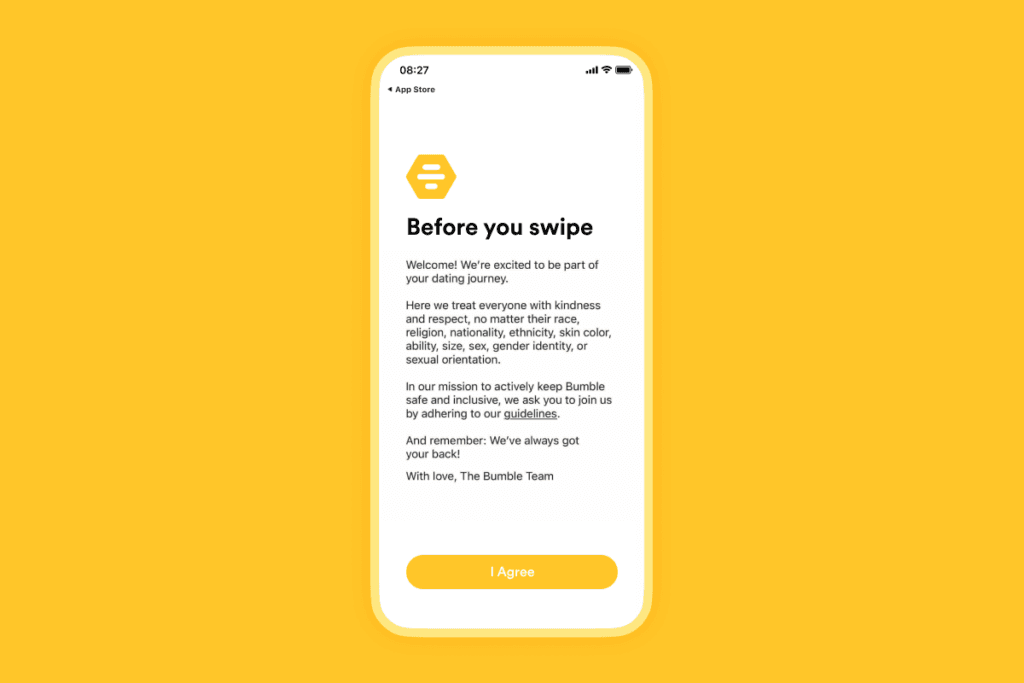 We strongly believe that Bumble is more than an app; it's a community. You might not agree with everyone you come across on Bumble, and that's okay—but everyone needs to respect each other. Bumble doesn't tolerate sexual harassment, identity-based hate, body shaming, or anything that will make others feel unsafe or uncomfortable. For our full guidelines, see here.
If you come across any bad behavior on Bumble, or are made to feel unsafe, we encourage you to Block and Report the profile. By doing this, the other user will no longer be able to chat with you or see your profile. They won't know who reported them, and our team will look into your report and take the appropriate action. If you don't want to report the user, you can also Unmatch them.
If you ever have a question, just ask! You can always reach our support team here.