Love
Arika's Vacation to Maui Turned into Long-Distance Love with Bruce
By Jessica Goodman
When Arika, a psychologist based in San Diego, Calif. joined a girlfriend on a vacation to the Hawaiian island of Maui in September 2021, she wasn't sure if she wanted to go on any dates in a faraway locale. But as soon as she landed, she felt something in her gut telling her to go for it, so she turned on Bumble's Travel Mode. Soon after, Arika swiped right on Bruce. She was drawn to his profile both because he was very cute, and he made it clear he was looking for a relationship. "He seemed honest and like he wasn't in a place where he was still playing games," she said.
Bruce, an MRI technician who had lived on Maui for five years, was interested in finding a committed partner but had no intention of ever leaving Hawaii. He'd even vowed not to date people from the mainland. But when he saw Arika on Bumble, he knew he wanted to swipe right anyway. "Her profile was so family-oriented," he says. Based on her photos and Bumble bio, "she seemed like she was secure with who she was and she had great friends and family." Arika didn't seriously consider that the match would lead to anything when she made the first move, but Bruce wrote back within the hour.
After that first exchange, they kept the conversation going, even while Arika was exploring the beaches of Maui with her friends. "What made me want to keep talking to Bruce was how genuine he was in sharing about himself and in wanting to get to know me," she says. "He was so good at facilitating conversation, asking me questions, and sharing stories from his own life." Bruce felt the same.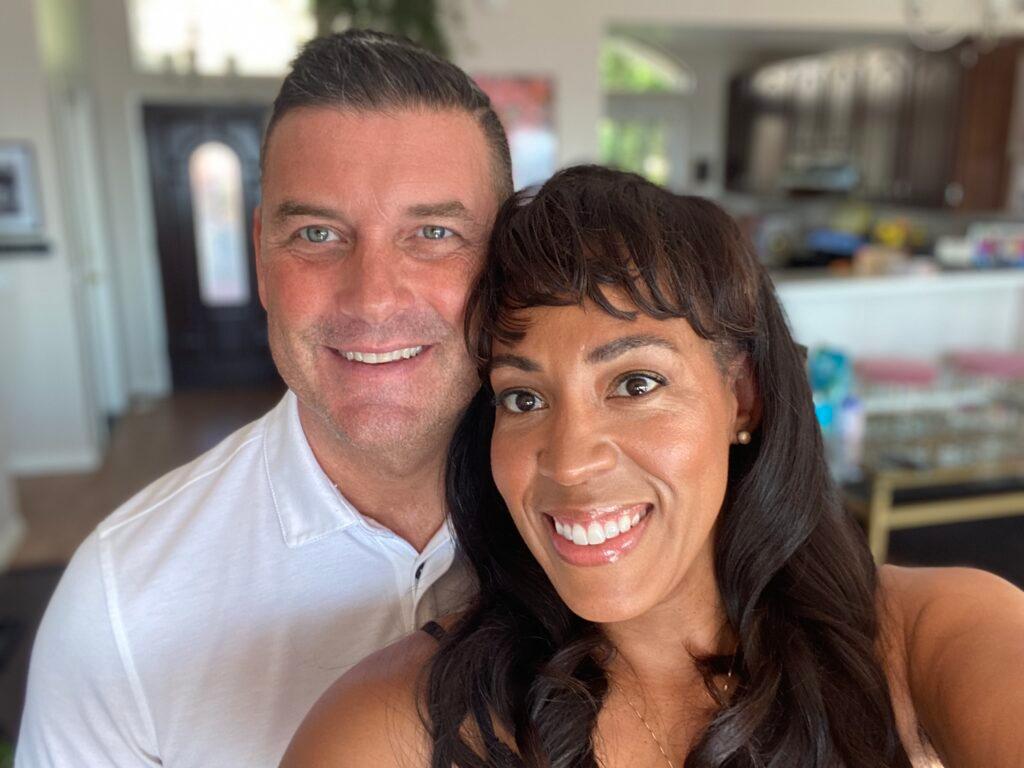 Arika started chatting to Bruce on the phone after nights out with her friends, and they made plans to meet up. But when it finally came time to meet, Bruce discovered that he'd been exposed to COVID-19, so they had to postpone. Instead, he called her the night that they were supposed to go on a date, and they spent time talking on the phone about everything from current events to how often they do laundry to if they wanted children. That call confirmed that they were both still interested in one another—even though Arika had to leave the next day without getting the opportunity to meet Bruce in person.
After Arika flew back to San Diego, they both realized there was such a spark that they wanted to keep exploring their bond, even from a distance. They began to talk every day. "I'm not a guy who sits on the phone for an hour and a half to talk to somebody," Bruce says. And when he found himself doing just that, he knew he wanted to hold onto this person: "Something just clicked and we built a really good friendship over the phone." Arika agrees. "It definitely seemed like we were compatible," she says. "Most importantly, though, it continued to seem like we both wanted to be part of a team that would be together and have each other's back no matter what."
By October, though, talking on the phone wasn't enough. They were ready to see if their connection translated in person, and they planned for Bruce to come out for a visit. "We decided that the worst case scenario was that we'd have great dinners and great conversations and there would be no spark physically," Arika says. But as soon as he walked out of the airport and toward Arika's car, their attraction and connection was immediate. Plus, "He looked even better in person than he did on video calls, which I didn't think was possible," says Arika.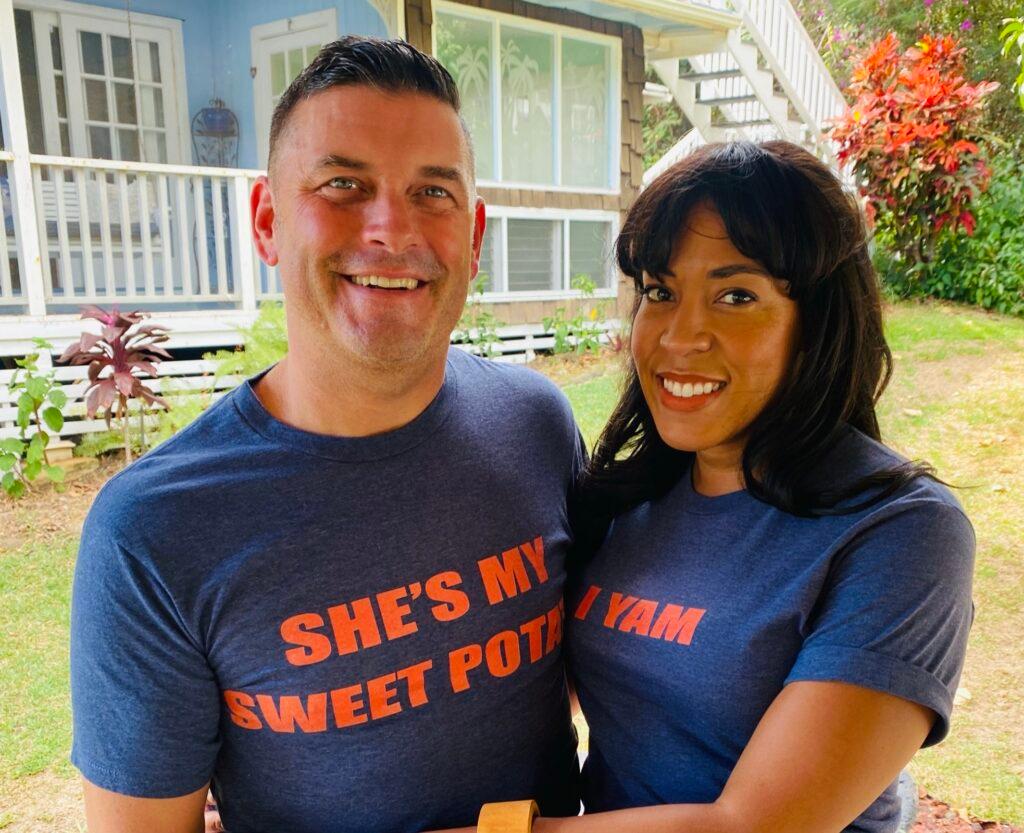 After that first visit, the two began ping-ponging between San Diego and Maui for visits. They spent that holiday season together, met each other's families, took many visits to the beach, hung out at the San Diego Zoo, and had many wonderful meals and conversations. Since then, their relationship has only deepened. "I was approaching 40 when I met Bruce," Arika says. "I know who I am, and I'm proud of who I am. When I met Bruce, I was really open about that and it never deterred him. In fact, he really loved it all the more." Bruce found a new kind of love in Arika as well. "One of the things I love about her is that she appreciates me," he says. "She's the only person I've ever dated that's understood me and listened to me." He also adores her intellect, drive, and family, who he says have embraced him as their own.
But in the back of both of their minds, they knew they would have to address their big challenge: the physical distance between them. "Every time I would leave or he would leave, it was the worst day," Arika says. "Our video calls were great but once we started hanging out and being together every day, not having him around was palpable."
At one point, Arika had an opportunity to transfer her job to Hawaii. At first they thought it could be the solution they'd been looking for, but she realized that the position wasn't quite right, and if she made the jump she might be giving up some professional gains. She decided not to take it. "Bruce was very supportive," Arika says. "He could have been like, 'at least you'll be here.' But he was the first to say, 'You're going to hate this job and that's not going to be great for us or for you.' I thought that was such a good thing for a partner to say." Bruce also stepped up for Arika when she decided she wanted to stop straightening and adding extensions to her hair. His response when he saw her natural hair: "Oh my god, I love your hair." "I wanted to cry tears of joy," Arika says. "He loves who I am and doesn't need me to mask that or hide that."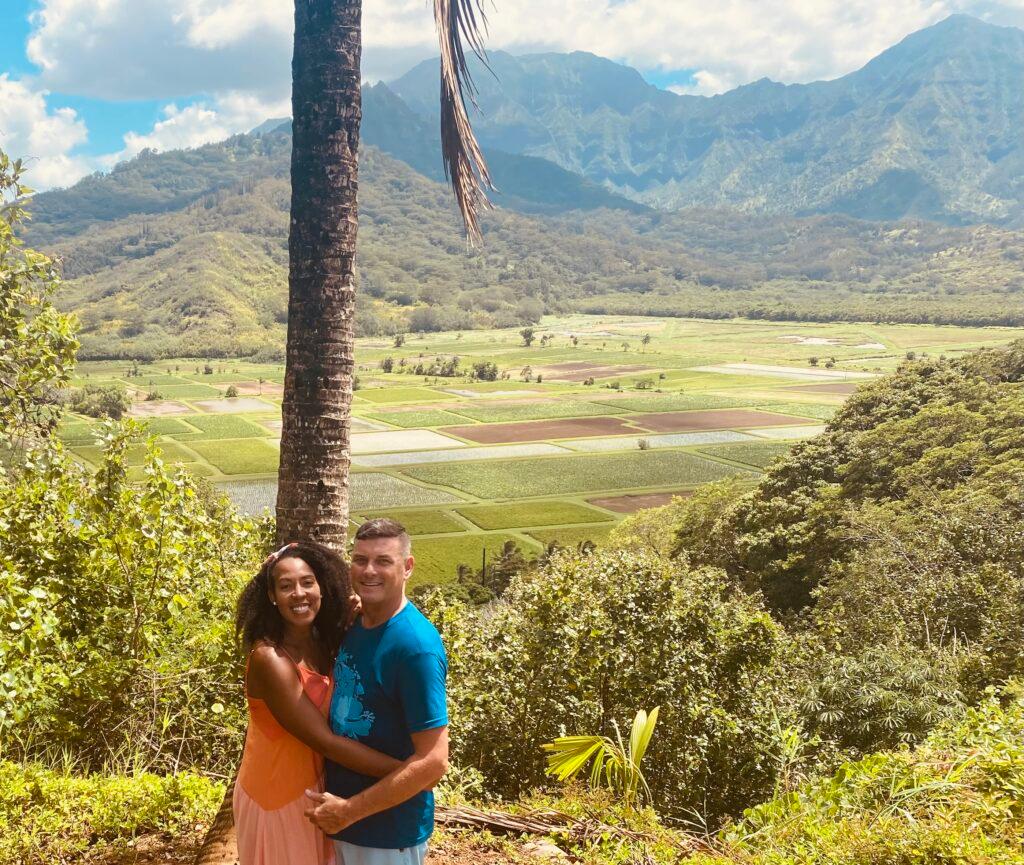 In July 2022, less than a year after they met, Bruce decided it was time to make their bond more official. He planned an excursion to his favorite beach on a secluded cove in Maui. When they arrived, they had the whole stretch of sand to themselves. Once they were both in the water swimming, Bruce pulled a ring out of his pocket and proposed right there in the middle of the ocean.
Together, they enjoyed a champagne toast and began planning Bruce's move to the mainland to join Arika in San Diego. Soon after, he found work and relocated. Since then, they've been adjusting to life under one roof. "I just feel so grateful for how amazingly well things came together," says Arika.
The couple married in February 2023 surrounded by family and friends in San Diego. Now, they have big dreams of having an adventure-filled life together. Arika and Bruce still talk about moving back to Hawaii or opening a business together, but in the immediate future they're just happy to be in the same place, and enjoy their relationship. "I just wanted a good man," Arika says. "And that's who he is."