Love
Bumble's Global Connector Bees Take Singapore: First Date Guide to Little India
This post is by Juliana Broste and Brigette Muller, Bumble's Global Connector Bees. After a nationwide search and vigorous application process, Juliana and Brigette were chosen to travel the world and make new connections in love, life, and business using Bumble. For the first leg of their trip, the two are getting to know vibrant, multicultural Singapore — and scoping out destinations for Bumble BFF, Bizz, and Date outings. Follow their adventures on Instagram!
Sponsored by Singapore Tourism Board
Do It For The 'Gram. Grab your date and strike a pose in front of the stunning house of Tan Teng Niah, one of few remaining Chinese villas in the neighborhood. Wander through the back alleys to uncover unusual street murals. Behind Hindoo Road, you'll find a trio of artworks: Izzad Radzali Shah's Festival, Jaba's Daily Delivery, and our favorite, Layers by Shah Rizzal, which shows Little India's traditional shophouses — architecturally striking combinations of residences and commercial spaces from the early 19th century. Discovering something new with a match — whether in Date mode or BFF — adds to the fun.
Smash Your Egos! Head to the ornate Sri Veeramakaliamman Temple, one of Singapore's oldest Hindu temples, to experience the ritual of coconut smashing. At the entrance to the house of worship is a box designated to this very activity, said to symbolize the destruction of one's own ego. What better way to crush first date nerves? Take time to walk through the lively, colorful temple itself, dedicated to goddess Kali, destroyer of evil.
All You Can Eat Indian. In Singapore, you'll see Hawker Centres — open air food markets — everywhere, ensuring you'll have a ton of food options for every date. The open air Tekka Centre market in Little India is no exception. For a snack, try a plate of prata, a type of roti. Watch the pros stretch the dough thin and fold it into layers, creating a South Indian flatbread that's crispy on the outside and fluffy on the inside. Dip it in fish curry, and voila!  For your main course, share a generous helping of chicken biryani, and wash it all down with a sweet mango lassi. You'll be coming back for more, whether it's with a Bumble Date, BFF, or Bizz connection — we promise!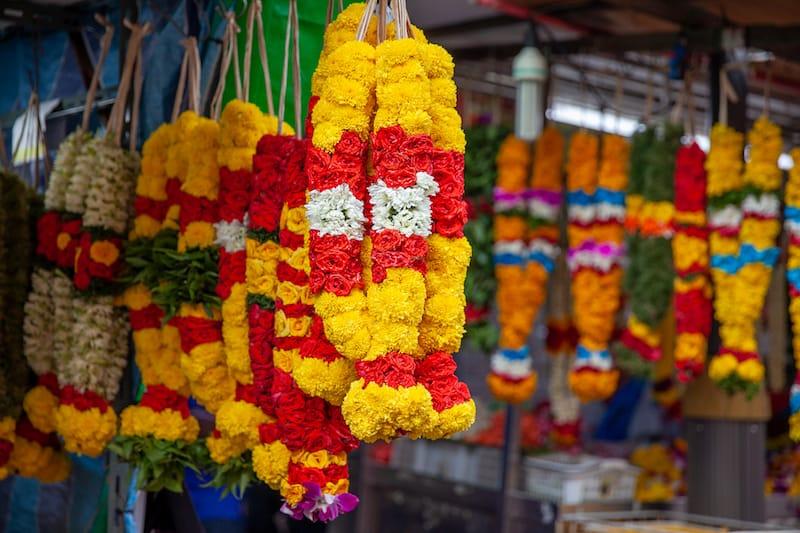 Adorn Yourself In Flowers. Opposite the Sri Veeramakaliamman Temple, you may catch a glorious whiff of jasmine as you make your way down the street. Indian flower garlands are a symbol of spirituality and honor, often used in ceremonies like weddings. In Little India, you'll find bustling flower stalls all over the place, with vendors creating these fragrant garlands in every color of the rainbow. If you find one that speaks to you, you may even have to make it yours — perhaps with a matching one for your Bumble date.
Sample Sweet Treats. Moghul Sweet Shop is an unassuming bakery housed inside Little India Arcade, an indoor market full of shophouses dating back to the early 1900s. Once inside, you'll find it filled to the brim with bite-sized Indian desserts that will blow you away. Try the Gulab Jamun, deep-fried mini-donuts flavored with cardamom and dipped in rose syrup. Don't be afraid to try something brand new to you; spontaneity is a must on a first date!